Author: David Lisi
Fall fishing in Alaska has to be atop most trophy fly angler's bucket lists. This is the time of year when the big fish come out to play, especially on the Kenai Peninsula!
Whether targeting Silver Salmon (Coho) or Trophy Rainbow Trout and Dolly Varden, the Fall fishing can be some of the most productive fishing of the year. During late August and into mid-September, most King Salmon, Sockeye Salmon and Pink Salmon spawn throughout the Kenai and Kasilof Rivers. This spawning activity brings the biggest and most highly sought-after trout out of hiding, giving eager anglers a shot at a fish, or multiple fish of a lifetime. On any given cast, in the right spot, it is conceivable to hook a 30+" Rainbow Trout or a giant 25"+ Dolly Varden.
It's hard to imagine that a fish can live to be 32 years old. With a lifespan and natural beauty to boot, arctic grayling are enchanting fish to pursue on a fly rod. Landing and holding these remarkable fish with such a unique life history, makes targeting grayling in Alaska near the top of the bucket list for serious fly anglers.
Often referred to as the "lady of the stream," arctic grayling in Alaska have been recorded up to 24 inches long and weigh over 5 lbs. Arctic grayling can be found throughout most of the state, with the exception of the Southeast, Kodiak Island and the Aleutian Islands - Grayling occupy the largest home range of any sportfish in Alaska.
Alaska is home to arguably some of the best fly fishing in the world, hands down. Why is it so good? There are a number of prolific species of fish that are eager to take a fly. The streams, rivers and lakes are teeming with Rainbow Trout, Dolly Varden and the 5 Pacific Salmon species. Alaska is also home to some terrific grayling, char and cutthroat trout fishing.
On the Kenai Peninsula, the most popular fish to target on flies are definitely Rainbow Trout/Dolly Varden, Sockeye Salmon, Silver Salmon (Coho Salmon) and King Salmon. Each species has its "best time of year" and appropriate tactics/flies, so I'll make an attempt at breaking it all down for you here.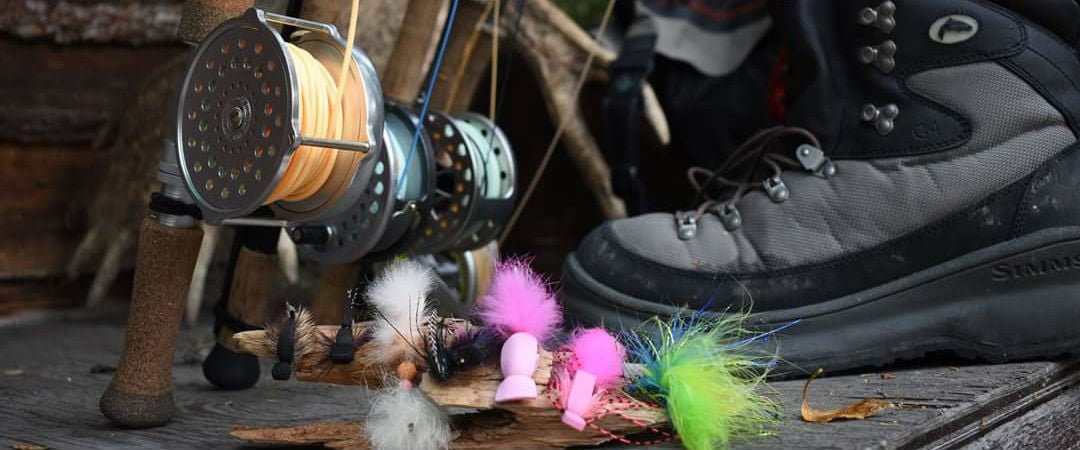 If I had my choice for a super fun day on the water, fishing with kids would be right up there! Though we have fun on all of our trips, there's nothing like seeing kids light up when they "get it" and fall in love with the sport of fishing and especially fly fishing!
One of the biggest advantages we have in on the Kenai River in Alaska when it comes to fishing with kids, is the sheer number of fish, their size and their willingness to bite. This translates to great opportunities to get kids into the sport and have a realistic chance of catching something and when timed right, they'll have the chance at catching a lot!
If there's one thing to say about Alaska, it's that the fishing does not disappoint. This holds especially true for fishing on the Kenai Peninsula and particularly the famed Kenai River. Anglers from all over the globe travel here each year for one simple reason: any cast could (quite literally) produce the fish of a lifetime or even more stunning, a world record. Beginning at the outlet of Kenai Lake in Cooper Landing and flowing 82 miles through Sterling, Soldotna, and the city of Kenai, where it reaches Cook Inlet, the glaciated aquamarine water boasts 14 different species of game fish, including trophy-sized rainbow trout and all five species of Pacific salmon. With a close proximity to Anchorage, spectacular scenery, abundant fish runs, and relatively easy boat and walk-in access, it is no wonder that the Kenai River is Alaska's most popular fishery; in fact, the river alone accounts for 1/5 of Alaska's total annual sport fishing. Add in the extra hours of daylight during the summer months, and you can fish 'round-the-clock, should you so desire. It truly is every angler's dream.
And by every angler, I mean any! One of the great things about the Kenai is that it has something to offer for every skill level. Whether you are just starting out or consider yourself an expert, fly fishing or casting a spinner, you will find more spots to fish along those 82 miles than you can feasibly fit into one day. The fish are numerous and often voracious, offering plenty of leniency should you blow your first shot.
Widely known as the birthplace of the "Russian River Fly" or "Coho Fly," The Russian River in Cooper Landing, boasts some of the most unique fly fishing opportunities on the Kenai Peninsula.
Most visitors to the Russian River are primarily targeting the two runs of Sockeye Salmon that make their annual migration run to the Russian Lakes in early and late summer. Beginning around the 11th of June when the Kenai and Russian Rivers open, tens of thousands of "Reds" as they are commonly known, stuff this small tributary to the Kenai River.
Approximately 1 hour and 45 minutes south of Anchorage on the Sterling Highway, you will look to your left and be stunned to find the most amazingly brilliant blue-green lake you've ever seen in your life. This is how you know you have arrived in Cooper Landing, a small mountain town of about 300 permanent residents on the Kenai Peninsula.
An extremely popular vacation, fishing and recreation destination, the Kenai Peninsula offers something for everyone. Visitors can enjoy ocean fishing, sightseeing expeditions, glacier tours and whale-watching within the Peninsula's many historic towns such as Hope, Seward, Kenai, Kasilof, Homer, Sterling, Soldotna, Anchor Point, Whittier and Girdwood. Cooper Landing is central to all of these, which makes it the perfect "home base" for your Alaskan adventure.
They come kicking and screaming to this "fly fishing thing." (well, sort of)...
"I've never tried fly fishing."
"I'm no good at it"
"I'm a beginner, will I spend all day struggling?"
Fishing Guide - Part Guide, Part Therapist & Part Educator
Generally, this is what we try to work people through as guides on the Kenai River. We're part fishing guide, part therapist, part knot-detangler but mostly, we are educators.