Category: Kenai River
If there's one thing to say about Alaska, it's that the fishing does not disappoint. This holds especially true for fishing on the Kenai Peninsula and particularly the famed Kenai River. Anglers from all over the globe travel here each year for one simple reason: any cast could (quite literally) produce the fish of a lifetime or even more stunning, a world record. Beginning at the outlet of Kenai Lake in Cooper Landing and flowing 82 miles through Sterling, Soldotna, and the city of Kenai, where it reaches Cook Inlet, the glaciated aquamarine water boasts 14 different species of game fish, including trophy-sized rainbow trout and all five species of Pacific salmon. With a close proximity to Anchorage, spectacular scenery, abundant fish runs, and relatively easy boat and walk-in access, it is no wonder that the Kenai River is Alaska's most popular fishery; in fact, the river alone accounts for 1/5 of Alaska's total annual sport fishing. Add in the extra hours of daylight during the summer months, and you can fish 'round-the-clock, should you so desire. It truly is every angler's dream.
And by every angler, I mean any! One of the great things about the Kenai is that it has something to offer for every skill level. Whether you are just starting out or consider yourself an expert, fly fishing or casting a spinner, you will find more spots to fish along those 82 miles than you can feasibly fit into one day. The fish are numerous and often voracious, offering plenty of leniency should you blow your first shot.
The absolute magical thing about Cooper Landing, Alaska is that it is so perfectly located. As a town of about 300 locals, Cooper Landing offers fishermen an amazing set of fishing opportunities. In fact, the fishing opportunities are so good that during Salmon season, the population of fishermen crests the 1000 person mark. Fishermen aside, this is the upper stretch of the Kenai River and the Russian River is right here too. The Kenai River is world famous and likely the spot where the term "Combat Fishing" became an action verb. That little tidbit is not surprising considering the amount of Salmon that use the Kenai and Russian Rivers as spawning grounds. Also, with only 300 residents there are only so many guides here as compared to larger cities. They book incredibly fast. In this Kenai Peninsula fishing article, we explore why Cooper Landing helps you maximize your Alaskan fishing adventure.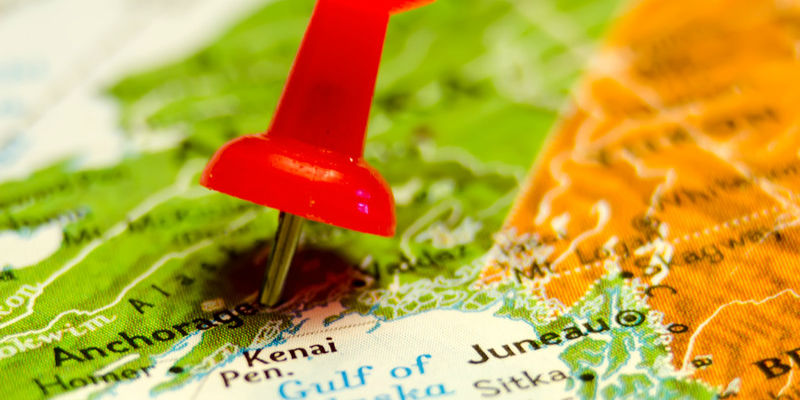 A trip to the Kenai Peninsula is a perfect example of a total Alaska vacation package. It is an all-in-one experience that keeps travelers coming back again, and again, with so many exciting possibilities.
While visiting, many travelers plan a visit to one of Alaska's fishing lodges on the Kenai Peninsula for exemplary accommodations and a chance to fish a variety of species such as King Salmon, Halibut and Rainbow Trout. Add an Alaska fishing guide to your itinerary for a thorough experience of line, shore, and boat fishing among the best rivers and streams in the peninsula.
When you want to take some time off from fishing to explore and discover additional activities and locations within the Kenai Peninsula, consider the suggestions on the top 10 list. From Kenai, Soldotna, and Seward to Homer, Seldovia, and Kachemak you'll never be short on things to do.
The Kenai River stretches from Kenai Lake to the Pacific Ocean where it dumps into Cook Inlet. The river is laid out in switchback bends across the flood plains of the Kenai peninsula. The river offers 82 miles of freshwater habitat for many species of Salmon, Rainbow Trout, Dolly Varden Trout, and Steelhead. The Kenai River is one of the most popular places to fish in Alaska. Alaska is wild, and by that we mean bears. Bears love fishing just as much as you do. Never go fishing alone. In fact, for fisherman who have never fished the Kenai River, we suggest choosing an Alaska Fishing Lodge, or using an Alaska Fishing Guide. The benefits are that the pros know where the best spots to fish are, they often have the best equipment, they always know the best techniques to catch fish regardless of the time of year, and they will help to keep you safe.
Recent Articles
---