Bouncing Back from the 2020 Covid Year - An Alaska Guides' Story
Would you like to contact to check availability or learn more?
Fill out the info below and someone from will get back to you.
Email Sent
2021 compared to 2020 was absolute insanity! Not even slightly comparable. A very welcomed change for most Alaskan businesses including my business FishHound Expeditions that provides guided Alaska fishing day & overnight trips.
For those of us able to survive the stark bleakness of the 2020 season we were rewarded in 2021 with an awesome year in both fishing conditions and guests. The stars aligned for outfitters in our great state…entry to Canada was limited, international travel was tough, flights here were affordable, people were chomping at the bit to get outside, and most importantly great river conditions pretty much across the state! These factors helped immensely to our economy and families like mine who are dependent on tourism.
Late Start but Great Fishing!
2021 fishing conditions were a little different from the few years prior, everything was just a little late due to a strong winter and late spring. We were out on our annual preseason spring steelhead "guide" trip in late April and saw very few fish, thus it turned into a great drinking trip highlighted with a few steely here and there but a great trip all the same! Another highlight is that on our road system rivers along the Alaska Parks Highway we were able to target Kings for catch and release fishing! It was the first time in 3 seasons. The Kings too were late so fishing for them was somewhat limited as the season closed when they were full force. But this was a good thing. This meant that would be left to spawn and produce for future generations! With Kings being late allowed for great early season trout action that lasted far longer than other seasons. Early season tactics for trout involve a lot of mouse fishing and streamer action, my 2 favorite ways. There are few things in angling as amazing as watching a 2–foot trout eat a small mammal on the surface! This action lasted through almost late July when the King Salmon finally started throwing their eggs. Once the salmon start laying their eggs we switch to fishing beads that imitate the eggs under indicators, a very effective way to fish but not near as entertaining as mousing.
With all other sea run species being late one would assume that trait would have continued with the Silvers, wrong! These highly sought–after species showed up on time if not even a little early and in large numbers. Next to mouse fishing for trout throwing poppers to Silvers is something every angler should experience! Watching that popper "plop" on the surface and see a wake of a 10–15 pound fish storming after it to destroy it is incredible! Silver Salmon runs are always strong on our remote rivers and this year was no different. Numbers on our road accessed fishery were also very good. We had many guests both experienced and not hook into these incredible beasts with an easy drive just a little north of Anchorage.
Fall trout fishing is something all Alaskan anglers look forward too! As these incredible fish are super fat and well fed from a summer of gorging on salmon protein such as their eggs, offspring, and even the decaying salmon flesh itself. A lot of people aren't aware that our trout generally aren't interested in aquatic insects, they want meat! This is what allows for our fish to gain such size and strength. Fall also signals to our fishy friends that winter is just around the corner and that packing on as much mass as possible is imperative. We saw many trout in the 25 – 29 inch range but the 30 missed us this year, oh well we have an amazing steelhead season to look forward too!
Chasing Steelhead on Kodiak Island
I love to fish for trout and salmon. But I am a steelhead addict. There is nothing like launching a 2 handed rod, swinging a fly, and feeling the grab of a wild steely! Unlike the lower 48 and parts of Canada our steelhead runs are still strong, at least as of now. I truly hope ours stay strong and that wild steelhead will return in numbers to the lower northwest. We have been truly fortunate to work with the Kodiak Brown Bear Center on the Karluk River the past few years. The Karluk River is home to one of the largest wild steelhead runs in Alaska. It is also an extremely remote and beautiful river and in addition to steely it has huge runs of Sockeye, Silvers, sea run Dolly Varden, and big resident Rainbows. Like all our anadromous fish except for Silvers these too were a bit late. But late is better than not at all. Our Karluk floats are extremely unique in the fact that our guests get a wilderness float minus the tents. We have constructed cabins and yurts along the river in cooperation with the Brown Bear Center. Trust me with as much time myself and my guides spend in tents these modest accommodations might as well be the Taj Mahal. To have a wild steelhead fishery, literally be in the middle of nowhere, and have a warm dry place after each day floating is beyond words and really unlike anything else in the world. We saw some very good steely this past season and even had a client catch some on the surface, incredible!
Reflecting on 2021 and Looking Forward to 2022
This past season was very needed as mentioned prior. Many guests had incredible trips up here. But there were many visitors to our great state that weren't able to do much as everyone was already booked. We knew tourism was going to be busy this last season but it was beyond what anyone was expecting. Some tourists weren't able to find vehicles, lodging, or activities. Next summer up here is going to be the same if not busier. Don't worry Alaska is massive and has more rivers and fishing opportunities than well pretty much anywhere. If you are planning a trip up here or even thinking about it book your guides, activities, lodging, and transportation sooner as opposed to later to make sure you will have the trip you've been dreaming about.
Contact FishHound Expeditions to Book or Learn More
Photos from FishHound Adventures Fishing Guides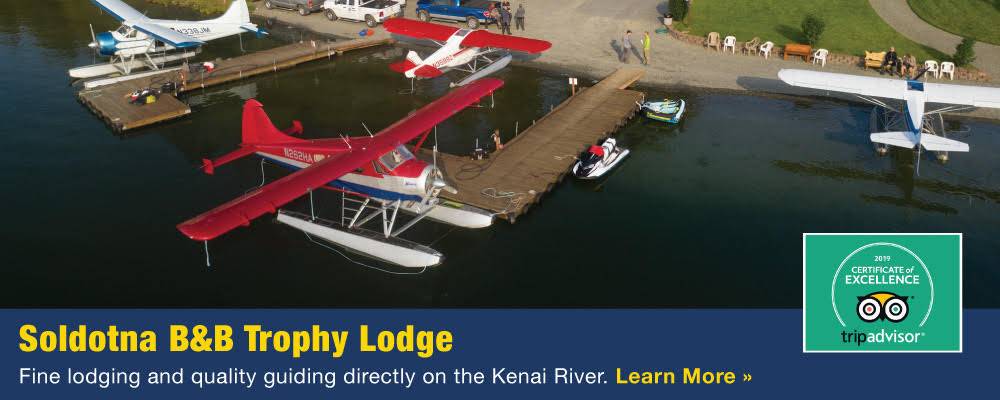 Popular Alaska Fishing Destinations
Recent Articles