Alaska: Fishing for Halibut
Would you like to contact to check availability or learn more?
Fill out the info below and someone from will get back to you.
Email Sent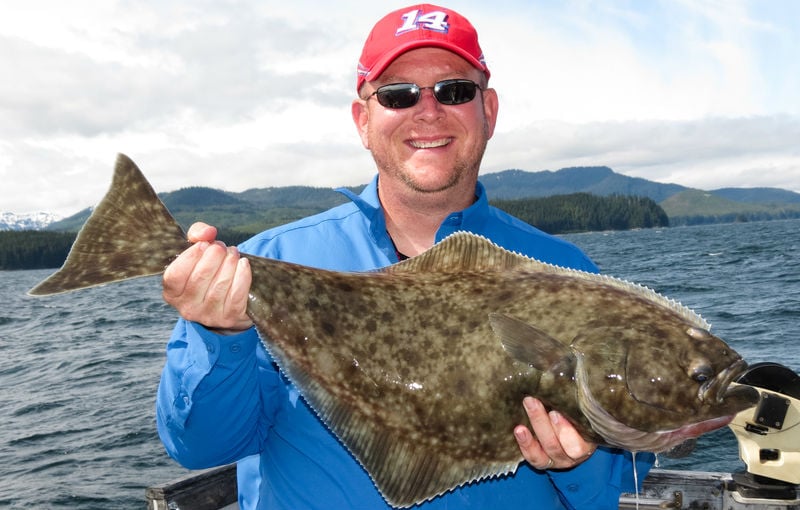 To adequately describe the feeling of trying to land a 200 or 300 or 400 pound fish is nearly impossible. There is, of course, an intense adrenaline rush that is almost immediately followed by the feeling of what do I do now. Once you have landed a good sized Halibut you realize that it is you that is hooked. That is why the Pacific Halibut is such an excellent sport fish. The waters around most of Alaska is rich with Halibut. As you read through this blog, you will find various links to Alaska Fishing Lodges. Those links are there to help you find the best lodge that is right for you.
Come Prepared: Get your Alaska Fishing License and fish stamps here.
The Pacific Halibut is a laterally flattened fish with a very distinct look. The bottom side is white; the top is speckled with light and dark green, brown, and even yellow spots set against a dark brown or gray background. Both eyes are found on the dominate, colored side of this of these massive fish. These fish are linked closely with the geological structures of Alaska. They are flat fish, and they make their home along the flat coastal shelf along the edge of Alaska. Mostly they are found in waters that range in depth between 20' and 1000' along the flat continental shelf. Water temperature plays a part in where you find them. Their temperature zone is 37 degrees F. to a high of 46 degrees F. Depending on their location they can occur to depths that are greater than 3500 feet. Outside of Alaska they have a wide habitat range. But they are always found in flat terrain.
NOTE: Fishing for Halibut takes some consideration. Alaska offers some of the best Halibut fishing in the world. The locals make a distinction between the massive adults, called Barn Doors and the smaller Halibut called Chickens. Make no mistake about Chickens, they can weigh up to 100 pounds. Barn Doors can weigh more than 500 pounds. The world record for a sport caught Pacific Halibut is 459 pounds. Both Chickens and Barn Doors make excellent eating.
Where to Find them:
Continental shelf waters South of the Bering Straight, East of Attu Island and along the Bristol Bay area. On the Souther side of Alaska, they can be found around the thin continental shelf along the Gulf of Alaska. Their range makes it possible to find them throughout most of the salt waters that surround Alaska. The longest peak season is found along the Kenai Peninsula. It runs from April to October with peak numbers of larger fish. Along the northern Southeast coast, is also a good place to fish for Halibut. The peak season run from June through September. When we talk about peak season in this article, we are referring to Barn Doors. If you are fishing for either Chickens or Barn Doors, use an Alaska Fishing Guide. Barn Door fishing can be intense, and you may have to compete with commercial fishing vessels. Because Chickens are equally fun to fish an Alaska Fishing Guide, or an Alaska Fishing Charter can help improve your Alaska Fishing Trip by providing gear that can land a 500 pound Barn Door, and keeping you out the commercial fishing zones.
Where to Stay for Barn Door Fishing:
Kenai and South Central Alaska: Salmon Catcher Fishing Lodger, Sleepy Bear Cabins, Redoubt Mountain Lodge. Full List:
Northern Southeast: Clover Pass Resort, Wave Dance Charters, Dierick's Tsiu River Lodge, Full Lodge List:
Southern Southeast: Naha Bay Outdoor Adventure, Boardwalk Wilderness Lodge, Island Point Lodge
Habitat and Habits
Spawning season for Pacific Halibut is usually from November through the end of March, but this is dependent upon seasonal factors such as water temperature. Interestingly enough Halibut fry look much like other fish in that they are not compressed laterally. As they grow they begin to take on the shape of the adults. One eye moves to the dominate side of the head while the coloration on what will become the bottom side of the fish fades to white. Around the age of four years, they begin to consume smaller fish. Their primary diet consists of smelt, herring, cod and even rockfish. They are opportunistic feeders and will also eat crabs and octopus if they can catch them. Males become sexually mature by the age of eight and females do so four years later. Halibut can live to be 55 years old.
Alaska is very active in maintaining the quality of the fisheries that are found here. Fishing for Alaska is a sustainable resource if managed correctly. Over fishing within the Salmon fisheries in decades past nearly cost Alaska one of its greatest natural resources. As such, Alaska has a great deal of data on its fish populations. The good news is that the Marine Stewardship Council has declared that the US and Canadian Halibut fisher is sustainable under current fishing regulations. Because of the range in which Halibut migrate the entire population of Halibut are considered one fishery. That means that from California, throughout the Coast of Canada, and up into Alaska is one fishery. Joint management of this fishery has proven to be a boon to both the United States and Canada.
Feeding Trends of the Pacific Halibut
As mentioned earlier, the Pacific Halibut is a consumer of other fish. They have been known to eat Smelt, Herring, Cod, Rockfish, Sand Lance, and Caplin. Smelt, Herring, Caplin, and Sand Lance, are all small fish that school. This means that Halibut will sometimes leave the safety of the ocean floor to feed in the schools of food fish that are present. It also means that when schooling fish are not present, that the bottom dwelling Halibut are searching for individual prey such as crabs, rockfish, and potentially bottom dwelling Cod. Using an Alaska Fishing Charter is a good idea. Charters or Alaska Fishing Guides, often have the best equipment and because this is their livelihood they often know what is working well as bait/lure. Think like a Halibut to catch them. Lures, Flashers, and Jigs work well. Bait includes fish such as smelt or herring, squid, and even discarded pieces of salmon work. Lures that look like squid, or octopi also work. Halibut are opportunistic eaters. They are attracted to the silver color of smelt and herring, but they also tend to like lighter colored lures too. Their eyes are accustomed to catching the sun reflecting off of silver smelt, herring, and even salmon, which is why silver flashers can be good.
Where To Stay for Chicken Fishing
Note: Is is perfectly reasonable to expect to catch a Barn Door away from the Gulf of Alaska. There will be big fish throughout the flat continental shelf waters all around Alaska. The use of the word "Peak" only implies seasonal migration and trends in fishing population. Remember that Chicken's can be larger than most anything else you hook.
Kodiak Lodge, Kodiak Raspberry Island Remote Lodge, The Karluk Lodge
Alaska Halibut Saltwater Fishing Calendar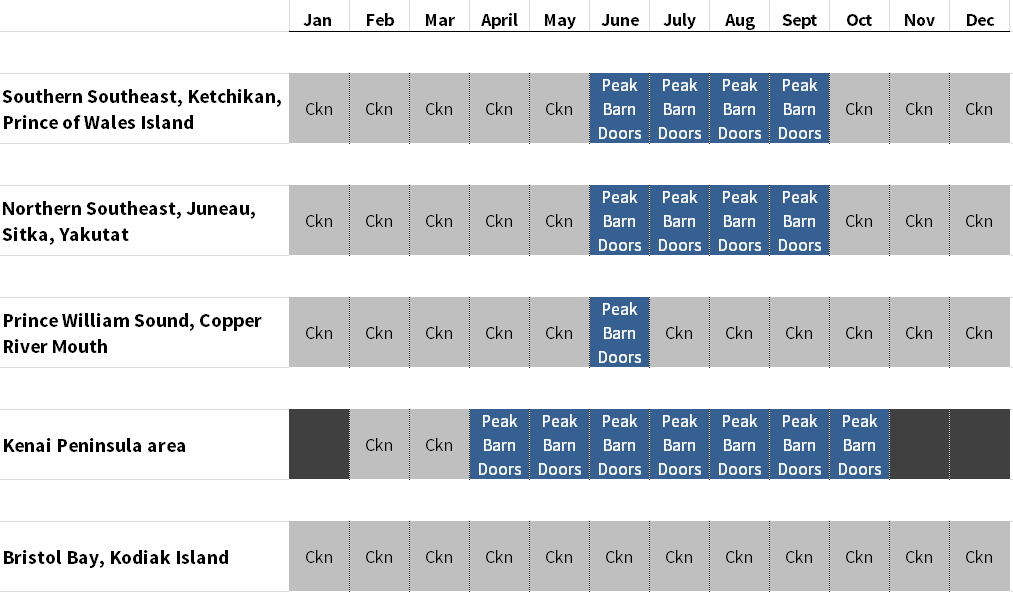 Popular Alaska Fishing Destinations
Recent Articles