Ask the Pro's: Alaska Fishing Trip Planning & Destination Advice
Would you like to contact to check availability or learn more?
Fill out the info below and someone from will get back to you.
Email Sent
My Wife and I plan a 10 day fishing trip every year in early June, next year we would like to do a big trip to alaska. I'm thinking the southwest passage area but am really open to anything. Do you have any suggestions that aren't 10k per person? We were thinking of a budget of around $3k per person all in with lodging, fishing, food, airfare, etc.

Basically what are the best budget options for us that would still give us the Alaska fishing experience we're looking for? We're open on where to go in Alaska as well. So if you could give some suggestions on DIY options with guides, budget lodges or any other outside the box solutions would appreciate it.

Thanks!
Sam

Hey Sam!

Alaska is an amazing destination for fishing, and there are many options for a budget-friendly trip that will still allow you to experience the beauty and excitement of fishing in Alaska. Here are a few suggestions:

Kenai Peninsula: The Kenai River is one of the most popular fishing destinations in Alaska and offers world-class fishing for salmon, trout, and more. There are plenty of budget-friendly lodging options in the area, and you can also hire a fishing guide for a day or two to help you find the best spots.

However, with Airfare for two sometimes eating already half of your 3k budget depending on where you're coming from, plus a rental car that's a tight budget! I would consider camping down on the Kenai River in Soldotna as there are many city ran camp grounds that are actually on the river! Bring all your own gear and come in the peak of the Sockeye run Late July and early August to insure you catch some Sockeye Salmon. You could save some on meals if you cooked your catch that evening over the fire in your campsite! Make sure you brings your waders and tackle so you don't have to go out and buy that. All in all you could make it work if you explored this route! Keep in mind that you'll need to purchase a fishing license, which are very affordable here in Alaska.

Overall, there are many budget-friendly options for fishing in Alaska. By doing your research and being open to different types of trips and accommodations, you can have an amazing fishing experience without breaking the bank.

Scott

Scott Daletas - Owner/Guide for

Kenai Drift Anglers

. Here at Kenai Drift Anglers, we focus on the fish, period. We're not a full service lodge, but yet a full service guided fishing service. ere at Kenai Drift Anglers you will be treated like family and welcomed to our home, Alaska.

Sam,

Alaska is truly amazing! It can definitely be done without spending 10 grand per person as well. Flights sadly have jumped in price significantly but once that hurdle is crossed fishing can be done both guided and some DIY options. Fishing and traveling on the road system in south-central Alaska is a great option and has more fishing options and other things to see and do than parts of the south-east. One option to save on a vehicle and lodging would be to combine the 2. There are several options for renting smaller RV's and truck and campers in the greater Anchorage area. There is also an app named TURO. It is essentially like AirBnB/VRBO but for private individuals vehicles. Over the years we've had thousands of guests utilize this service and get great vehicles at a very affordable price. There are countless road access fisheries from down south on the Kenai Peninsula and even more up north on the Alaska Parks Highway. Fishing in Alaska is different than most of the lower 48 and hiring a guide for a day in each location to show you the ropes and give you advice on where else to fish would help increase your learning curve quickly and that way when you are fishing on your own you will know how to fish correctly making the most of your time here. Good luck on your adventure!

Cheers - Adam

Adam Cuthriell - Part owner of

FishHound Expeditions

. His wife Kathryn Cuthriell and business partner Dave "Reps" Repta make up the rest of the company as well as their dogs Hatch, Rado, and Pike. They fish, live, and guide in Alaska year-round. When not guiding on the rivers they guide ice fishing on Alaska's numerous lakes. Originally from Colorado, he began guiding at the age of 19 while receiving a degree in Outdoor Recreation Leadership. Adam is also a current state of Alaska EMT.

Hi Sam,

The inside passage trip is a beautiful trip. When it comes to lodges and that kind of thing, down there, I am not to in tune with. If you came into Anchorage and either base out of here for a bunch if DYI stuff or fly out of here to a lodge would give you a ton of options. Finding a 3K lodge trip is really hard and if you did find one I would be skeptical of how good it is. Good lodges are going to be 5K and up to $14K per person per week.

When it comes to doing a DIY on our road system, you have options of either going North or South. Going south will provide you salmon and trout fishing. South will also have the most people, the Kenai Peninsula is a beautiful place with great fishing. Going North will provide trout and grayling fishing. There is less pressure that direction and a ton of walk n wade fishing options. The farther north you go, you will run out of trout and get into all arctic grayling fishing. This is the direction to go towards Denali National Park, which I recommend a trip into the park and hopefully get to see that mountain (it can be covered over a lot). If you want to look into lodge options, we can talk about that as well.

Happy to help any way I can.

- Mike

Have a question of your own?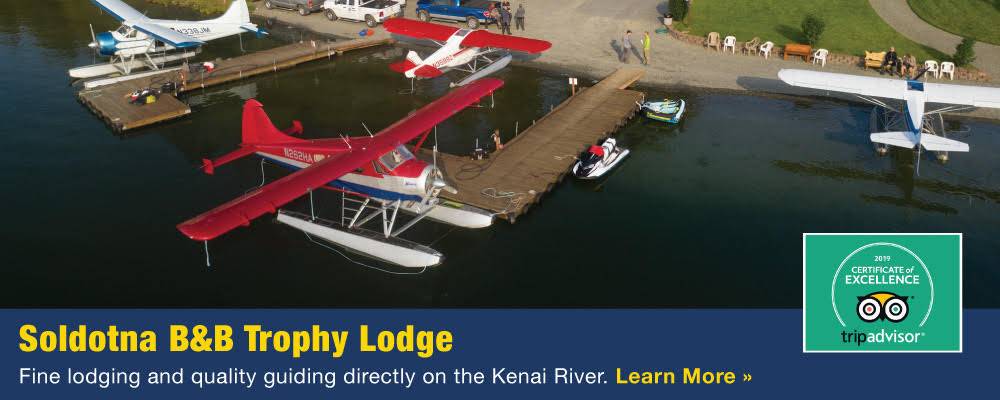 Popular Alaska Fishing Destinations
Recent Articles