Recipe: Beer Battered Salmon
Would you like to contact to check availability or learn more?
Fill out the info below and someone from will get back to you.
Email Sent
Fresh fish, especially fresh salmon, are at their peak culinary value when either prepared or packaged from the water as quick as possible. At Angler's Alibi Lodge, guests catch fresh salmon with an added advantage...they are caught from the river daily. Their location in the tidewater means that anglers are targeting salmon only a few hours after they have left the saltwater and are now in the fresh river system. This influx of salmon and an annually full roster of guests have given owner/operator John Perry plenty of opportunity to dial in some great recipes. He recently shared a couple of with the My Alaskan Fishing Trip crew, the first of which is shown here and it did not disappoint!
Feeds 4-6. Can be enjoyed as an appetizer or paired with your favorite sides for a delicious dinner.
Cooking Time & Skill
Skill Level - Intermediate
Prep Time - 10-15 minutes
Cook Time - 10-15 minutes
Total Time - 20-30 minutes
Ingredients
1 can of flat beer
1 box of Krusteaz pancake mix
Salt
Pepper
Cayenne Pepper
1 Quart Frying Oil (Your Choice of Avocado, Sunflower, Safflower, Peanut or Canola Oil)
2 Salmon Fillets, cut into 1'x1' chunks (Use any species of fresh caught salmon or for store bought we recommend wild caught sockeye salmon fillets which can be found at most grocery stores)
(Optional) Spicy Cocktail Sauce
1/2 Cup of Ketchup
1 Tablespoon Horseradish
1 Teaspoon Hot Sauce
1 Lemon Wedge Squeezed (about 1/2 teaspoon of juice)
Cooking Instructions
For the Sauce...add all ingredients into a small bowl, mix thoroughly and set aside.
For the salmon you'll need frying oil in a cast iron skillet or a deep fryer heated to approximately 350 degrees. If using a skillet, this will be just about a 1/4 the depth of the pan, as the oil will expand when it heats up. This will go a lot easier if you use a high temperature thermometer to keep the oil temp steady. If you don't have a thermometer, put the burner on just over half way and test some small dabs of the batter, adjusting the heat up or down until it fries up crispy and golden brown without burning or taking more than a minute or so.
Next, pour the beer in a glass and stir briskly with a spoon for about 30 seconds to decarbonate. Mix beer and pancake mix, adding a little of each until the batter is on the runny side, a bit more than you would like for pancakes. Add a few pinches of salt and pepper to the mix, as well as some cayenne pepper to for a little spice. Only a little cayenne is needed, but feel free to add more if you prefer spicy salmon.
Cut the salmon into 1x1 inch chunks, removing the skin if desired.
Dip salmon chunks into the batter and add pieces carefully to the oil, moving them gently back and forth for a few seconds until the batter begins to sizzle. This will prevent sticking on the bottom of the pan or the fryer basket. Whether using a skillet or a fryer, cook until the side in the oil is turning brown (about 60-90 seconds) and then flip each piece and fry the same way.
Once cooked let the pieces drain on some paper towels for a minute, then set aside and keep warm in the oven (at about 200-250 degrees) until you have completed all your frying. Be sure to reheat the oil back to 350 degrees after each batch to get all the fish to fry equally. Serve immediately after cooking is completed.
Verdict...Tasty!
This recipe came out great! We added the spicy cocktail sauce to this dish to give it some bonus flavor. We followed John's recipe for the fish to the letter and it came out crispy, light, and flavorful. Having done many fish fry's ourselves over the years, this recipe was actually simpler than most yet VERY tasty. In describing it, John said, "This appetizer is a guest favorite for sure. We use this recipe on chum, sockeye, king, and silver salmon. The most preferred salmon for the beer batter is surprisingly chum salmon, with its delicate light salmon flavor."
Of course, we think you'll just have to get up there to catch some and decide for yourself. Until then, try this one with any salmon available in your area and enjoy the great taste of an Alaska fishing trip today.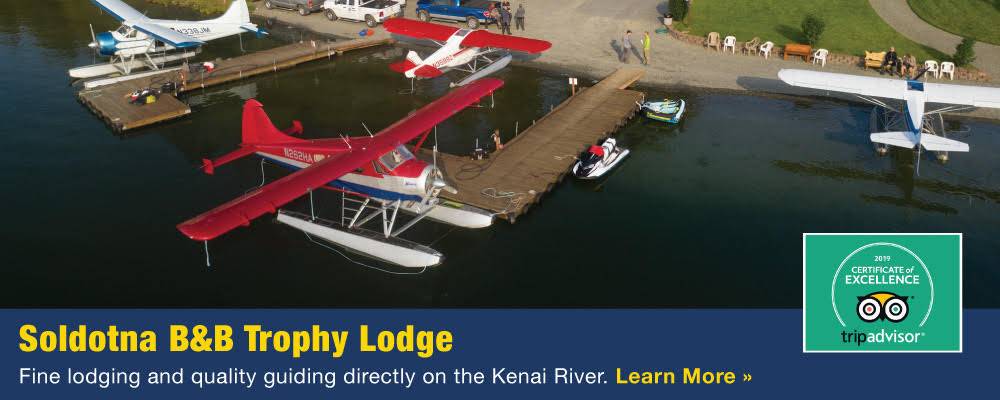 Popular Alaska Fishing Destinations
Recent Articles