Ask the Pro's: Best Time of Year & Species for Kids
Would you like to contact to check availability or learn more?
Fill out the info below and someone from will get back to you.
Email Sent
My wife and I would like to take our 5 and 7 year old salmon fishing in Alaska on a river or charter. A total of possibly 7 people may go on this trip. Is there a time of year that would be best for us? We're thinking June, July or August. Any specific species we should target or things to look out for?

We live in Washington State and my boys have river and lake fished but I want to hook them into something and see something of size.

- Brian

It's great to hear that you want to give your kids an awesome experience fishing up here in Alaska! With all there is to see and do in this great state, I'm sure you'll create incredible life-long memories!

As far as accommodating larger groups, we have multiple drift boats and guides that can comfortably take you all down one of our salmon rivers. With your group we would recommend splitting up into two drift boats with 4 people in one and 3 in the other.

That being said, there are several options throughout the summer to get a chance at hooking into some really nice fish.

Mid-May until July 31st offers the chance at giant King Salmon here on the Kenai Peninsula. During this same time period, Sockeye Salmon are also running, which can be a bonus as well. During the late summer and into fall, Silver Salmon are abundant and can also offer an excellent fishing experience.

Though you didn't mention it, but I thought I'd throw it out there, Catch-and-Release fishing for Rainbow Trout and Dolly Varden is usually hot around late August through the end of September. There are lots of trophy trout around and from a sheer numbers and catch rate standpoint, your kids could have a blast catching fish all day on nearly every cast with the chance of hooking a monster! Silver Salmon are also usually running at that time of year as well which would give your kids lots of excitement as they are known for their incredible fight & acrobatics when hooked!

Either way, I find that kids are generally super enthusiastic about fishing and really love catching fish. The challenge can be on long or slow days keeping their attention. This being said, I would suggest taking one or two half day trips to help break up the fishing and keep them "hooked". You could also try for different species on different days to give them more of a variety.

Fishing with kids is something we really look forward to with our guide service, so hearing that parents are eager to get their kids out fishing gets us excited for the next generation of passionate anglers.

Here's wishing you tight lines and a great Alaskan Vacation!

Dave Lisi - Owner/Guide for

Cooper Landing Fishing Guide, LLC

located in the small mountain town of Cooper Landing, Alaska where he is a year-round resident, guide, carpenter and trout bum. On any given day, you will most likely find Dave on the banks of the Kenai swinging for trout with his best friend and future wife, Jackie. Cooper Landing Fishing Guide, LLC was built in early 2017 with the goal of sharing the love and passion Dave and Jackie have for the Kenai Peninsula and the fish that live there.

Well, June/July from a weather stand point would be the better option and they could fish for Kings or Sockeye's. King fishing is going to be more of a gear game than a fly game, Sockeye fishing is going to be a harvest type fishing. If they wanted to come in August, Silvers will be on the table and probably a easier and more enjoyable fishing excursion. They can use gear or fly for Silvers.

Regardless, any of those 3 months will have Salmon to chase.

Hope this helps.

Hello Brian,

Glad to hear that you want to come to Alaska for "something of size" in the fishing department. Unless the boys have already fished for pink salmon, in WA, I would recommend those for a "sure thing". You just have to understand that pink salmon are usually not "keep-able" for eating. Pinks are the salmon that have spent the least time out in the salt water, so they have less time to build up bulk. If your fish has a large or small hump on their back or a white belly they aren't good to eat. Please just return them to the water carefully because their bodies put a lot of nutrients into the environment.That said, I really, really like pink salmon because they are very eager to take a fly and give you lots and lots of action.

You'll have a lot of options for a either a camping trip or a lodge trip a because pinks are in lots and lots of rivers in July, and sometimes even into August and can be found nearly anywhere you might want to visit. You can get information about locations where they are available on the AK Fish & Game web site.

Charter boats are very available in the cities of Homer, Seward, Kodiak and many, many other places near salt water. Hope that gives you some ideas for your vacation in Alaska! Cheers, Pudge Kleinkauf

Cecilia "Pudge" Kleinkauf - The owner of

Women's Flyfishing®

, a Trout Unlimited Endorsed business, "Pudge" Kleinkauf, is Alaska's leading woman fly fishing instructor, fly tier and guide.

Have a question of your own?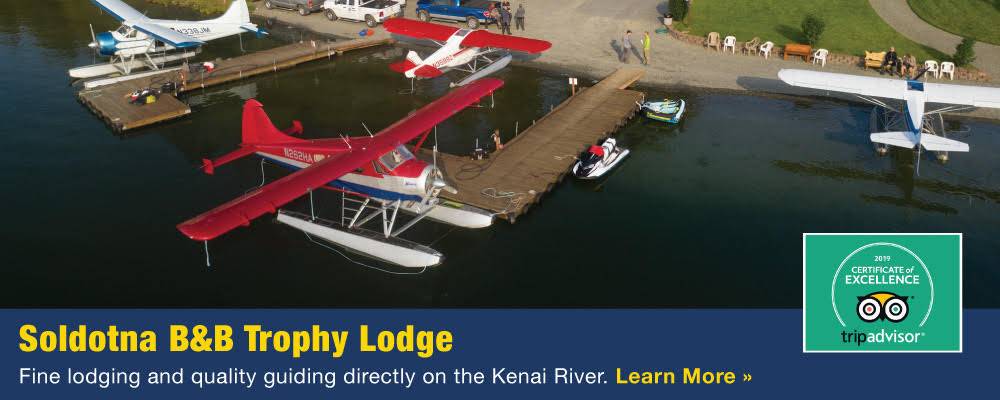 Popular Alaska Fishing Destinations
Recent Articles