Exploring Anchorage - Restaurants, Breweries, Activities, Lodging & More
Would you like to contact to check availability or learn more?
Fill out the info below and someone from will get back to you.
Email Sent
Anchorage, Alaska is one of the most common entry points for people traveling to Alaska, including anglers going on fishing trips. Anglers have access to some great fishing day trip options near Anchorage while staying near the largest city in Alaska but it is mostly a common gateway to lodges that offer the complete Alaska fishing trip experience.
It's a good idea to plan on a day or two in and around Anchorage before or after your time fishing. The city is known for its cultural sites and access to nature, but Anchorage also offers quality dining and shopping, so you have plenty of options to add another experience to your trip.
We checked in with Mike Brown of Mossy's Fly Shop which is located in Anchorage, Alaska to get his thoughts on what to do with a day in Anchorage (when it's not a fishing day).
How long have you lived in the Anchorage area?
I have lived in Anchorage for 48 winters, haha. My dad came to Alaska in 1948 and I was born and raised here in Anchorage.
A lot may view Anchorage as someplace they are traveling through on their Alaska vacation. Why should visitors consider spending a day or two in the Anchorage area at the beginning or end of their trip?
Anchorage is definitely a hub for traveling throughout Alaska, one reason to give Anchorage a day on either end of your trip is simply a rest period for the next leg of your trip. If you are headed out to a lodge, a day or two gives you time to pack and arrange for a smaller flight, last minute shopping for local stuff or maybe go see some scenery close to town. If you are choosing to stay on the way back home, you can drive up and see Denali National Park or maybe fish a day on one our rivers on the road system.
How would someone get around Anchorage? Do you need to rent a car or can you get by with public transportation, taxis & ride-sharing (Uber,Lyft)?
Some Hotels have shuttles, we have Uber and Lyft now as well as Taxi's. You can also rent a car.
For someone who has never visited Anchorage can you tell them how big it is? It is walkable? And how long would it take you to get from one end of town to the other by car?
Anchorage is not a very big town, about 300,000 people live here and that includes two military bases. While Anchorage is not very big, it is spread out. If you are staying downtown, there is plenty that you can walk to. If you are needing specialty shopping, you will need a ride. Depending on the time of day you can get across town in 15-20 min.
Do you have any favorite local Anchorage hotels/lodging you like to recommend to visitors?
The two most common places people stay when they are coming through town are the Lake Front Hotel and the Captain Cook. We have a ton of hotels in this town these days, they are hard to keep up with and what they are like. It's important to keep in mind that hotels in Anchorage aren't typically cheap during the summer.
The Lake Front Anchorage is just a couple minutes from the terminal and is a common place for a lot of anglers that are going back to the airport early in the morning. It provides good accommodations, a bar, a restaurant and lake side viewing of Lake Hood (one of the worlds largest float plane home port). You are within walking distance of a couple other restaurants as well and you'll also be about 7 minutes from our fly shop. We drop off a lot of orders here throughout the summer for folks that get in late and leave early.
The Hotel Captain Cook is a long-time hotel located downtown. The Captain Cook provides good accommodations, a couple bars, high end restaurant at the top. The Cook is also within walking distance to several restaurants, bars, shopping and night life. Any specialty shopping will require a ride.
What are three activities or sights you would recommend for someone staying in Anchorage area?
If time provides and you have a car, a trip north about 2-1/2 to 3 hours along the Alaska Parks Highway to see Denali. You don't have to drive to the Denali National Park to see the mountain, in fact one of the best views is actually short of it by an hour.
Other good car ride trips would be to Portage Glacier and to the Alyeska Resort tram ride. The drive to Portage Glacier is about 45 minutes south of Anchorage. While the glacier is far more receded than when I was a kid, the drive is still a beautiful one along Turnagain Arm and the glacier is a neat site to see. The Alyeska Resort tram ride to the top of the mountain is a great way to get a birds eye view of Cook Inlet. Alyeska is in Girdwood, a 30 minute drive south of Anchorage.
A little farther drive south that is a good one is the drive to Seward, Alaska. Seward is a small costal town 2 hours south of Anchorage and it's a beautiful drive. You can drive down early, have lunch and return back by dinner time.
There are all kinds of air charter services that you can take a day flight to see Denali, Glaciers and all sorts of sights. The City Museum is another good way to spend a day. The city has done a lot with the museum over the years and it's pretty cool to go see.
Do you have any day trip hikes you recommend in the Anchorage area? Anywhere within an hour drive or so of Anchorage would qualify…something that someone could get to, do a 2-4 hours day hike and be back in time for dinner.
There are several hiking trails along the Seward Highway south of Anchorage, along Turnagain Arm, that all climb up the mountain side and give you a great view of Cook Inlet and magical sunset views. Girdwood also provides a few hiking trails as well..you can view a list of hiking trails near Girdwood here. Anyone wanting to go on a hike needs to be very bear aware, cause most of the trails have them.
North of Anchorage, in Eagle River, is the Eagle River Nature Center. The Nature center has a really cool, easy to walk, hiking trail system. This is another place to be bear aware.
What are some options for people that want to get some fishing in while in Anchorage...where would you recommend someone based out of Anchorage for a day or two explore? And are there guides that work this area or would you be best to just stop into Mossy's get info and explore on your own?
We have several day fishing options out of Anchorage, both North and South. Going North provides a several nice walk-n-wade streams and lakes. Driving South you can fish the Upper Kenai River and Russian River, this is the easiest and closest drive going south. Both directions have guide services that provide day trips. If you are looking for a one day float fishing trip from Anchorage, then the Upper Kenai is a great option for that. There are plenty of Kenai River fishing guides to choose from or you can do these rivers on your own as well, plenty of access points.
What are your favorite local restaurants in Anchorage & what's your favorite thing to eat at each place?
You mentioned brewpubs…how about breweries in the Anchorage area? Which ones are your favorite and what's your favorite beer at each?
We have several breweries and brewpubs in town.
Where is Mossy's Fly Shop Located in Anchorage? What area of town and are there any good local restaurants / bars/ breweries are within walking distance of Mossy's?
We are located in South Anchorage. We have a few good restaurants (Suite 100) and 2 Brewery's (King St and Midnight Sun) close by. Not much in walking distance.
Any other tips or thoughts you wanted to share for someone who might be visiting Anchorage for the first time?
Be prepared for a lot of day light and staying up late because of it. Anchorage is a neat town with the wilderness close by.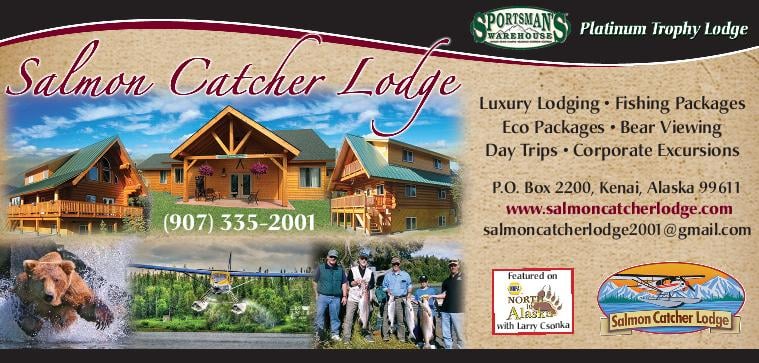 Popular Alaska Fishing Destinations
Recent Articles