Ask the Pro's: Fly Fishing for Silver Salmon & Big Rainbow Trout
Would you like to contact to check availability or learn more?
Fill out the info below and someone from will get back to you.
Email Sent
A friend and I are heading to Anchorage the last week of August, 2020. We are both experienced fly fisherman and plan to rent a car and drive and fish. I am most interested in big rainbows, but Silvers are a plus too. So far we plan to split our time between the Cooper Landing area on the Kenai River and the Talkeetna area. We will use guides for 2-3 days and fish the rest by ourselves. We are trying to keep costs down, no helicopters--but willing to both wade or float. Any advice on where we should expect the best fishing and to concentrate our relatively short time in Alaska--the Kenai area or the Talkeetna area? Decreased crowds, big and abundant fish?

Thanks!
- Jeff

I think you have picked a good time of year and have a pretty solid plan penciled out. Keep in mind August typically gets rainy, especially later in the month, this could effect which direction you go, as fishing the Talkeetna area streams can be impacted quicker from heavy rains than the Kenai does.

As for where to spend you time. The Upper Kenai, Russian River and Quartz Creek are all great fisheries, should produce good numbers and have good size fish. These will be the most crowded fisheries though, the Kenai Peninsula draws a lot of fishing pressure due to it's salmon returns and trout fishing opportunities. The Talkeetna area has a lot of walk-n-wade opportunities and typically will be far less crowded. Salmon returns for this region have been struggling for several years and there are just no guarantee's what to expect up there for salmon. Salmon being in the system definitely has a impact on the trout fishing, but trout will still be around. One thing I would look into in the Talkeetna area would be a drop off/pick up trip to Clear Creek, you would contact Phantom Charters in Talkeetna to look into this and book. It's a very affordable trip and the fishing can be fantastic.

When it comes to big rainbow trout, that size varies for everyone. Since 20" trout are considered big all over the world, I personally think anything over that is big. Both systems you are looking at produce fish over 20" and since you are coming right when the egg drop starts, you shouldn't have a problem finding big fat fish.

I hope this helps and of there is anything we can do to help or answer more questions, please let us know.

Thanks - Mike

Jeff,

I cannot speak to the Talkeetna area but I am glad to lend my perspective on fishing the Kenai River watershed and where I feel the best fishing will be occurring during the late August time frame. That is definitely a good time to be here and with 2020 being an even year, that means we will see our bi-annual run of pink salmon this year. For trout fishing, the pink salmon provide a bonanza of food in the form of loose eggs from the spawn and then subsequently a massive supply of protein in the form of decaying carcasses once the pinks finish spawning and perish. As this return typically numbers in the millions, the amount of loose eggs and flesh from carcass meat is significant and there is no doubt this has a dramatic effect on Kenai River Trout feeding habits and fishing in general. Late August is also the annual time period that we see not only our late run Kenai River king salmon spawn, but also the late run sockeye salmon as well. All of these salmon tend to spawn in specific sections of both the Middle and Upper Kenai and that too is helpful to consider when targeting these spawning events in context with targeting both rainbow trout and dolly varden.

To break down where to be and when in terms of targeting big rainbows related to the different salmon spawns, let's start with the kings as they are for the most part the first to drop their eggs. Kenai Kings tend to spawn in faster, deeper water than the other salmon species as they are larger and are more able to not only hold but move the larger substrate associated with these sections of the river. They tend to be found more mid-river and while there are definitely places in the Upper Kenai where kings regularly spawn, the majority of the spawning takes place in the Middle Kenai from below Skilak all the way to tide water. Some of the most prevalent king salmon spawning areas include below Skilak Lake from what they call the dunes or the washboards (just below the lake) and throughout popular holes such as Super Hole, Thompsons, Wally's Hole, Third Hole, Second Hole, and First Hole. Spawning density will vary from year to year depending on run strength and water conditions but typically all these locations will see some degree of king salmon spawn beginning in mid August and extending into the first week of September. Obviously replicating the king salmon spawn requires matching the hatch so using larger egg imitation such as beads in 10mm and 12mm size range will yield the best results. This section of the middle river and the sections of the river where king salmon spawn are not easily accessible from shore and thus the most effective way to fish these areas and target larger rainbows is by boat.

The second species of salmon to spawn in the Kenai River is the late run of sockeye salmon and their spawn tends to peak in late August and extend well into September. Sockeye salmon spawn largely in the Upper Kenai River near Cooper Landing to Skilak Lake and also in the Middle Kenai River throughout the 2-3 mile section below Skilak Lake. Again, depending on water conditions and run strength, certain areas will be better than others from year to year and even day to day, but as a rule, anywhere sockeye salmon are present and actively spawning, you will find larger rainbow trout and dolly varden feeding on loose eggs below them. On the Upper Kenai, there are a number of access points, especially from Sportsman's Landing to Jim's Landing, where one can walk in and access sockeye salmon spawning areas and target rainbows and dollys from shore. Be prepared as you will not be alone and this section gets very busy with both boat and shore anglers during the peak of the sockeye spawn. This section of the river is especially popular with resident anglers traveling down from Alaska's largest population base in Anchorage and the Mat Su Valley. The most effective and productive way to fish this section is by boat. The section from Jim's Landing to Skilak Lake, also known as the canyon section, is also a very high density sockeye salmon spawning area. This section is predominantly accessible by boat and includes class 4 rapids requiring an advanced level of rowing experience. Wind is also a huge factor for accessing this section as once you exit the river into Skilak Lake, you must motor several miles across open water to upper Skilak boat launch. Wind events can often create very rough conditions for crossing the lake, making it unpassable, and when this occurs the only option can be to leave your boat and hike out several miles to Skilak Lake road or spend the night at the outlet and wait for winds to pass.

The third spawning event, again only on even numbered years, is the pink spawn. While there are definitely a significant number of pinks that spawn in the Upper Kenai near Cooper Landing, the vast majority of the pink salmon return spawns in the Middle Kenai below Skilak Lake. Just like all of the other salmon, the density of the pink spawn will vary depending on run strength and river conditions. Typically the most popular places to target large rainbows and dolly varden during the pink spawn are in the section 2-3 miles below Skilak to Bings Landing and also to a lesser degree, from the town of Sterling to the first 2-3 miles below the Soldotna bridge. Combined with sockeye salmon carcasses discarded into the river from the July to mid August sport fishery, the amount of food present in all these areas is overwhelming. This abundance of food makes for fat and health trout populations but it can also make the fish more discerning and less aggressive to just any flesh pattern or egg imitation. Presentation and very select flesh flies and single egg patterns (size and color) are often required for the most consistent success, especially for targeting older age class rainbows.

Hope this helps and good luck. If you need any additional advice, please do not hesitate to drop me a line at mark@mgfalaska.com or visit Alaska Fishing with Mark Glassmaker for more info.

- Mark

Mark Glassmaker - Owner & Guide of Alaska Fishing with Mark Glassmaker on Alaska's Kenai Peninsula

Mark is a 30 year veteren Alaska fishing guide. Along with his wife and three daughters, Mark resides on the Kenai River and offer guided fishing on both the Kenai and Kasilof rivers, saltwater fishing in Homer, Seward and Cook Inlet and fly out fishing adventures to the West Side of Cook Inlet and beyond. Mark also owns several vacation homes which are available exclusively to his fishing clientele and he also owns a property management company where he manages and rents lodging for a number of privately owned cabins and fully furnished homes in the Soldotna vicinity. Please call 907-262-0892 or visit Alaska Fishing with Mark Glassmaker for more information on the services Mark offers.

Gentlemen,

Congratulations on your upcoming trip to Alaska! Fishing in late August is truly some of the best of the season. Trout, Grayling, and Dolly's are on feeding rampages with all the salmon spawn in the water and silver salmon should be fairly spread out through the different river systems you are planning on targeting. Having a vehicle and being willing to travel is the best way to chase fish on the road systems both south on the Kenai Peninsula and north in the Talkeetna area. Splitting time between the 2 is a good ballpark plan.

With big bow's being your main goal the Kenai River is typically the best bet for monster trout, 30 incher's are seen here. To get to where these fish are though you will definitely need a boat or a guide. These large fish are typically found on the middle section of river which has vary limited wade/hike in access. There are large fish here and strong salmon runs but there is also a lot of people and pressure, the term combat fishing is used here frequently. There is good wade fishing on the Upper Kenai but bows are generally not as large, however the scenery is quite amazing.

Heading north will give you more variety in rivers and far less people and pressure. We have seen bow's over 30 inches here but with far less frequency than the Kenai. There are many big bows though and a great variety of fish as well such as Arctic Grayling and of course Dolly's too. There are many smaller creeks here that are great for hiking in and wading. There are also a couple larger rivers that are best fished from a boat.

I have guided all over Alaska, the lower 48, and Russia...and anywhere you can drive is going to have people and pressure. I understand keeping costs down after all I'm a dirtbag fishing guide!! But, there are affordable fly in options and they are definitely worth a look to see if it's in the budget. After all there are way more rivers than roads in our amazing state! Please feel free to reach out to me if you have any more questions regarding your trip either through My Alaskan Fishing Trip or my guide service at FishHound Expeditions. Thanks for your time and good luck on your trip!

Cheers - Adam

Adam Cuthriell - Part owner of

FishHound Expeditions

. His wife Kathryn Cuthriell and business partner Dave "Reps" Repta make up the rest of the company as well as their dogs Hatch, Rado, and Pike. They fish, live, and guide in Alaska year-round. When not guiding on the rivers they guide ice fishing on Alaska's numerous lakes. Originally from Colorado, he began guiding at the age of 19 while receiving a degree in Outdoor Recreation Leadership. Adam is also a current state of Alaska EMT.

Have a question of your own?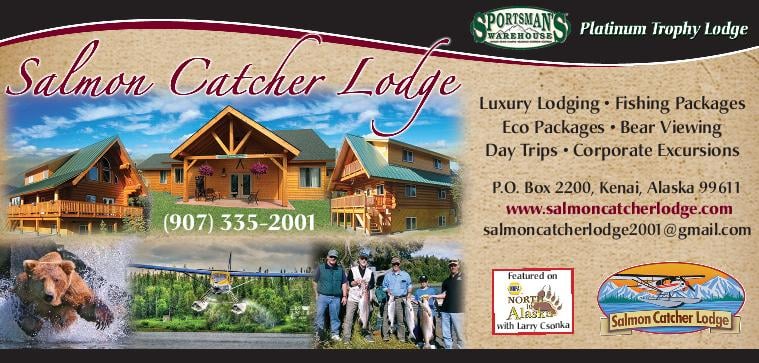 Popular Alaska Fishing Destinations
Recent Articles