Ask the Pro's: Fly Fishing for Silver Salmon in September
Would you like to contact to check availability or learn more?
Fill out the info below and someone from will get back to you.
Email Sent
I am going to be in Alaska Sept. 16 - Sept. 21st. I know trout fishing is great at this point but I would love to catch some silvers on a fly rod. I'm flying into Anchorage for work and will only have one day to fish. Are there any rivers that usually have a really strong silver run at that point that are within 4 hrs of Anchorage? Preferably not the Kenai since I won't have a drift boat. I've searched all over online and am having a hard time finding detailed information.

Thanks!
Thom

The Russian River and the Upper Kenai will both have Silver Salmon in them. The Upper Kenai has plenty of access to fish for Silvers without a boat, it is very doable on foot. Swanson River in Sterling should have Silvers as well at that time. Ship Creek and Campbell creek here in Anchorage has Silvers as well, but typical run timing puts these streams at the back end and less likely to be good.

North of town has had a lot of return issues the last several years and I don't think I would bank of them for a single day to go fishing.

Anything we can do, please let us know.

Thanks - Mike

Hey Thom!

September is definitely a great time to be in Alaska and you're right, the fishing in the fall can be excellent! September river flows may help you with your Kenai River dilemma. Though you will need access to the river via public access points, there are places where you can target silvers from the shore with a fly rod. They tend to stay close to shore and love slack water. If you can locate these prime holding areas on foot, you can certainly have success. As far as other places to target them, the Russian River also holds a decent run of silvers as well. Up north of Anchorage, some of the Susitna River drainages (like Montana Creek) hold great populations of silvers. Be sure to check regulations for each place you wish to target them as well as any emergency orders that may come out.

Hopefully this helps and I hope you have a great time and tight lines!

Dave

Dave Lisi - Owner/Guide for

Cooper Landing Fishing Guide, LLC

located in the small mountain town of Cooper Landing, Alaska where he is a year-round resident, guide, carpenter and trout bum. On any given day, you will most likely find Dave on the banks of the Kenai swinging for trout with his best friend and future wife, Jackie. Cooper Landing Fishing Guide, LLC was built in early 2017 with the goal of sharing the love and passion Dave and Jackie have for the Kenai Peninsula and the fish that live there.

Thom

Hello and sorry for my delay on getting back with you. I have been out guiding remote fly in trips the last three weeks ( I know right, poor me!). The Silver Salmon fishing is still typically quite good in our neck of the woods through out the end of September and sometimes the first part of October. We are located in the town of Willow which is about an hour and fifteen minutes north of Anchorage. We fish on 5 different rivers so we have lots of options. Please feel free to call or email with any more questions.

Cheers,

Adam Cuthriell - Part owner of

FishHound Expeditions

. His wife Kathryn Cuthriell and business partner Dave "Reps" Repta make up the rest of the company as well as their dogs Hatch, Rado, and Pike. They fish, live, and guide in Alaska year-round. When not guiding on the rivers they guide ice fishing on Alaska's numerous lakes. Originally from Colorado, he began guiding at the age of 19 while receiving a degree in Outdoor Recreation Leadership. Adam is also a current state of Alaska EMT.

Have a question of your own?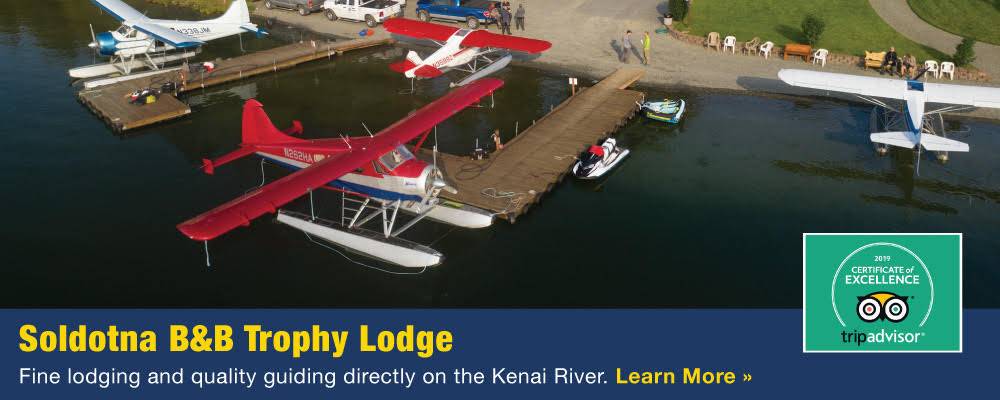 Popular Alaska Fishing Destinations
Recent Articles