Fly Fishing for Trophy Rainbow Trout
Would you like to contact to check availability or learn more?
Fill out the info below and someone from will get back to you.
Email Sent
There are so many lodges and do it yourself areas in Alaska that boast about catching "Trophy Alaska Rainbows".
So...What constitutes a "Trophy Alaska Rainbow"
Truth is, just like the lower 48, they are not a dime a dozen. The next question is, what is a true trophy for Alaska standards? Most guides, lodge owners, and die hard locals would agree that a 30" or larger rainbow trout is the trophy size for Alaska and for that matter, the globe. Sure, there are a lot of places that hold these fish in the lower 48, but most are on private tracts of land or have just been released from a hatchery because they will no longer produce eggs. These large "brood stock" rainbows and browns can be caught in tail-waters where there is enough food to sustain such a large fish. A true 30" fish in the lower 48 that is wild and not associated with a tailwater will live in a river or lake that has a ton of biomass to produce such a beast of a trout. There are not many places where this happens naturally. In Alaska, there are few river systems that can hold and routinely yield fish of this size. Yes, even in Alaska, the amount of true 30" plus trout water is not a common place.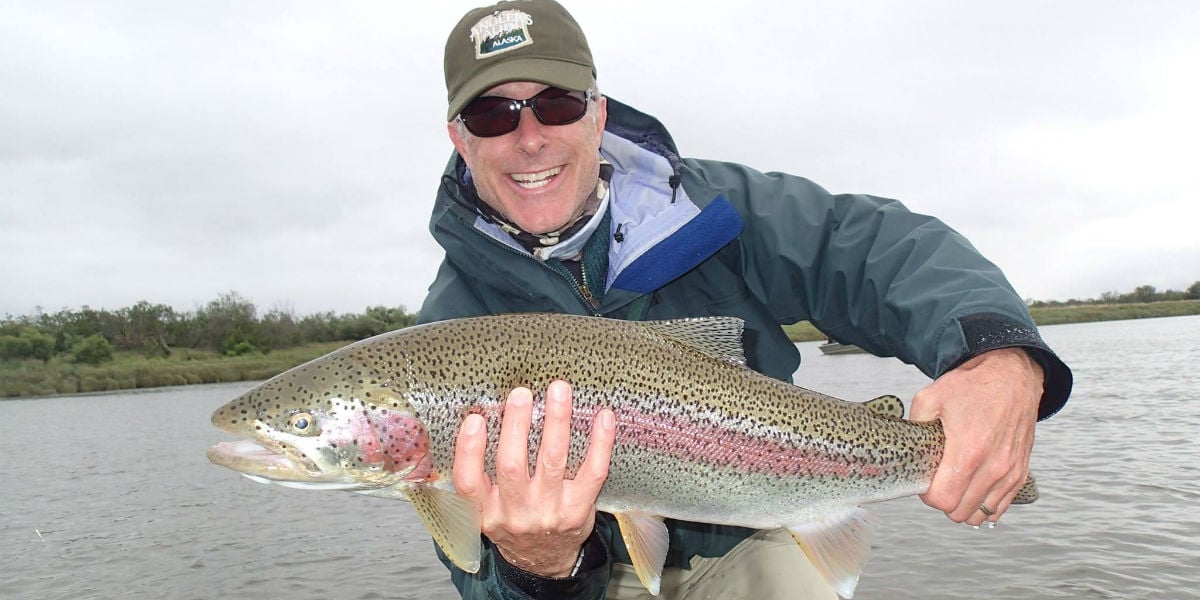 Best Places to catch Trophy Rainbows in Alaska
There are about 4 river systems in Alaska that routinely hold and produce fish of such size. Notice how I said system? This is due in part that the fish not only have a river for food during the 12 month period but also a lake or series of lakes and tributaries in which to feed and mature to achieve such a status of 30 or more inches.
Rainbows in all systems take advantage of millions of sockeye, chum, pink, king, and silver salmon to feed them for most of their life cycle. Not only do the salmon offer a huge biomass of rich eggs into the river system every summer, but also supply the systems with a huge amount of nutrients post spawn when their life cycle comes to an end and thousands of pounds of dead salmon fertilize the rivers supplying nutrients to not only the salmon but also the plants and wildlife that make the river system areas their homes.
The lakes will hold some species of salmon for a year before they head out to sea. These smolt are another source of nutrients to the trout. As you can see, the salmon are everything in regards to a food source for the salmon. Yes, these rivers have mice, sculpins, and aquatic insects, but by far the biggest contributor to the trouts life cycle and large growth is due in part to the salmon. Take away the salmon, and there would be not trout.
Kvichak River
The Kvichak (Kwee-jack) River is one of the best for trophy trout. It is the outflow river to the largest lake in Alaska, Lake Iliamna (Illi- am-na) This river and it's tributaries into lake Iliamna routinely yield trout of 30"'s or more every season, but not in numbers that one would expect. A fellow lodge owner has guests that fish this system from Mid August to October during it's prime time, and even with all this time the number of true trophies will not take more than two hands to count. It is an amazing river, and there are a lot of 25" plus trout that are landed though, hundreds over the course of the season.
Alagnak River
The Alagnak River system is comprised of 2 large lakes, the Kukaklek (Koo-cock-lek) and the Nonvianuk (Non-vi-nuk) lakes. The Alagnak and it's tributaries above the two lakes will yield trout of 30"s or more every year as well. The system has a large amount of sockeyes as well as other salmon that give it the much needed biomass that trout need to get to the magical size. The two rivers in the system that will usually yield the trophies are the Moraine Creek drainage and Battle Creek, as well as the Alagnak River. The fish are highly mobile and will move from river to lake to tributary in order to maximize their food potential.
Naknek River
The Naknek (Nack-nick) River System is one of the best systems for trophy trout. This is due in part to the way the river fishes in early season for post spawn trout and how well it fishes way late in the season due to its location and ease of accesablity. There are a few places that will take anglers right up to ice time. The town of King Salmon is the hub town here and can be reached daily from Anchorage. The trophy trout are usually caught in the river itself but sometimes caught in some of it's tributaries above it's lakes, Brooks Lake and Naknek Lake. There are some that will still troll the lake for huge trout, but not many. There is a picture of a trout in the mid 30" range in Brooks lodge that was caught in the lake. It is one of the larges non-steelhead trout I have ever seen. The beauty is that these huge rainbows will drop back into the river to feed on salmon flesh and eggs in late fall.
Kenai River
The Kenai (Kee-ni) River System is the last on the list but not the least! It is right under the nose of most tourists, and by far in comparison to the other rivers mentioned above has the most traffic, ten fold. The catch is, most that fish the river are targeting salmon to take home to eat. The beauty is that it's one of the best trophy trout rivers in the state and is attainable by a rental car from Anchorage in less than 3 hours. There is also no shortage of great fishing lodges & guides on the Kenai River to choose from. This river like the Naknek will fish the best during the fall to ice up time. It will have a fair amount of true trophy trout caught every year. Yes, this right there by most Alaska travel plans.
Good luck chasing down that true Alaska trophy trout!
Popular Alaska Fishing Destinations
Recent Articles