Ask the Pro's: Keeping the Wife Happy on a Fly-Fishing Vacation
Would you like to contact to check availability or learn more?
Fill out the info below and someone from will get back to you.
Email Sent
I have flexible dates and my bucket list number one item is to fly fish in Alaska. I fish catch and release and have been for 40 years I have all the equipment I need. I would like to fly into Anchorage stay there and each day take a guided trip either by boat to Waid Fish or even fly out to Wade fish streams and rivers. I am specifically interested in rainbows and would love to catch them on the top rather than drifting Eggs. Catching salmon would also be fine but not the priority of the trip as I finish each year in the lake Ontario tributaries for salmon common steelhead Cohoes kings etc. Is this something I could put together. The reason why I am not going to the lodge is not because of the money but because I will be bringing my non-fishing partner with me and I felt that she could spend the time at least in Anchorage comfortably while I am fishing. Glenn

Hey Glenn!

Most of the fishable streams, rivers and lakes are pretty far from Anchorage (2hrs or more). If you end up basing your trip in Anchorage, you will spend an awful lot of time on the road each day, plus there is so much more to see and do within a reasonable driving distance that I would encourage you to look for a different place to base your trip out of. Most folks fly in and out of Anchorage but only spend a day there on the way in or out, but quickly move on to other, more peaceful/quiet/beautiful towns that have all of, if not most of the same amenities.

If you are looking to catch Rainbow Trout on the surface, the warmer months (Late June & July and into the first week of August) are about the only times you'll have a great chance of catching rainbows up here on the surface. Some streams do tend to warm up faster and offer a bigger window, but those time frames would be best.

You don't have to fish out of a lodge or anywhere remote, but there are towns that are much closer to fishing and aren't major metropolitancities. If this is your bucket list trip, my strong advice would be to experience the "real" Alaska and not the cookie-cutter every town USA that is Anchorage. I would look at towns like Girdwood, Seward, Talkeetna, Cooper Landing, Kenai, Soldotna, Homer, etc... Much more to see and do, especially down here on the Kenai Peninsula. It takes a bit more planning, but is totally worth the effort, plus there are options where your non-fishing partner could enjoy a boat ride down a river while you fish, etc...

I hope this helps and welcome to Alaska in advance!

Dave

Dave Lisi - Owner/Guide for

Cooper Landing Fishing Guide, LLC

located in the small mountain town of Cooper Landing, Alaska where he is a year-round resident, guide, carpenter and trout bum. On any given day, you will most likely find Dave on the banks of the Kenai swinging for trout with his best friend and future wife, Jackie. Cooper Landing Fishing Guide, LLC was built in early 2017 with the goal of sharing the love and passion Dave and Jackie have for the Kenai Peninsula and the fish that live there.

Congrats on your upcoming trip to Alaska!

Alaska is truly one of the best places in the world to fish for trout and salmon. Anchorage is a cool city, but ultimately a city. You and your non-fishing partner might want to spend a little time in Anchorage and then travel to another place that will keep both of you entertained. Your options would either be down south on the Kenai Peninsula or up north on the Parks Highway river systems. Both options have great fishing and other things to see and do. We have many guests who do both depending on the length of your trip. Up north you have the awesome little town named Talkeetna, which is loved by locals and tourists alike. Here there is great fishing where you can hire a guide and experience day trips both wading and floating as well as fly out options and keep your non-fishing partner entertained with lots of options. As far as targeting trout on the surface...our trout don't grow to their size and strength by eating bugs, they are meat eaters. There are some occasions where our trout will eat aquatic insects but they tend to focus on larger food sources. Early and mid season before the salmon get thick fishing mouse patterns that imitate shrews and voles are extremely effective and a ton of fun to fish. After that streamers and fishing beads are most effective for our trout. Please feel free to reach out to me and I would be happy to give you more info for your upcoming trip.

Cheers - Adam

Adam Cuthriell - Part owner of

FishHound Expeditions

. His wife Kathryn Cuthriell and business partner Dave "Reps" Repta make up the rest of the company as well as their dogs Hatch, Rado, and Pike. They fish, live, and guide in Alaska year-round. When not guiding on the rivers they guide ice fishing on Alaska's numerous lakes. Originally from Colorado, he began guiding at the age of 19 while receiving a degree in Outdoor Recreation Leadership. Adam is also a current state of Alaska EMT.

I think basing out of Anchorage is probably his best option to accommodate his wife's desire to have something to do other than fish. His only down side will be driving an hour and half either North or South each day to fish, but it is very doable. He can also do a fly out or two from Anchorage to experience some more remote Alaska experiences. If you want to to reach out Glenn, I can give you a list of guide options for all of that.

Thanks - Mike

Have a question of your own?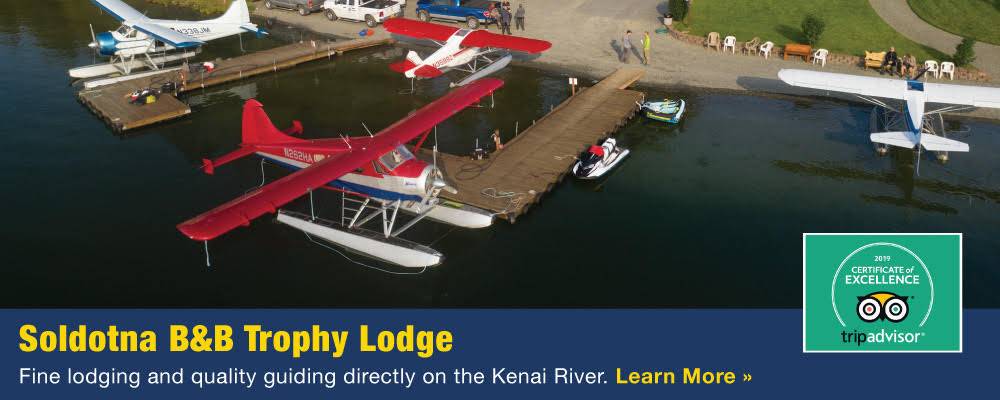 Popular Alaska Fishing Destinations
Recent Articles