Fly-Out Fishing with No See Um Lodge
Would you like to contact to check availability or learn more?
Fill out the info below and someone from will get back to you.
Email Sent
No See Um Lodge at 44 years in business is a finely tuned yet flexible and ever improving operation. Our goal is still to be the best in what we do, every part of it and this has translated into a very high rate of returning staff and guests. No See Um Lodge was one of the first lodges that moved into a two angler per guide ratio. In 2010 we bumped our guest capacity to 12 a week utilizing 3 Dehavilland Beavers, dedicated to daily fishing operations. This, at the time and still today, is a level of service unmatched by anyone in the business. No See Um Lodge planes don't drop guests and guides off to return for another load or a different mission. Our planes stay with the anglers providing the ability to move to a different fishery or head for home if the weather dictates and in South West Alaska it does.
No See Um Lodge Photos
Flexible Fly-Out Fishing Program
Our fishing program is as diverse as it is unique. We can range over 100 miles in every direction but our typical destinations are less than a 35 minute flight. The fishing here is primarily fly fishing with an emphasis on trophy Rainbow Trout but the fish-rich waters of the surrounding fisheries offer guests their choice of game fish. While our primary target species is Rainbow Trout, we chase all five species of Pacific salmon, Arctic Char, Arctic Grayling and Lake Trout. We have over 30 rivers, streams and creeks we access via hike/wading, boating and inflatable rafts. Part of the fore mentioned flexibility is the customization of each guest's experience. Some people love the hiking into remote, small creeks while others would rather fly into a location and use a boat to access miles of fishing water. Each of our fishing locations is unique and as is the case with any fishing, knowledge on when, where and how are key to success. From streamer and mice fishing in the spring to world class dry fly fishing surrounded by the majestic wilderness that is South West Alaska, we have it all. Our season begins June 8th, opening of trout fishing, and runs until early October. The methods, locations, species and weather will vary greatly throughout. Our spring consists of long, generally nice days. Yes, always the chance for weather but June and July have the extreme daylight hours and typically the nicest conditions. These weeks we target winter-hungry rainbow trout, char and grayling. Mid to late June will see the arrival of the first King salmon followed closely by millions of Sockeye or Red salmon. It's these extreme numbers of salmon that provide the protein for our incredible ecosystem. Throughout July we see ever increasing numbers of Chum, Silver & Pink Salmon adding to the fishing possibilities and food chain. All our rivers become magnets for wildlife- brown bears, eagles, and wolves. By late July many headwaters are full of spawning salmon, surrounded by hungry, aggressive trout and char.
A Day at No See Um Lodge
A soft knock on your door accompanied by coffee service start will start your day. Breakfast made to order, then it's down to the dock to head out for the day. A half hour later your looking down at an unspoiled wilderness with nothing as far as you can see. No roads, no houses, nothing but Alaska as it's always been. You land and get into a jet boat for an incredible ride miles up a small creek, slowing to watch bears chasing salmon or to photograph a bald eagle perched above the water. Eventually you stop and watch thousands of sockeye salmon jostle for position and fight off the aggressive predators that you will soon target with your rod. The strength and endurance of these wild trout and char is evidenced by your tired muscles as you relax and enjoy your homemade lunch. Some hours later you're back at the lodge relaxing in the hot tub while sipping a cocktail before a gourmet dinner and maybe a nice scotch and cigar by the fire.
Contact No See Um Lodge to Book or Learn More
The History
No See um Lodge started out as a dream and a tax shelter. Yes, Jack Holman had a dream but he also had a drive that brought him from Up State NY to South West Alaska in the early 1970's. He, his wife and two young children had signed into a multi-year contract to teach school in a remote Alaskan village. Neither had any idea of what this really meant but Jack knew it was where he wanted to be. Within his first few years he had accompanied fellow villagers on many outings up the Kvichak River hunting and fishing. The location about 25 miles upriver was a homestead site occupied year round by a Norwegian commercial fisherman named Engdal. Naturally, any habited location on the river turns into a coffee stop. During one of these coffee/bull sessions, Engdal, who was in his early 80's, told Jack that he was ready to move into civilization to spend his final years near his only daughter and would sell the property to Jack because he liked him. This got the wheels turning in Jacks head, he reasoned that if he owned a cabin on the river he could call it a business, a lodge even, but it needed a name on the business license. He thought about this for maybe a minute and decided since there really wasn't a lodge, why not call it No See Um Lodge? By 1975 he had converted an old fishing scow into a bunk house and convinced several people to come visit. Over the next 40 years he built his No See Um into one of the top fishing lodges in the world. Many lodges have come and gone in South West Alaska. Mismanagement, death and plain "burnout" have contributed to this while in the midst of the best fresh water fishery in the world. The success of No See Um Lodge wasn't an accident. Jack's charisma, his integrity, his unwavering attitude on aviation safety and overall passion to be the best at whatever he did made it all happen.
The Guides, The Host, The Adventure with No See Um Lodge
The Lodge was built in 1975 by Jack Holman, now retired but still a big part of your experience here. His son John Holman now owns and runs the lodge as both a pilot and as an expert fishing guide. His wife Kari manages the lodge and John. The guides are amazingly skilled. Coast Guard Captain Caleb is half fish himself. He has fished pretty much his entire life. Our newest guides are passionate about the sport and bring years of fly fishing experience to the lodge and its guests. Melissa is in charge of guest services. She is an avid fisherman, hunter and wildlife biologist. You are in the best hands at No See Um Lodge. The lodge has a fleet of De Havilland Beaver float planes and industrial grade jet boat. They also host boats on nearby rivers so that guests can take advantage of salmon fishing. The overall experience here exudes fly fishing for the massive Rainbow Trout found within the region. The experience of the guides is one of the key factors that makes No See Um Lodge a five-star fishing vacation. If you are planning an Alaskan Fishing Adventure, be sure to check out No See Um Lodge.
Contact No See Um Lodge to Book or Learn More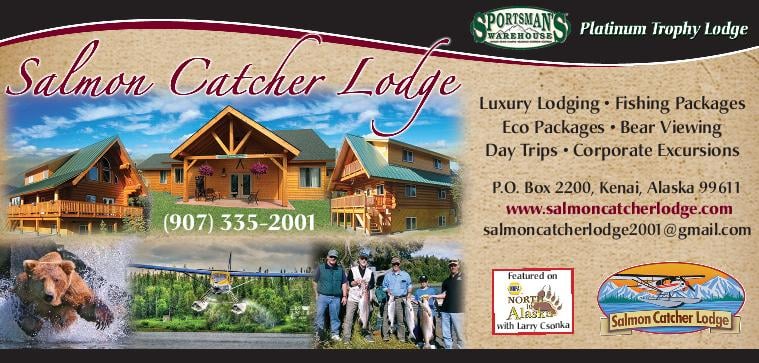 Popular Alaska Fishing Destinations
Recent Articles