Guiding in the Summer of Covid: How an Alaska Fishing Guide Stayed Positive & Made the Best of the 2020 Fishing Season
Would you like to contact to check availability or learn more?
Fill out the info below and someone from will get back to you.
Email Sent
2020 is truly a year that will never be forgotten…for many, many reasons. On the bright side as I'm always a guy's whose beer is half full and not half empty. My wife and I celebrated the birth of our first baby, a healthy beautiful girl that we named Alder after all the Alder trees in Alaska's wild places. A distant second was that due to Covid-19 there was far less pressure (not that there's ever really that much) but far less, some native village river systems were even closed. This translated to some of the best personal fishing as well as guided trips. So, beer is half full especially for next season!
Making the Best of the 2020 Season
Despite everything we here at FishHound Expeditions out of Willow, Alaska were still able to piece together somewhat a normal commercial season, keep guides employed, and support our growing family. The early commercial season was non-existent so it did allow for more personal fishing for myself and my guides than ever before, see beer half full. The smolt migration was awesome as well as early season mousing for big bows. Mid-season and late season allowed for a decent commercial season with folks traveling to Alaska as our case counts were low, Alaska is huge and sparsely populated, and to travel here visitors needed to arrive with a recent negative Covid test. This was challenging for everyone and we needed to adapt to make it safe for everyone, a HUGE thank you to everyone that dealt with the tests to get here and support our economy! In addition to the tests to get here, once here things were a little different. Guests didn't ride with guides in vehicles to honor social distancing protocols set forth by the state. On our fly out trips' guests, guides, and pilots all wore masks. Our trips have always been private, even if it's just a single angler so we didn't have the problem of not mixing groups. Following these precautions kept my family healthy, our guides healthy, our clients healthy, and ultimately helping our whole state stay healthy while allowing much needed tourism.
Another aspect of beer being half full was the weather and river conditions this past summer. Unlike 2019 which was the hottest and driest summer on record, 2020 was more of a normal Alaskan summer. Cool temps and enough rain, all factors our wild fish prefer and need! Our road accessed float trips and walk and wade fishing trips were truly all time. The Rainbows were fatter and bigger than ever! Our backyard water consistently produced pigs! 4-7 pounds averaging 22-25 inches. We landed one of the largest road system bows we've seen 28.5! Quality and quantity were so good it reminded me of our fly out trips. With adequate rain and cool temps, we also saw incredible Arctic Grayling fishing, particularly on the surface. Our bug hatches were what they should be unlike the sparseness of 2019 with hot temps and no rain all fish were hunkered down om the bottom. 2020 produced great hatches of Caddis, lesser Stone flies, May flies, and of course Mosquitos.
Photos from the 2020 FishHound Expeditions Guiding Season
Remote Fishing Adventures in 2020
Helicopter fly-in fishing has continued to grow and expand for us on both the single day trip front and shorter multi-day front. The relative cost effectiveness of these trips and the angling experiences it provides compared to other flyout trips is absolutely incredible. Salmon runs were very strong on these rivers which meant great salmon fishing and equated to incredible trout fishing! As mentioned, prior weather and river conditions were back to relative normal which allowed us to again run the canyon section which connects the upper and lower stretches of our main river. This canyon run is a class 3 to 4 minus white water run through a beautiful canyon and is a great ride for everyone! It also allowed us to fish some of my favorite runs and holes. 2 of these honey holes boast massive canyon walls that are insanely beautiful to admire while casting a rod and create a truly sexy run that holds big fish! It was a personal highlight for myself to show clients these incredible gems and watch them crush fish. Another highlight was that since this was a Pink Salmon year the minute the Pinks started throwing their eggs the Rainbow Trout, Grayling, and Dolly's were on a gluttonous rampage! This massive source of protein made our pigs even piggier! The girth on these fish at the end of the season was noticeably different than from the start. Some were almost as big around as they were long!
Our remote Western Alaska float fishing trips were the most effected by Covid. Many of the villages asked people to not come as they have very little to no medical resources. Due to this we had to change some locations to run the trips, or as many of our clients opted to wait till 2021. Though this was tough for business…back to the beer half full…this means that these river systems have rested over a year come 2021! Talk about uneducated fish!
Another bright side to 2020 was that we ran our first Kodiak Steelhead trips, we partnered with the Kodiak Brown Bear Center on Karluk River. This river boasts one of the largest returns of wild steelhead in the state and is also one of the most remote. Landing over 10 steelhead a day is not uncommon here, yes, I said landing 10 wild steelhead! With many more lost. In addition to steely the Karluk has a healthy population of resident Rainbows, big Dolly's both sea run and resident, and great runs of Sockeye and Silvers. This river has been a dream of mine for some time. It is wild, has incredible scenery, lots of wildlife, very little pressure, and tons of wild steelhead. Unlike our other remote trips that utilize more of an expedition style the Karluk trip offers a lodge experience, a float experience, and an on-river cabin experience. The lodge is truly top shelf, beautiful separate sleeping cabins with all the amenities of a fancy hotel. The main hall which has incredible views of the lake and surrounding mountains, comfy couches, and an incredible massive dining table. The food was remarkable! Breads and desserts made from scratch, native Alaskan delicacies, and much more! Myself and my other guide got spoiled by coming into a warm dry lodge to homemade food that I didn't have to prepare after a day of guiding. The second part of the trip involved a day's float down to the Brown Bear Center's cabin. The cabin is not as plush as the lodge but still very comfortable. And it happens to be right by one of the best runs for steelhead!
Looking Forward to 2021
Just like all of us we at FishHound Expeditions are very much welcoming 2021 and putting 2020 into the past. Bookings for the coming summer are the most we've ever had. I had way more people contacting me in the middle of summer already planning adventures for the summer of 21. We will be offering the same variety of trips as well as adding additional trips in October for the Karluk, each trip is 6 days and limited to 6 guests. We are very much looking forward to getting back out to western AK. especially since no one will have fished these rivers in a long time. I would definitely advise people to lock down their trips sooner rather than later as we are all feverish to get back to doing what we love!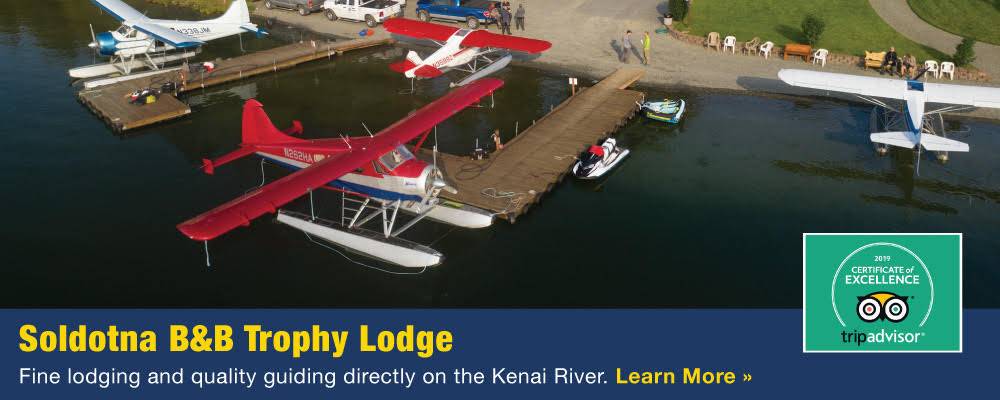 Popular Alaska Fishing Destinations
Recent Articles