Hiring a Fly Fishing Guide - Expert Advice & Tips
Would you like to contact to check availability or learn more?
Fill out the info below and someone from will get back to you.
Email Sent
This article was excerpted from the book Rookie No More: The Fly Fishing Novice Gets Guidance from a Pro and used with permission of Women's Flyfishing®.
When should I hire a guide, what should I expect to pay, and how much should I tip them?
Many people are hesitant to spend the money to hire a guide because
They don't know what to expect
They're not sure what they should be paying
They believe they should be able to take care of themselves on the water
For these and other reasons they can miss out on some great opportunities.
Probably the best reason to hire a guide is to have her/him help you learn new water. Over and over I see people decide to go fishing someplace they never have been before, thinking they won't need any help to fish that water successfully. Unfortunately, they usually end up not having nearly as good a time as they might have if they had hired a guide for even half a day to learn more about the fishery and the flies before striking out on their own. Just seeing which flies the guide uses and how the guide directs clients to use them will teach you a lot about a particular fishing location and give you techniques or skills that you can take with you to other places you fish.
The next best reason to hire a guide is to learn new skills and new fishing methods. Even if the fishery is a familiar one, anglers are often surprised at what they learn by seeing how an expert fishes the water and are delighted to learn those techniques themselves. Again, even a half-day of guided fishing gives you a great opportunity to pick the brain of the guide and take advantage of the instruction. Many new fly fishers decide to use the services of a guide in order to build their skill level more quickly than they could by just fishing alone or with friends.
Experienced anglers have told me that they often go out with a guide in order to access water that may not be open to the general public. Some areas of a river system might be available only to guides whose companies purchase rights to fish private water with their clients. Even though you won't be able to access that water later without a guide, you'll still get a chance to fish some new water on a river that you might otherwise think you know well, or one that you want to spend more time on, in addition to being introduced to new flies and learning new skills.
Another reason to hire a guide is to access water that you might not be able to manage by yourself. That could be because you aren't able to wade by yourself in a particular river, because you need a raft when all you have is a drift boat, because you have to hike a canyon and access the water by a difficult trail that you aren't acquainted with, or that you face a trail that you aren't about to take by yourself. It could also be that you always are the one who has to drive the boat and you just want someone else to do it for a change so you can enjoy some fishing time.
Be sure to do your homework when determining how much you are going to pay to hire a guide. See if any of your friends have fished where you are going and whether they have the name of a guide they used and liked. Then search the Internet for guide services in the area that you plan to fish to get a feel for what the going rate is for a full or half-day trip, for two people compared to one, and so on. From there, expand your research for additional information before you make your decision. You could become one of those people who were disappointed in a guide service that ended up having little more to offer than a beautiful website. Make it a point to talk to a couple of the guide outfits that appeal to you to learn more about their services. Be sure to let them know what you're looking for in the way of instruction, assistance, and other specifics such as whether or not you want to wade. If you aren't keen to spend the day with a smoker, let them know that, or if you aren't OK tripping over their dog in the boat all day, tell them that too. You needn't feel obligated to book with them just because they talked to you.
It is really unprofessional to try to work out of a guide where their favorite spots on the river, or exactly what flies they'll use during certain hatches, before you book a trip. Some people talk to guides only to pick their brains to get information so they can go it alone. Guides know this, and they have every right to keep some proprietary information to themselves until you actually fish with them. And, by all means, do not book with a guide fully intending to cancel as soon as you have gleaned lots of inside secrets like the guide's fly list.
Be sure to find out things like
What the cost of the guide day will cover
Whether you must supply your own flies or have your own rod and reel
What the refund policy is in case of a cancellation
What time you'll start and end the day
Whether lunch is provided
How many people will be with you in the boat or on the trip
Whether you will or will not be wading
Where to meet the guide in the morning
Whether the guide service will take you back to your vehicle from the take-out point on the river, and if they will charge you extra for that
The better you know what's going to happen, the better able you'll be to decide how much you want to pay for a guided day.
Certainly not all guides are good guides. Some may know their river and their fish but are disgusting to be with all day because of foul language or other unexpected reasons. Occasionally people have had bad experiences with a guide, such as arriving at the pickup point to find that there are more people in the boat then you were promised, or being told as you're finishing your day that there will be a charge for them to take you back to your vehicle.
Even though some people scoff at getting references and then actually talking to them, that's still one of the best ways to get information you need. Instead of asking, "Did you h ave a great day?" instead say, "Please tell me one thing you wish you could have changed (besides wanting more fish) that would have made your day better." If they only tell you they wish they had caught more fish, ask them "Do you feel that the guide did his/her very best to help you get fish? And if not, why or why not?"
Lot's of people treat themselves to a day or two of guided fishing each summer, no matter how much they fish by themselves or with their friends. They find that it is fun to be on the water with an expert or to have someone else row for a change. They've obviously had an experience they want to repeat.
If your experience is disappointing, be sure to let the owner of the guide operation know how the service let you down, and don't let that one unsatisfactory experience turn you off to the possibility of hiring a different guide in the future.
This article was excerpted from the book Rookie No More: The Fly Fishing Novice Gets Guidance from a Pro and used with permission of Women's Flyfishing®. This is just one of forty questions & answers in this book. If you are interested in finding out more about the book or my Women's Flyfishing Website you can find more info by clicking on the links below.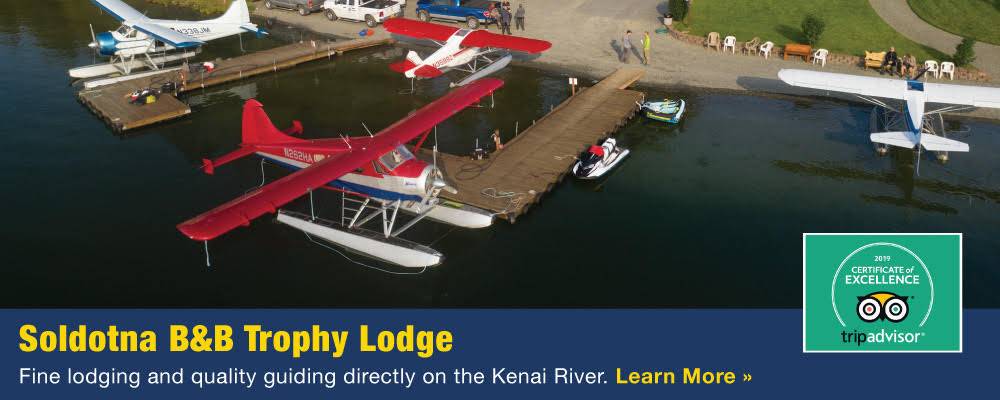 Popular Alaska Fishing Destinations
Recent Articles