Ask the Pro's: Fishing the Kenai Peninsula in June
Would you like to contact to check availability or learn more?
Fill out the info below and someone from will get back to you.
Email Sent
Me and my buddy are coming up from Minnesota the first week of June and have a week to spend on the Kenai Peninsula. We are spending two nights in Seward and two nights in Homer. We have booked a charter for halibut out of Homer for one day. We will be spending the rest of the time fishing along the road system and on any water we can find. We have very little experience fly fishing and will be bringing our spinning tackle. Do you have any advice on what types of rods/reels/line combos that will be effective? I understand it varies depending on the type of fish being targeted but would like some advice on what works up there.

Thanks!
- Vincent

Hey Vincent!

Welcome to Alaska in advance! You're picking a great time to be in the state as it is fairly early in the season, so it won't be as busy as it can get in July. The primary thing to consider when attempting to fish the road system is to pay strict attention to the regulations. Each river, lake and stream has very specific hook and tackle restrictions. This can also be different on many stretches of the same river, with entire stretches being closed, while others may be open. Most of the trout fishing you'll find is strictly catch and release, both by regulations and local standards. Further, fishing on the Kenai Peninsula for salmon is not allowed in many small streams. Also, the Upper and Middle Kenai River and connecting tributaries are closed until June 11th to all fishing.

With all that being said, you will find open fishing on some of the smaller streams further down on the peninsula that are open to King Salmon fishing on Wednesdays, Saturdays, Sundays and Mondays. There are also opportunities to fish for King Salmon on the Kasilof River from the shore, but do realize that this will largely be "combat" style fishing where you'll be fishing with several people in close proximity.

If you are planning on targeting trout, you won't find many streams open, but light/medium spinning rods and appropriate-sized reels are a good choice. Bait is not allowed for trout in many flowing waterways, so you may need to use spinners, etc... also, treble hooks are not allowed in many streams, so be careful there.

For salmon, especially King Salmon, you will need a medium heavy or heavy rod and a very good, high quality reel to match. If you have an inferior reel, chances are that a healthy, ocean-fresh King Salmon will break your reel quickly.

Hopefully, this helps give you an idea of what's going on here on the Kenai Peninsula this time of year. Most things, regulation-wise begin to normalize and "loosen" as you get into the regular season starting June 11th. However there are great angling opportunities if you seek them out..

Tight Lines!

Dave Lisi - Owner/Guide for

Cooper Landing Fishing Guide, LLC

located in the small mountain town of Cooper Landing, Alaska where he is a year-round resident, guide, carpenter and trout bum. On any given day, you will most likely find Dave on the banks of the Kenai swinging for trout with his best friend and future wife, Jackie. Cooper Landing Fishing Guide, LLC was built in early 2017 with the goal of sharing the love and passion Dave and Jackie have for the Kenai Peninsula and the fish that live there.

Hi Vincent,

The Upper and Middle Kenai River is closed to fishing till June 11th.

Your options will be the lower Kenai River and the Kasilof Rivers. The lower Kenai has limited access due to land owners, but you can access the river at Centennial Camp Ground, Funny River Camp Ground and Swift Water all in Soldotna. King salmon will be running and shots at Rainbow Trout and Dolly Varden. As for the Kasilof, your access point will be Crooked Creek Camp Ground, and Kings again will be whats running, there is always a shot for a spring steelhead that is late and heading back out to sea.

Another option, closer to Homer, will be the Anchor River. The Anchor is a weekend and Wednesday fishery, so it will be open June 2/3 and June 6th. This is another King fishery and maybe some dolly varden. There is also Deep Creek and Ninilchik Rivers that are between the Anchor and Kasilof, I believe these rivers are on the same weekend/wed program as the Anchor.

All of these rivers will be subject to the dept of fish and game emergency order's. Our King returns have not been great the last several years, so of there are any indications that these rivers won't make escapement they will shut them down. You can look at the EO's on the ADF&G website, before you get here in case of any changes. http://www.adfg.alaska.gov/sf/EONR/

As far as equipment, I am a fly fishing guy so I am not the best source of info on terminal gear, typically for King's a rod in the 20-30lb range is most common. For trout/dolly's i would say 6-12 lb range. For Kings 20lb mono and trout 10-12lb. All of the waters you will be fishing are single hook only, so all lures will have to have a single hook. I would say Vibrax and Pixies are two very common lures for bank fishing (there are possibilities that bait will be open but I don't know much about setting up for that). As for trout and dollies, small vibrax, pixies, mepps spinners all will catch fish. For a local resource on terminal gear, I would recommend reaching out to the folks at B&J Sports here in Anchorage 907-274-6113, if you can talk to Erik Jameson would be good, but they all should be helpful.

Hope this helps and your son and you have a great time in Alaska.

Vincent,

Good luck on your upcoming trip to Alaska! It is an amazing place. Rods that are commonly used in that part of Alaska are 6-7 weight rods with a weight forward shooting head fly line for Rainbow Trout and Dolly Varden with any where from 8-12 pound mono line pending water speed, clarity, and spookiness of the fish. For the Sockeye Salmon most folks throw an 8-9 weight rod with a corresponding weight forward shooting head with anywhere from 15-25 pound mono. For folks who do not want to bring a quiver of rods an 8 weight can kinda work for everything. However it will be a bit of an overkill on the smaller fish like trout and dolly's and some time a little under gunned for fresh salmon.

Enjoy your trip and if you get tired of crowds check my company FishHound Expeditions out.

Thanks,

Adam Cuthriell - Part owner of

FishHound Expeditions

. His wife Kathryn Cuthriell and business partner Dave "Reps" Repta make up the rest of the company as well as their dogs Hatch, Rado, and Pike. They fish, live, and guide in Alaska year-round. When not guiding on the rivers they guide ice fishing on Alaska's numerous lakes. Originally from Colorado, he began guiding at the age of 19 while receiving a degree in Outdoor Recreation Leadership. Adam is also a current state of Alaska EMT.

Have a question of your own?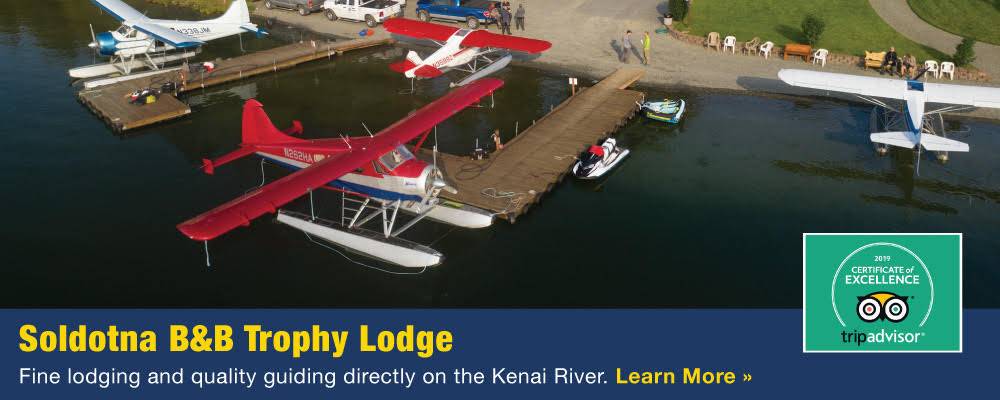 Popular Alaska Fishing Destinations
Recent Articles