Kenai Peninsula Fly Fishing - Essential Flies
Would you like to contact to check availability or learn more?
Fill out the info below and someone from will get back to you.
Email Sent
Alaska is home to arguably some of the best fly fishing in the world, hands down. Why is it so good? There are a number of prolific species of fish that are eager to take a fly. The streams, rivers and lakes are teeming with Rainbow Trout, Dolly Varden and the 5 Pacific Salmon species. Alaska is also home to some terrific grayling, char and cutthroat trout fishing.
On the Kenai Peninsula, the most popular fish to target on flies are definitely Rainbow Trout/Dolly Varden, Sockeye Salmon, Silver Salmon (Coho Salmon) and King Salmon. Each species has its "best time of year" and appropriate tactics/flies, so I'll make an attempt at breaking it all down for you here.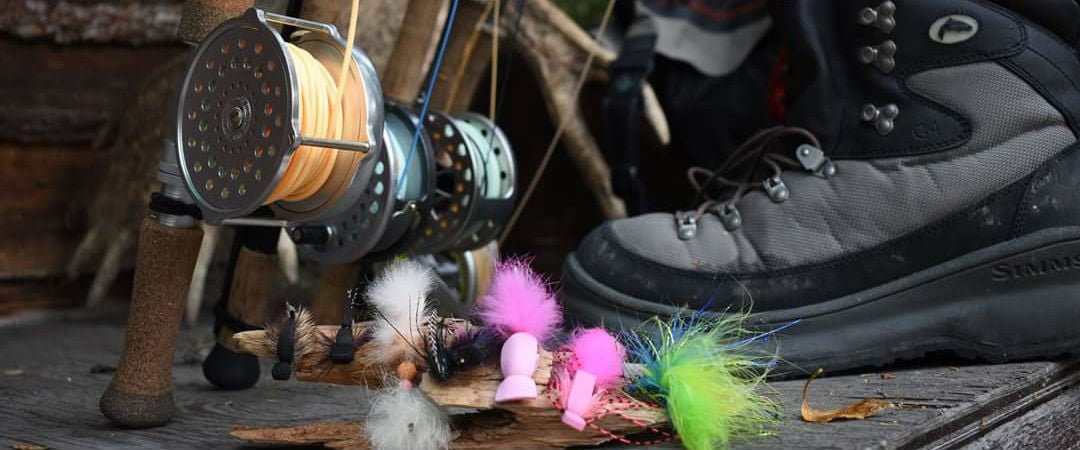 Rod & Reel Selection
Fly fishing can be as simple or as complicated as you'd like on the Kenai Peninsula. Realistically, one could use very few flies and one or two techniques and have an awesome shot at some quality fish. The most important thing you will need when choosing which species to target is the appropriate rod size and you will most certainly want a quality reel with an excellent drag system.
For Rainbow Trout and Dolly Varden, you will want between a 5 and 7 wt fly rod. The bigger the river, the bigger the rod you will want. The fish can be giants, but the currents and wind can also make it much more difficult to land any fish, so it definitely helps not to be out-gunned with too small of a rod! Be sure to handle Rainbow Trout and Dolly Varden carefully as most areas are very strict on catch and release, not only by law, but by local customary practices as well. Barbless hooks are also a wise choice, for the fish's sake.
If you are targeting any salmon species, except maybe pinks, you will want no less than an 8wt rod and it would be foolish to target King Salmon with anything less than a 9 or 10 wt rod. If you are planning on practicing catch and release with salmon, the bigger the rod the better. No need to overplay these fish as they are making their annual spawning runs and need all the energy they can muster to make it to the spawning grounds.
Fly Selection
Choices for flies and techniques for Rainbow Trout and Dolly Varden are as varied and exciting as you can imagine! Prior to salmon spawning, Rainbows and Dollies can be taken by a vast number of techniques - nymphing, dry flies, mouse patterns, swinging streamers, casting/retrieving streamers, dead-drifting egg patterns/beads and flesh and so on and so on...
During the spring, early summer and fall, you can use a wide variety of flies and techniques for Rainbows and Dollies. Some of the most effective flies are wooly buggers, stimulator dry flies, bead-head pheasant-tail nymphs, flesh flies and "washed-out" plastic beads in 6 or 8 mil sizes. I would recommend a variety of sizes and colors for each streamer, nymph and dry fly choice. With nymphs and dries, bigger patterns work well... in the 8-14 size range isn't uncommon. For flesh flies this time of year, you'll want smaller, more washed-out patterns (until people start harvesting sockeye salmon where you can brighten your patterns up a tiny bit).
Once the salmon start dropping their eggs, the most common "fly" to use on the Kenai Peninsula for Rainbows and Dollies is a plastic bead that closely resembles a salmon egg. Personally, I would stay away from "glo-bugs" as fish tend to swallow these flies. You'll want to "peg" the bead above your hook so the same thing doesn't happen when using a bead. The "bead bite" this time of year (mid-august to mid-september) can be epic. It is not uncommon to have 50-75 fish days! - You'll wear out before the fish will!
Later in the season (early fall into winter) - my favorite techniques for Rainbows and Dollies include swinging flies with spey rods and indicator fishing with beads and flesh flies. I definitely prefer swinging flies with spey rods, and if you haven't given this technique a try, I highly recommend trying it! There's nothing like a tight line grab from an aggressive fish!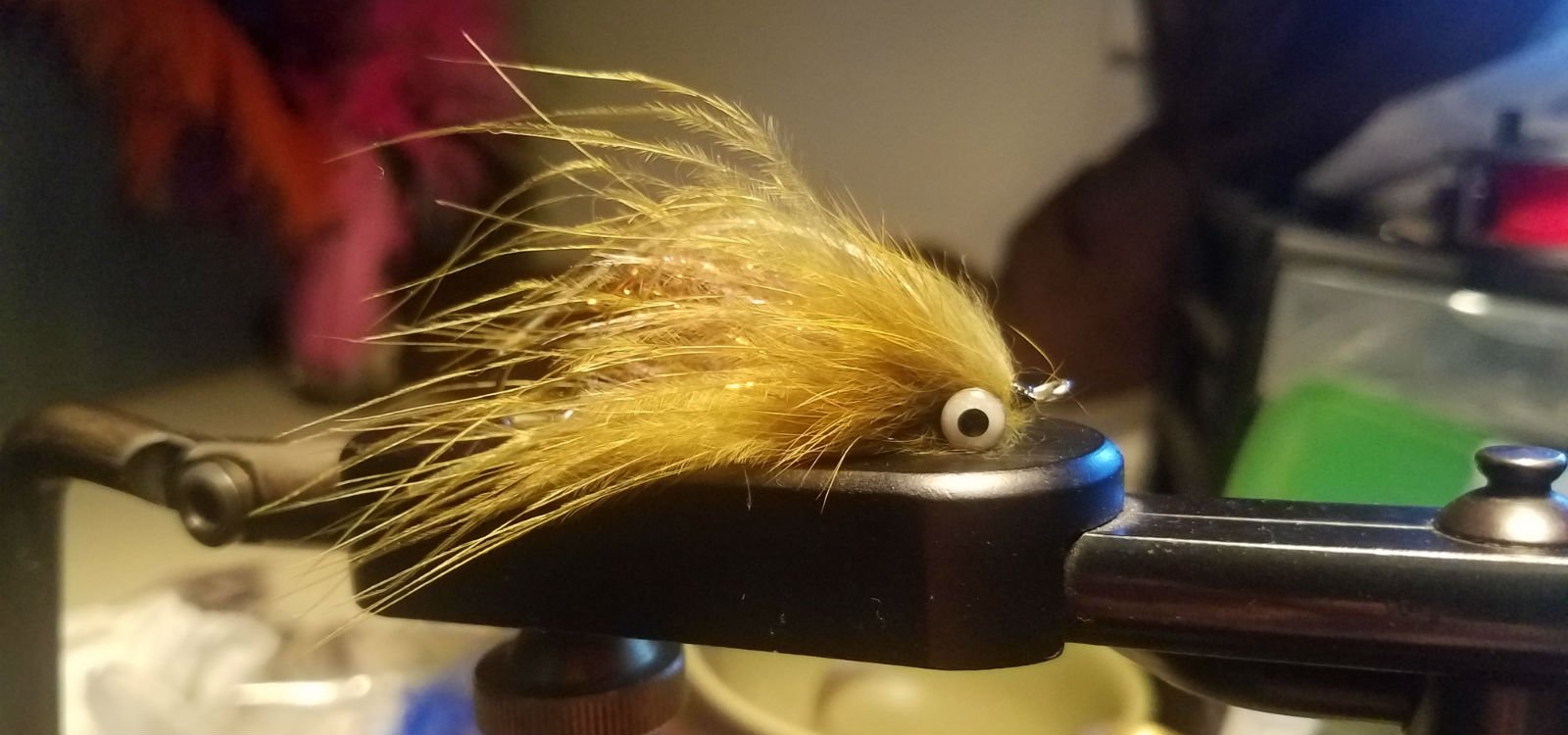 Fly Fishing for Salmon
When it comes to fly fishing for Salmon on the Kenai Peninsula, both Silver and King Salmon are pretty epic! King Salmon are the ultimate fish on a fly rod on the Kenai Peninsula. Though opportunities are rare and wading can be tricky (also regulations are complicated and must be strictly read prior to your trip), King Salmon on a fly rod is something every serious fly angler should try! Silver Salmon are abundant and willingly take a fly. They also fight hard and multiple fish days are not uncommon.
For King Salmon, in my opinion, nothing is more effective than swinging flies with big spey rods with heavy sink tips. Kings can be found in a lot of waterways from mid-may until the end of July - pay close attention to regulations as they can change daily! King Salmon love deep fast water and to get down to their level can be a huge challenge. The spey rod gives an angler a big advantage: you can cast big heavy flies, heavy sinking tips and you can also cast a long distance with minimal effort. My favorite flies for Kings are darker patterns in the 5-7" size range. Weighted flies help a lot, so intruders with barbell eyes are a good choice. If you choose to go with unweighted patterns, be sure to adjust your sink tip accordingly. Be sure that you use very stout hooks as Kings can easily reach the 50-70++ lb class on the Kenai Peninsula, but average more in the 25-30lb range.
For Silver Salmon, swinging flies on spey rods and casting/stripping flies on single hand rods are my two favorite techniques. Much like swinging flies for King Salmon, swinging flies for Silver Salmon is super exciting! Silvers do spend a lot of time in slack water though and casting/stripping flies in these areas where the water isn't moving can be a day-saver!
Silver Salmon are super aggressive and will readily take a huge variety of flies. They are best targeted from August 1st through the close of their season on October 31st. The peak time to chase Silvers is right around the first couple of weeks of September through the season closure. Everything from egg-sucking leeches, to dolly llamas, to flash flies, to prom dresses and so on. If Silvers are around, just put something in front of them with a strong hook and hold on!
Now we get to arguably the most popular sport fish on the Kenai Peninsula... The Sockeye Salmon. Sockeye are targeted in early June all the way until mid-August, with occasional, extreme fluctuations in daily success rates. There are "prime times" and I would suggest a late July attempt at these fish.
Sockeye are pound-for-pound the strongest and hardest fighting salmon in our area and are known to break rods, shred knuckles and tear reels apart. Thousands and thousands of anglers make the journey to the Kenai Peninsula each season for a chance at taking home their limit of these prized fish.
The techniques for fishing for Sockeye Salmon are few, but not without a bit of argument as to whether or not these fish will actually "take" a fly. Most polite fly anglers will tell you to wiggle a fly in their face and they will strike, etc... However, the technique most utilized on the peninsula is largely a "flossing" technique where you intentionally run the leader into their mouths and they essentially hook themselves when they feel the leader. This leads to a "fair" and "legal" hook up.
If you prefer to attempt to entice Sockeye Salmon to bite, and I highly encourage you to give it a shot, the best methods are with a single hand rod or spey rod with a fast sinking tip and a small fly. These fish will bite the smaller "sockeye flash" flies, which are largely made up of krystal flash material.
In any event, you'll definitely want at least an 8 wt rod and a super powerful reel for Sockeye. Getting these fish to the bank sometimes feels impossible, even with the best net-minder!
All in all, the exciting opportunities to fly fish the Kenai Peninsula are seemingly endless. With a little local knowledge, the right equipment and a box full of some key flies, you can have a lot of success chasing most any species you wish to. Visiting local fly shops can also help you gain key insight on river access locations, the "hot fly" of the moment, and they can also help get you set up with any equipment needs you may have.
Thank you for taking the time to read this article and certainly feel free to reach out with any questions you may have!

Popular Alaska Fishing Destinations
Recent Articles