World Class King Salmon Fishing on the Nushagak River
Would you like to contact to check availability or learn more?
Fill out the info below and someone from will get back to you.
Email Sent
The Nushagak River in Southwest Alaska has one of the most prolific King Salmon runs in the state. The numbers of King Salmon that run up this river system to spawn are measured to be at over 100,000 fish almost annually, with some years capping out at a whopping 165,000 kings! This total makes the river system the strongest king salmon run in the world. The Nushagak River is one of the largest rivers that flow into Bristol Bay. From it's origins way up in the Alaska Range, it flows southwest for some 280 miles to Nushagak Bay, which then turns into Bristol Bay. Along its path, there are several tributaries and lakes that these salmon navigate to where they will spawn.
When do the King Salmon run on the Nushagak River?
The King Salmon run starts in mid June and runs through mid July. The peak tides of this run will have several thousand King Salmon passing through the tidewater section fresh from the salt, chrome bright, and very aggressive to hit both flies and lures. This river has some tides that will have more than 7,000 kings pass the sonar on one tide, surpassing some rivers total run of king salmon for the year! This huge amount of king salmon is what attracts so many anglers to this incredible fishery for some of if not the best success ratios on king salmon anywhere.
Fishing the Nushagak River for Trophy King Salmon
The methods used to catch these Nushagak River King Salmon include trolling spinner baits, drifting egg patterns, and swinging flies over shallow areas and gravel bars where the kings are traveling up the river or holding for a brief period of time. The Nushagak Kings will average close to 20 pounds a piece so will provide quite a thrill not matter what method is used to harvest or release these kings.
The weather during this short season is usually pretty fair with highs in the low 70's and lows in the upper 40's. You must always pack for layering and be prepared for cold wet days with waterproof rain jackets and pants. For the fly anglers, please wear breathable waders and have a light and heavy fleece under pant to adjust to cold and warm days. A layering system with synthetic shirts or wool blends are best.
King Salmon Flies
My favorite fly patterns for these tidewater kings are patterns imitating herring and squid. The number one color we go to is by far Chartreuse or bright green. This color with blue or black and even purple is a deadly combination to kings just entering the river fresh from the ocean. We will also use pink and orange combinations imitating squid that have a solid history of crushing kings. The one thing all these patterns will have is a trailing hook since the salmon tend to bite flies a little light sometimes so a trailing hook tends to do a much better job of hooking the kings. The intruder style flies and string leech patterns are the ticket for kings.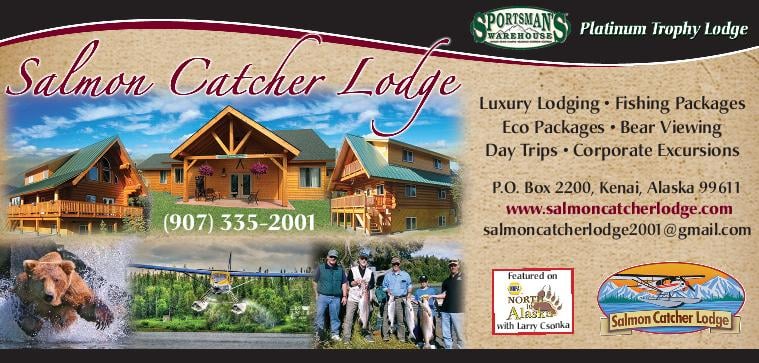 Popular Alaska Fishing Destinations
Recent Articles