Top 10 things to do while visiting the Kenai Peninsula
Would you like to contact to check availability or learn more?
Fill out the info below and someone from will get back to you.
Email Sent
A trip to the Kenai Peninsula is a perfect example of a total Alaska vacation package. It is an all-in-one experience that keeps travelers coming back again, and again, with so many exciting possibilities.
While visiting, many travelers plan a visit to one of Alaska's fishing lodges on the Kenai Peninsula for exemplary accommodations and a chance to fish a variety of species such as King Salmon, Halibut and Rainbow Trout. Add an Alaska fishing guide to your itinerary for a thorough experience of line, shore, and boat fishing among the best rivers and streams in the peninsula.
When you want to take some time off from fishing to explore and discover additional activities and locations within the Kenai Peninsula, consider the suggestions on the top 10 list. From Kenai, Soldotna, and Seward to Homer, Seldovia, and Kachemak you'll never be short on things to do.
---
1. Go Fishing!
Cast a Line in the Kenai River
An activity that is sure to test your skills is fishing the Kenai River where you'll find sockeye, silver, pink, and king salmon cruising the waters. Fish from shore, use the services of a charter boat service, or hire a fishing guide to venture into out of the way locations. The abundance and variety of fish will test your skills fly fishing, shore fishing, or dropping a line from your boat.
An added attraction can be found at Beluga Whale Lookout during late spring into early summer. Keep your eyes peeled for sightings of the whales that come to the area to catch their own salmon for dinner.
Other Options
The Russian River, situated on The Kenai Peninsula, has over 15,000 square miles to explore including land and water attractions and activities. When fishing is at the top of the list, it remains one of the most sought after destinations.
Cook Inlet will also give you a run for your money in the clear stream with outstanding fishing for King Salmon, Pacific halibut, rainbow and steelhead trout, and Dolly Varden char.
---
2. Water Activities

Rowing the Kenai River
With so many options available, you can spend hours on the water. Canoeing is one of the top activities for meandering at your own pace down the Kenai River. If you're bringing your own canoe, paddle boat, or small, motorized boat, two available launches include the Kenai City Dock and The Pillars, located inside the Kenai River Special Management Area.
Other Options
Rafting adds a whole other element to water exploration activities. Follow the flow of the river past scenic landscape on a leisurely 2-hour float or go all out with a 7-hour float that includes navigating river rapids. Rafting provides plenty of opportunities for taking pictures of Alaska's wildlife.
If you're looking for more adventure, expand your horizon to the open waters of the Gulf of Alaska with a sea kayaking excursion. Spend the day exploring Kenai Fjords National Park or Resurrection Bay on a leisurely guided tour.
To become totally immersed in the moment observing out "standing" views, try your hand at stand up paddle boarding to satisfy your visual palette.
Make your way to the Kenai River and watch resident Alaskans manipulate large fishing nets during the summer season. Use the Kenai City Beach accesses to maneuver through the dunes to watch the annual dip-netting event.
---
3. Take a Guided Tour
Kenai Tours du Jour
You have your choice of tour types and the length of time you prefer to tour from a couple of hours or full day outing, to a three, four, or a five-day adventure. If you're traveling by vehicle, you'll have unlimited opportunities to enjoy the many villages throughout the peninsula. Guided sea kayaking tours offer a leisurely look at Fox Island Wilderness Retreat, Kenai Fjords National Park, Lowell Point, and Resurrection Bay.
The deep waters surround you providing an opportunity to observe sea otters, seals, and whales while overhead, eagles cruise the skies. Sculpted cliffs, icebergs, granite walls, and alpine glaciers are all part of the unique scenery of Alaska.
Other Options
Take to the sky for a helicopter tour for a bird's eye view of the peninsula as you fly over mountains, wilderness areas and ocean landscapes. On the ground, a glacier tour will leave you breathless from the visual panorama of miles of pure white beauty.
Alaska bear adventures are up-close and personal with one of Alaska's furry residents. They may look cute and cuddly but a guided adventure with experienced personnel is the best, and only, way to observe these beautiful animals in the wild.
---
4. Discover Kenai
Use one of these information/adventure services to explore a Kenai activity.
Chamber of Commerce
To find out about planning your visit, fishing, art, culture, outdoor activities, and upcoming events, visit the Kenai Chamber of Commerce and Visitor Center. The center is a gold mine with lots of information about dip netting, biking, birding, hiking, trails, and interesting day trips to help with planning an itinerary.
Other Options
Miller's Landing is a good place to begin your adventure. The landing offers an array of services including information about local campgrounds and cabins.
It is also the place to go to hire a water taxi for trips to out-of-the-way and little known locations. You can also book day tours, charter excursions and cruises, hiking adventures and dog sled rides and tours. You can also rent boats, canoes, kayaks and equipment.
---
5. Visit a Museum
History on Exhibit at Cordova
Visiting local museums featuring exhibits and historical structures is the best way to learn about Alaska's history. The Cordova Museum is a fine example of historical information with exhibits about early explorers, the mining era, railroads and native culture. The museum offers a self-guided walking tour of historical buildings in the area. The museum also has a gift shop with Alaskan gifts perfect as a memento of your visit.
Other Museums to Consider
Any one of these museums will take you for a ride through history:
---
6. Take Advantage of Kenai's Outdoor Activities
Go golfing at night!
If you've never played golf at night, it's one of Alaska's natural wonders as you tee off over the greens under the midnight sun. At Kenai Golf Course, you're surrounded by the beauty of the area as well as wildlife. Visiting moose, sandhill cranes, eagles, even bears find the greens and the wooded landscape a welcoming respite from their travels. Lessons are available along with club rentals. The course has a clubhouse offering a snack bar, merchandise and rental equipment.
Other Options
Enjoy the ride of your life with a dog sled tour. You'll explore ice covered trails with pure dog power using one of Kenai's tour companies.
Horseback riding is an all-around adventure whether you choose a day outing along the beach or a guided ride through mountain trails.
---
7. Explore the History of Kenai
Old Town History
Located not far from the visitor center you'll find the Old Town section of Kenai. Walk past historic buildings such as the Russian Orthodox Church - a National Historic Landmark - built in 1895 featuring blue ornate onion domes. You'll also see fine examples of cabins and a replica of Fort Kenay constructed by the U.S. military in 1869.
Other Cultural Sites to Consider
Located in Homer, the Sea Lion Fine Art Gallery features an array of contemporary art, whalebone and walrus ivory carvings, antique pieces, handmade baskets, and Alaska Native art.
The Kenai Fine Arts Center in Old Town is a visual smorgasbord of sculpture, fiber arts, paintings, clay creations, drawings, and more.
---
8. Explore the Alaskan Wilderness
Kenai National Wildlife Refuge Accommodations
Enjoy the wilderness by calling one of the cozy rustic cabins home while staying at Kenai National Wildlife Refuge. Tent and RV camping is also available. Keep busy at the refuge and its almost two million acres for hiking, picture taking, and wildlife viewing in forest, wetlands, and alpine tundra settings. Add to the adventure with a backcountry canoe ride to see extraordinary sights along the Swanson River.
Other Options
Experience nearly 40 glaciers emanating from the Harding Icefield when visiting the Kenai Fjords National Park. Tent camping is the only type of camping allowed in the pristine icy wilderness.
Other parks to consider:
---
9. Hiking and Biking the Kenai Peninsula Trails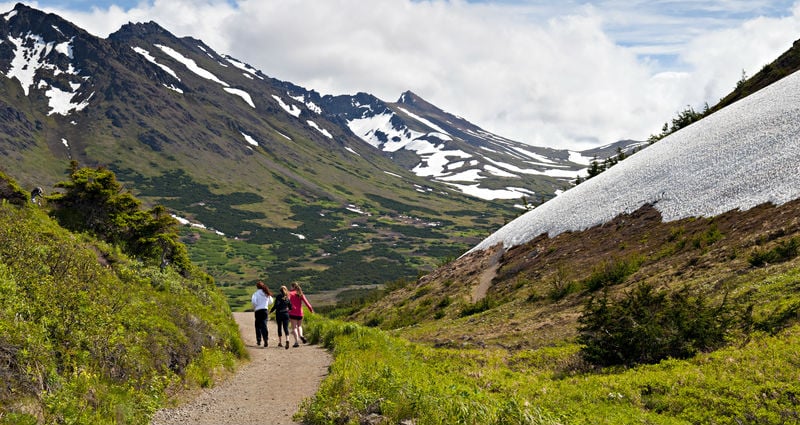 There are leisurely hikes, and then there are those that offer a challenge. Consider covering some of the 280 miles of trails that encompass the Chugach National Forest as an example of an exciting day in the wide open spaces. Trails range from beginner to experienced and feature viewing platforms, interpretive signs, some with graveled paving and seating, and all with spectacular views.
Other Trails to Consider
Northern Kenai Peninsula
Southern Kenai Peninsula
---
10. Have fun!
Alaska's All-In-One Family Attractions
Families have a choice of activities that are suited for everyone's enjoyment year round. The North Peninsula Recreation Center has something for all ages from a swimming pool and water slide to an ice rink and cross-country ski trails. Play a game of racquetball, workout on the fitness trails, spend time at the playground, or soar to new heights at the skateboard park.
Other Attractions to Consider
Meet some of the state's most interesting residents at the Alaska Sealife Center. The center offers special programs and tours and a chance to meet a variety of Alaska's feathered friends from September through August.
Wind down and relax with the family on the Homer Spit Trail. The 4-mile trail is paved making it a solid choice for biking and skating.
The Kenai Peninsula has plenty to offer visitors. Make your destination the land of the midnight sun and experience the magic for yourself.

Popular Alaska Fishing Destinations
Recent Articles