Top 10 Alaska Fishing Trips Under $2,000 - 3 Days
Top 10 Alaska Fishing Trips Under $2,000 - 3 Days
Would you like to contact to check availability or learn more?
Fill out the info below and someone from will get back to you.
Email Sent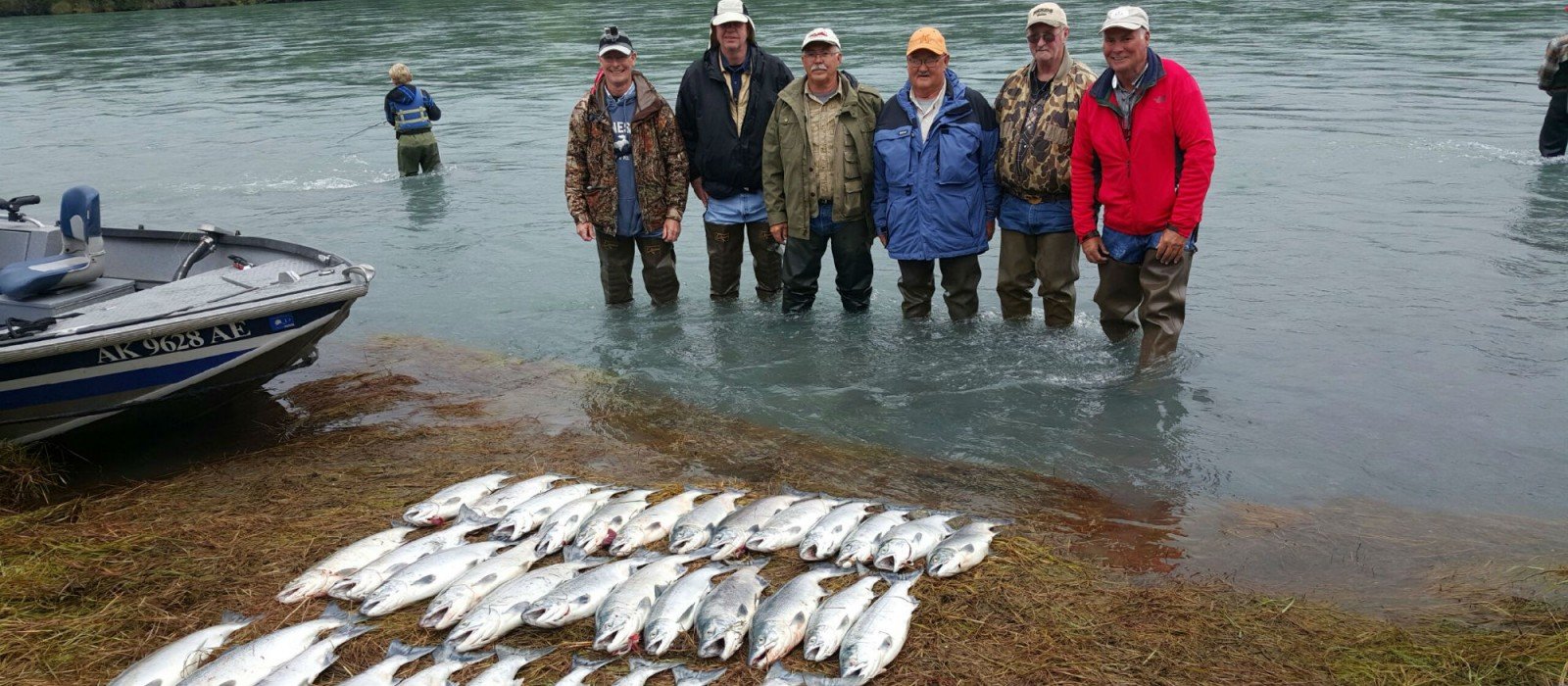 Affordable Kenai Peninsula Fishing & Lodging Packages | Kenai River, Kasilof River, Cook Inlet & Fly-In Fishing Options
6 - 7 Days:
$1,000 to $2,000 Per Person
4 - 5 Days:
$500 to $1,000 Per Person
Half Day:
$150 to $199 Per Person
Full Day:
$200 to $299 Per Person
How do we offer such great value? We want you to be able to bring the whole family to enjoy Alaska if you want to. That great value does't mean you lose any quality in the trip though as we are rated as one of the best on the Kenai River. Alaska FishOn Charters offers over 70 years of combined guided fishing experience fishing for big Trophy Salmon and Halibut on the Kenai Peninsula. We also offer guiding services & lodging packages for everyone happily hosting those that are new to fishing, including children. Daily guided fishing for salmon, halibut, and trout as well as overnight packages that include both lodging and guided fishing. As a professional guide service, we put it all together for you so you only need to show up with your fishing license.
Featured Specials
---
Current Special: 4-Day Salmon & Halibut 'Captain's Special' Package (August & Sept)
4 Nights Starting at $1,125 Per Person
---
4 Nights of Deluxe Lodging with 2 Days of Guided Salmon Fishing and 1 Day of Guided Halibut Fishing. Includes 50 lbs of Fish Processing, All Fishing Gear and Lodging Necessities.
We guarantee experienced guides and high-quality lodging with full kitchens, bathrooms and all amenities needed to make you feel right at home and it is all yours no shared lodging with other clients.
Contact us Today for best dates we fill up fast so don't wait. Toll Free 1-888-283-4002
• $1,125 per person for 4 guests
• $1,165 per person for 3 guests
• $1,250 per person for 2 guests
• $1,595 for 1 guest
• We guarantee experienced guides and high-quality lodging.

All-Inclusive Top Quality Guided Freshwater & Saltwater Fishing Trips | Expect a High Quality Experience Both On & Off the Water at an Affordable Price!
6 - 7 Days:
$2,000 to $3,000 Per Person
4 - 5 Days:
$1,000 to $2,000 Per Person
Jimmie Jack's Lodge is a lodge and charter service. The lodge sits along the shores of Cook Inlet and provides a perfect location for saltwater or freshwater fishing. The lodge features a main lodge and out cabins. The rooms in the lodge feature private bath, and some have their own kitchen and dining area. The cabins are large and sleep up to five for the McKinley Cabin or up to four at the Gold Miner's Cabin. The cabins and lodge rooms are comfortable and equipped with modern features. The lodge provides continental breakfast only. For lunch and dinner guests either cook for themselves or head into town. The lodge sits three hours by car, and you will need to drive yourself to your own fishing charter. The guides for charters are professionals with Coast Guard license.
Featured Specials
---
Current Special: Big King Combo Package
5 Nights & 4 Days of Fishing For Only $2,590 per person
Mention This Ad and Save $300 Off the Regular Price of $2,890 Per Person
---
Mention this AD for your "Big King Combo Package" deal by calling Jimmie Jack's 'Original' Alaska Fishing Lodge now! Call Toll-Free 1-866-553-4744, and ask for your deal today. You will experience five nights and four days of fishing trips for Kenai River king salmon, silver salmon, halibut, lingcod, rockfish, or rainbow trout. Experience Jimmie Jack's award winning staff in Alaska. Jimmie Jack's Alaska Fishing Lodges are the recipient of the prestigious TripAdvisor Hall of Fame Award.

Your staff here at Jimmie Jack's Lodge has an overwhelming commitment to excellence. The success of your trip is our focus. Our commitment to you starts with your inquiry. We give you what you desire: You will fish in the cleanest boats, and some would say the best looking boats, on the Kenai River. Most importantly, Jimmie Jack's guides fish to produce fish.
Top-Rated Fishing Guides & Affordable Lodging Packages | Kenai River, Cook Inlet & Remote-Fly Out Fishing
6 - 7 Days:
$1,000 to $2,000 Per Person
4 - 5 Days:
$1,000 to $2,000 Per Person
Half Day:
$200 to $299 Per Person
Full Day:
$200 to $299 Per Person; $500 to $599 Per Person
Alaska Fishing with Mark Glassmaker has been providing high quality Alaska fishing experiences on the Kenai Peninsula for over 25 years. Expect experienced, professional, and courteous guides that enjoy what they do. They are located near the town of Soldotna which allows them to provide their guests with a multitude of Kenai Peninsula fishing options. For those just looking for a day or two of guided fishing they offer half & full day guided fishing trips...and for those looking for a complete Fishing & Lodging package they have a series of cabins along the Kenai River. Choose from a 3, 5 or 7 Night Fishing & Lodging package or let them customize a package to fit exactly what you're looking for. They will provide you with all of the fishing gear...expect high quality fishing gear & new, clean, comfortable & safe boats. For those who choose a fishing & lodging…
6 - 7 Days:
$2,000 to $3,000 Per Person
4 - 5 Days:
$1,000 to $2,000 Per Person
The Alpine Creek Lodge is open year round and offers a well-rounded set of adventures including top Arctic Grayling fishing. The lodge sits at mile 68 along the Denali Highway. Guests of the lodge have choices between rooms, luxury suites, cabins, or you can rent the entire lodge. The lodge is a multi-story lodge with a rustic charm and comfortable furnishing. Meals are served family style, and the large common room is perfect for telling fishing or hunting stories.
6 - 7 Days:
$1,000 to $2,000 Per Person
4 - 5 Days:
$1,000 to $2,000 Per Person
Riddle's Fishing Lodge sits on the bank of the Kenai River, about ten minutes from the town of Kenai. Guests are lodged in cabins that sleep 4-6 people and offer all of the conveniences of home. Each cabin has a full kitchen, private bath, TV, daily maid service, and linens. The cabins are non-smoking, but the grounds and porches are smoke friendly.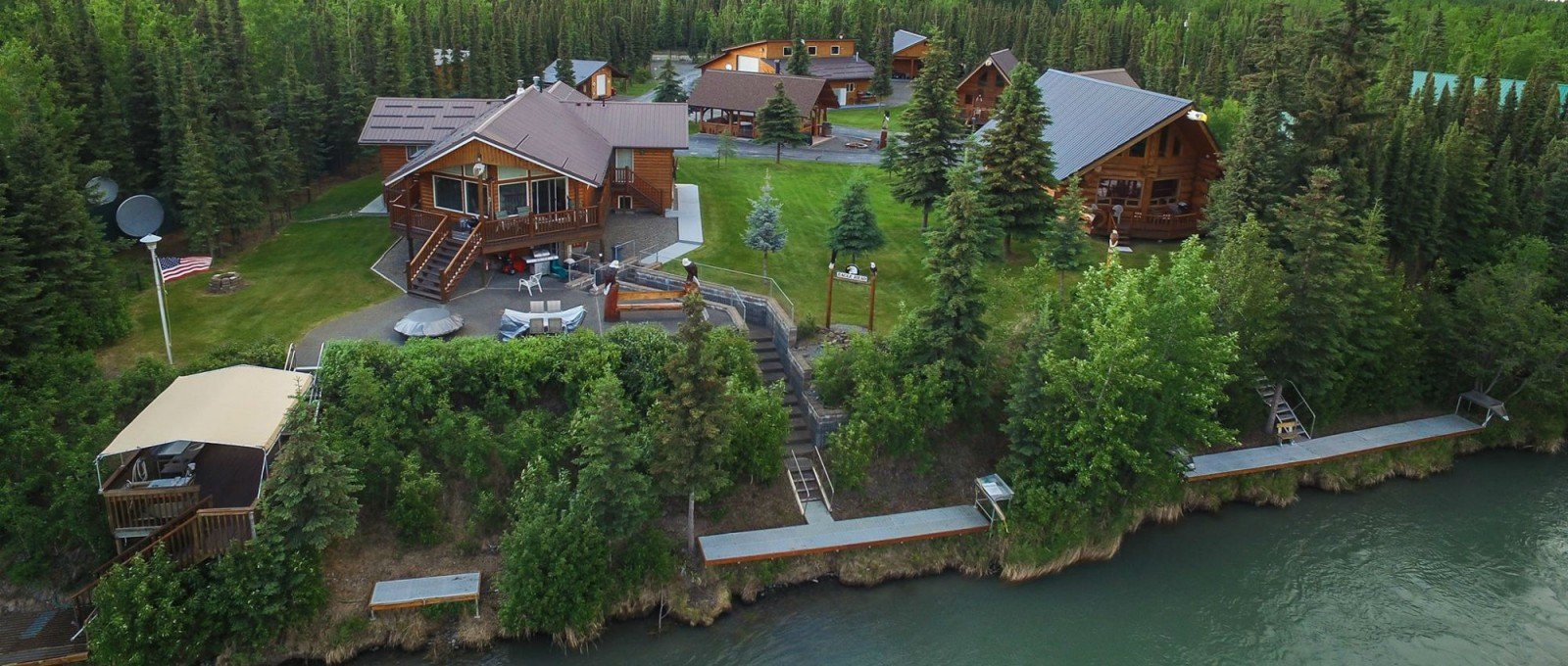 6 - 7 Days:
$2,000 to $3,000 Per Person
4 - 5 Days:
$1,000 to $2,000 Per Person
The Alaska Eagle Head Resort is a year-round destination that sits along the Kenai River in Sterling, Alaska. The lodge, which is a series of cabins, is new, beautifully built, and perfectly situated so that guests can take advantage of everything on the Kenai Peninsula during every season.
6 - 7 Days:
$3,000 to $4,000 Per Person
4 - 5 Days:
$2,000 to $3,000 Per Person
Sitka, Alaska is one of the most productive areas for Salmon fishing in the world. Sitka has the highest catch rates in all of Alaska, which means, that guests of the Angling Unlimited have ample opportunity to catch Salmon hand-over-fist. The Angling Unlimited lodge sits right on the water in Sitka, they offer suites in the Waterfront Suites or the Waterview Suites for guests. Expect to have comfortable and clean accommodations or you can opt so stay at any of the local bed and breakfasts too. The lodging option is up to you.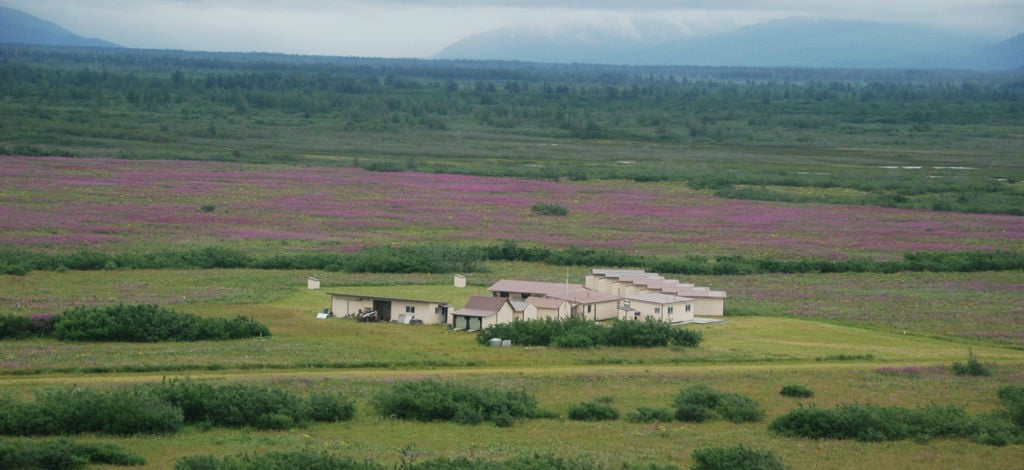 6 - 7 Days:
$3,000 to $4,000 Per Person
4 - 5 Days:
$2,000 to $3,000 Per Person
Dierick's Tsiu River Lodge sits along the Tsiu River in the famous Bristol Bay Drainage System. The lodge is remote and sites between Cordova and Yakutat on the Gulf side of Alaska. This is a lodge that offers a comfortable, clean, and practical base for those who love to fish. Guests enjoy private wood-framed cabins. There is a drying room, fish processing room, main kitchen and dining room, and a room for recreation.
6 - 7 Days:
$4,000 to $5,000 Per Person
4 - 5 Days:
$2,000 to $3,000 Per Person
Kodiak Raspberry Island Remote Lodge sits on the shore of the narrow pass that separates Raspberry Island from Afognak Island. This is a remote complex that offers views that are unobstructed by any other buildings. What you see out of the windows is pure Alaska wilderness. Still, for a remote wilderness lodge, there are plenty of creature comforts to keep guests from going into withdrawals. They have hydroelectric power and offer wireless Internet. The fishing here is rich and heavy, and after a long day of fighting Salmon or Halibut a soak in the hot tub is heavenly. There are five cabins four can hold a family of five while the Chalet holds a single queen sized bed. Each of the guest cabins has a private bathroom with shower. The main lodge is a place for social gathering with a comfortable sitting room and a dining room that allows each…

6 - 7 Days:
$2,000 to $3,000 Per Person
4 - 5 Days:
$1,000 to $2,000 Per Person
Half Day:
$150 to $199 Per Person
Full Day:
$200 to $299 Per Person; $900+ Per Person
Alaska Troutfitters is an amazing blend of every aspect of fly fishing that you can imagine. The fully stocked fly shop is stocked with industry professionals too. They are all happy to share their knowledge, teach you tricks or give you tips on how to fish the Kenai and Russian rivers or the Quartz and Crescent creeks. That's just a stop on your way to your own Alaska Fishing Trip adventure or on your way to the lodge. Their Lodge is the Riverfront Lodging and sits along the fish-rich stretch of the Upper Kenai River. While they are many Kenai River fishing lodges & guides to choose from...Alaska Troutfitters offers one of the best experiences & values you'll find. Experienced guides, a variety of fishing options, comfortable accommodations and dozens and dozens of rave reviews show you that Alaska Troutfitters is a cut above.
Recent Articles