Top 10 Alaska Fishing Trips Under $3,000 - 7 Days
Top 10 Alaska Fishing Trips Under $3,000 - 7 Days
Would you like to contact to check availability or learn more?
Fill out the info below and someone from will get back to you.
Email Sent
Top-Rated Fishing Guides & Affordable Lodging Packages | Kenai River, Cook Inlet & Remote-Fly Out Fishing
6 - 7 Days:
$1,000 to $2,000 Per Person
4 - 5 Days:
$1,000 to $2,000 Per Person
Half Day:
$200 to $299 Per Person
Full Day:
$200 to $299 Per Person; $500 to $599 Per Person
Alaska Fishing with Mark Glassmaker has been providing high quality Alaska fishing experiences on the Kenai Peninsula for over 25 years. Expect experienced, professional, and courteous guides that enjoy what they do. They are located near the town of Soldotna which allows them to provide their guests with a multitude of Kenai Peninsula fishing options. For those just looking for a day or two of guided fishing they offer half & full day guided fishing trips...and for those looking for a complete Fishing & Lodging package they have a series of cabins along the Kenai River. Choose from a 3, 5 or 7 Night Fishing & Lodging package or let them customize a package to fit exactly what you're looking for. They will provide you with all of the fishing gear...expect high quality fishing gear & new, clean, comfortable & safe boats. For those who choose a fishing & lodging…
Featured Packages
---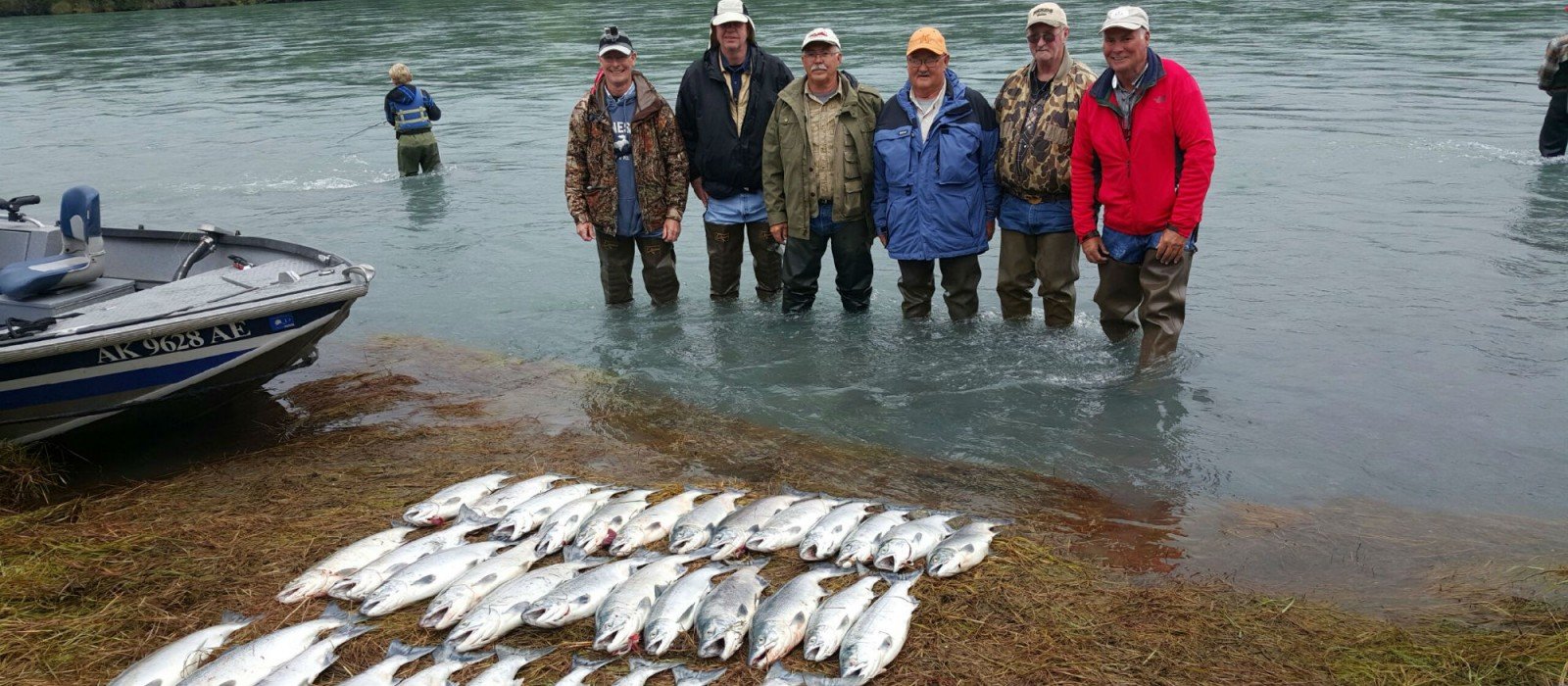 Affordable Kenai Peninsula Fishing & Lodging Packages | Kenai River, Kasilof River, Cook Inlet & Fly-In Fishing Options
6 - 7 Days:
$1,000 to $2,000 Per Person
4 - 5 Days:
$500 to $1,000 Per Person
Half Day:
$100 to $199 Per Person
Full Day:
$200 to $299 Per Person
How do we offer such great value? We want you to be able to bring the whole family to enjoy Alaska if you want to. That great value does't mean you lose any quality in the trip though as we are rated as one of the best on the Kenai River. Alaska FishOn Charters offers over 70 years of combined guided fishing experience fishing for big Trophy Salmon and Halibut on the Kenai Peninsula. We also offer guiding services & lodging packages for everyone happily hosting those that are new to fishing, including children. Daily guided fishing for salmon, halibut, and trout as well as overnight packages that include both lodging and guided fishing. As a professional guide service, we put it all together for you so you only need to show up with your fishing license.
Featured Specials
---
Current Special: 4-Day Salmon & Halibut 'Captain's Special' Package (August & Sept)
4 Nights Starting at $1,050 Per Person
---
4 Nights of Deluxe Lodging with 2 Days of Guided Salmon Fishing and 1 Day of Guided Halibut Fishing. Includes 50 lbs of Fish Processing, All Fishing Gear and Lodging Necessities.
We guarantee experienced guides and high-quality lodging with full kitchens, bathrooms and all amenities needed to make you feel right at home and it is all yours no shared lodging with other clients.
Contact us Today for best dates we fill up fast so don't wait. Toll Free 1-888-283-4002
• $1,050 per person for 4 guests
• $1,091 per person for 3 guests
• $1,175 per person for 2 guests
• $1,525 for 1 guest
• We guarantee experienced guides and high-quality lodging.

All-Inclusive Top Quality Guided Freshwater & Saltwater Fishing Trips | Expect a High Quality Experience Both On & Off the Water at an Affordable Price!
6 - 7 Days:
$2,000 to $3,000 Per Person
4 - 5 Days:
$1,000 to $2,000 Per Person
Jimmie Jack's Lodge is a lodge and charter service. The lodge sits along the shores of Cook Inlet and provides a perfect location for saltwater or freshwater fishing. The lodge features a main lodge and out cabins. The rooms in the lodge feature private bath, and some have their own kitchen and dining area. The cabins are large and sleep up to five for the McKinley Cabin or up to four at the Gold Miner's Cabin. The cabins and lodge rooms are comfortable and equipped with modern features. The lodge provides continental breakfast only. For lunch and dinner guests either cook for themselves or head into town. The lodge sits three hours by car, and you will need to drive yourself to your own fishing charter. The guides for charters are professionals with Coast Guard license.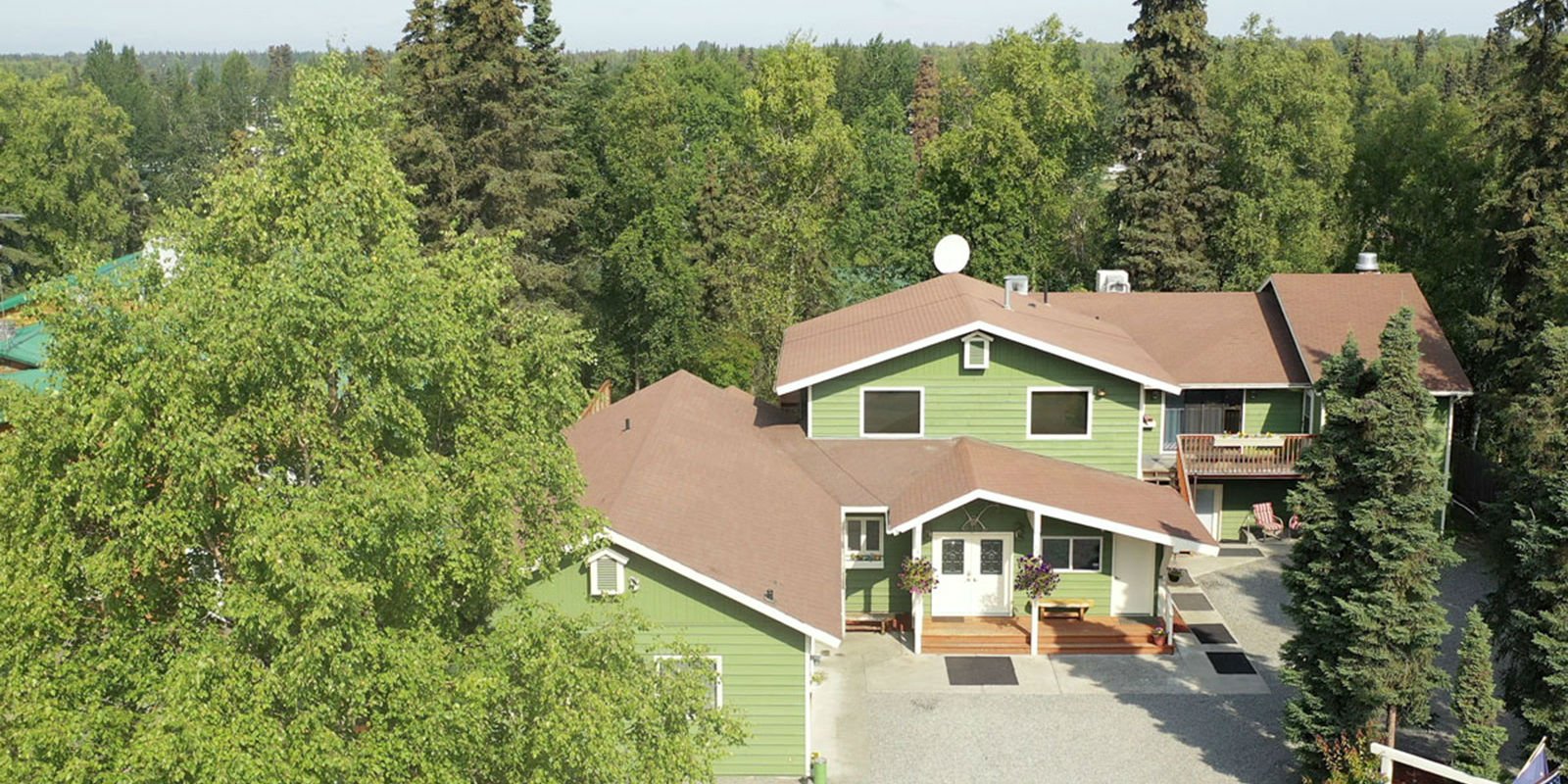 Top Rated Alaska Fishing & Adventure Lodge | Whether you are looking to fish, canoe, hike or just enjoy Alaska, we have packages for you.
6 - 7 Days:
$2,000 to $3,000 Per Person
4 - 5 Days:
$2,000 to $3,000 Per Person
Half Day:
$200 to $299 Per Person
Full Day:
$300 to $399 Per Person; $400 to $499 Per Person
The Soldotna Bed & Breakfast sits along the Kenai River and offers guests a remarkable facility from which to launch an Alaskan Adventure. The large inn features a variety of guest rooms, some with twin beds, others with queen beds. There is a dining room for breakfast and a sun room, along with a comfortable living area. The Charter side of the adventure includes a variety of trips, including Halibut and freshwater fishing adventures. Under new ownership as of 2019, your hosts Mark and Julie are warm and inviting as is their lodge. Expect top notch experience & fishing with this Kenai River fishing lodge.

6 - 7 Days:
$2,000 to $3,000 Per Person
4 - 5 Days:
$1,000 to $2,000 Per Person
Half Day:
$100 to $199 Per Person
Full Day:
$200 to $299 Per Person
The Cooper Landing Fishing Guide is Kenai River focused service that guides fishermen and fisherwomen through some of the world's best fishing waters. The Kenai River is a world-famous river, and Cooper Landing is lucky enough to exist near the start of this majestic river. They are a great option if you're looking for a Kenai River fishing guide, and they also offer guided Russian River fishing as well.
Remote Alaska Fishing, Wildlife & Rafting Adventures Since 1955 | Choose From an All-Inclusive Guided Lodge Package or a Budget Friendly Self-Guided Float Fishing Trip
6 - 7 Days:
$2,000 to $3,000 Per Person
Aniak Air Guides is located in the village of Aniak and is only accessible by plane or by boat. The nice thing about staying here is that they will pick you up at the airport. It is easy to charter a flight from Anchorage to Aniak. The village of Aniak sits along the banks of the Kuskokwim River and is a community of about 500 people in the summer. The lodge doubles as a B&B and houses up to 12 guests. The lodge is made up of a main lodge and three out-cabins and offers a private time for guests. This is bush country Alaska style, and the Aniak Air Guides lodge is pretty amazing. It is comfortable and offers conveniences such as WiFi, Cable TV, and 24-hour electricity. They will even allow you to bring your pets. A new service for Aniak Air Guides is the Fly-out - Drop-off…

Self-Guided Fishing on Alaska's Inside Passage | Fishing for Salmon, Halibut, Trout, Steelhead & More | Packages Include Fishing Boats & Gear, Lodging & Meals
6 - 7 Days:
$2,000 to $3,000 Per Person
Island Point Lodge is located in Petersburg, Alaska on Kupreanof Island. This is a saltwater and freshwater fishing lodge with a wide variety options for fishing. This is a remote fishing lodge, and power is via a diesel generator. Guests are housed in the six cabins. The lodge can accommodate four groups of four and two groups of two making this a nice lodge for a small group.

6 - 7 Days:
$3,000 to $4,000 Per Person
4 - 5 Days:
$2,000 to $3,000 Per Person
Soaring Eagle Lodge is amazing. It sits on the bluffs above Cook Inlet on the South Central Shores of Alaska. There is a lot to do here, and the lodge is the perfect hub for all of your Alaska adventures. The lodge has room for six people while the out cabins feature one and two bedroom units. The atmosphere is elegant and comfortable. Each cabin has its own kitchen and comes stocked with food. Soaring Eagle Lodge is not just a fishing lodge, it is a vacation lodge and as such its strength is that it allows you to build your vacation. They do offer fishing packages for fisherman, and Adventures, but the whole family will have plenty to do here. One of the perks here is that your vacation rate comes with round trip airfare into Alaska and a rental car or van for your stay.
6 - 7 Days:
$2,000 to $3,000 Per Person
Coffman Cove Bear's Den is a self-guided fishing lodge in beautiful Southeast Alaska. Getting here is relatively easy. You can take the ferry from Ketchikan to Hollis where the lodge will pick you up, or you can fly there. Better yet, is the fact that the lodge will help you plan your trip so that you can take advantage of the best options. The remote and beautifully wild area is a prime fishing destination. Guests can opt for saltwater or freshwater, and while the focus is on self-guided fishing, guides are available.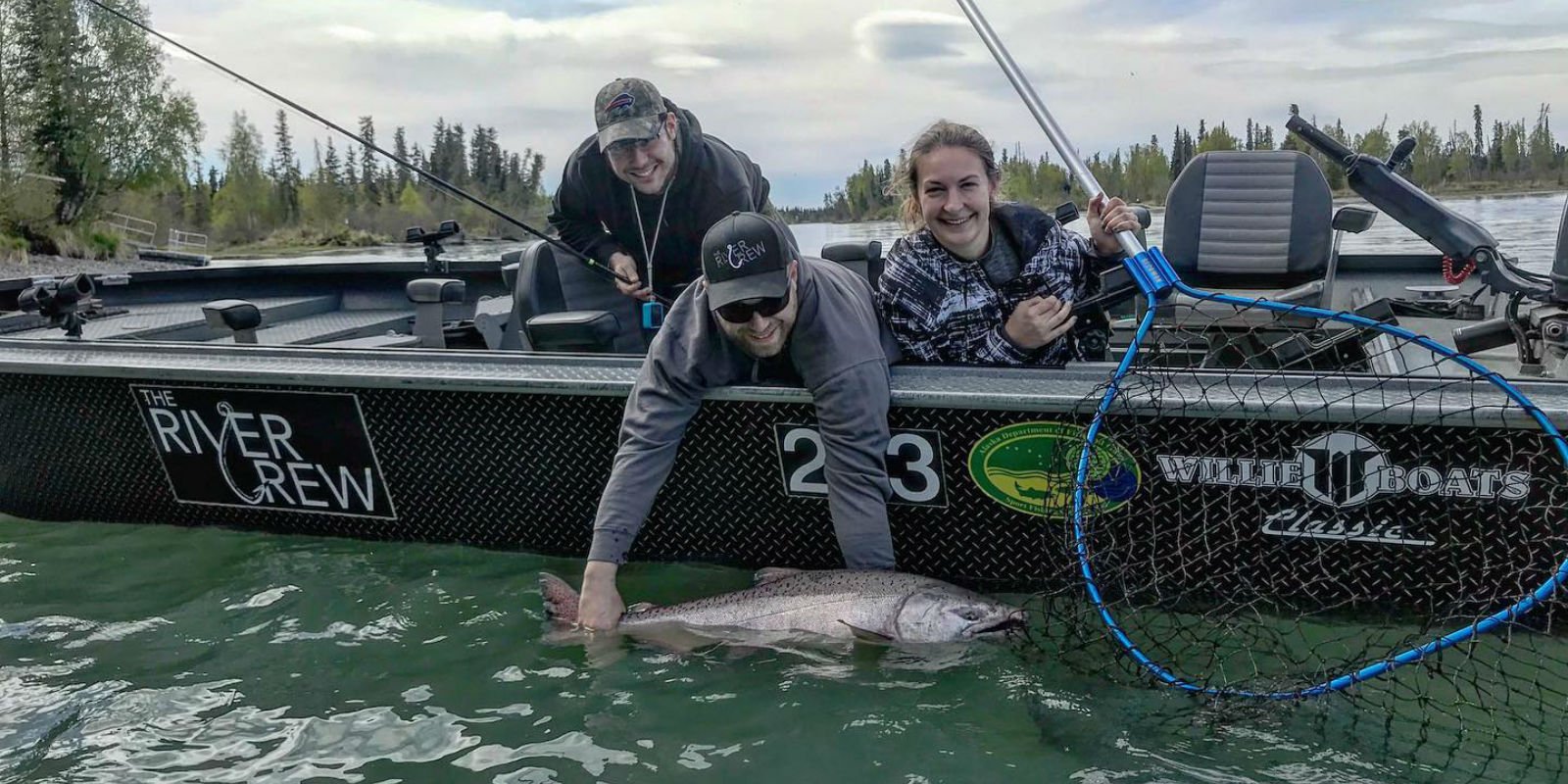 6 - 7 Days:
$2,000 to $3,000 Per Person
4 - 5 Days:
$1,000 to $2,000 Per Person
Half Day:
$100 to $199 Per Person
Full Day:
$200 to $299 Per Person
The River Crew offers guided Kenai River fishing and lodging provided through A Cabin by the Pond, which offers small, well-equipped cabins with easy access to the Kenai River. Welcome to the Kenai Peninsula and home to the world-famous Kenai River. Here you have access to King Salmon, Silver Salmon, Sockeye Salmon (by the millions), and Chum Salmon. Here you also can target Trophy Rainbow Trout and Dolly Varden. By Trophy, we mean Rainbow Trout in the 30+ inch range.
Recent Articles