Top 10 Helicopter Fishing Trips
Top 10 Helicopter Fishing Trips
Would you like to contact to check availability or learn more?
Fill out the info below and someone from will get back to you.
Email Sent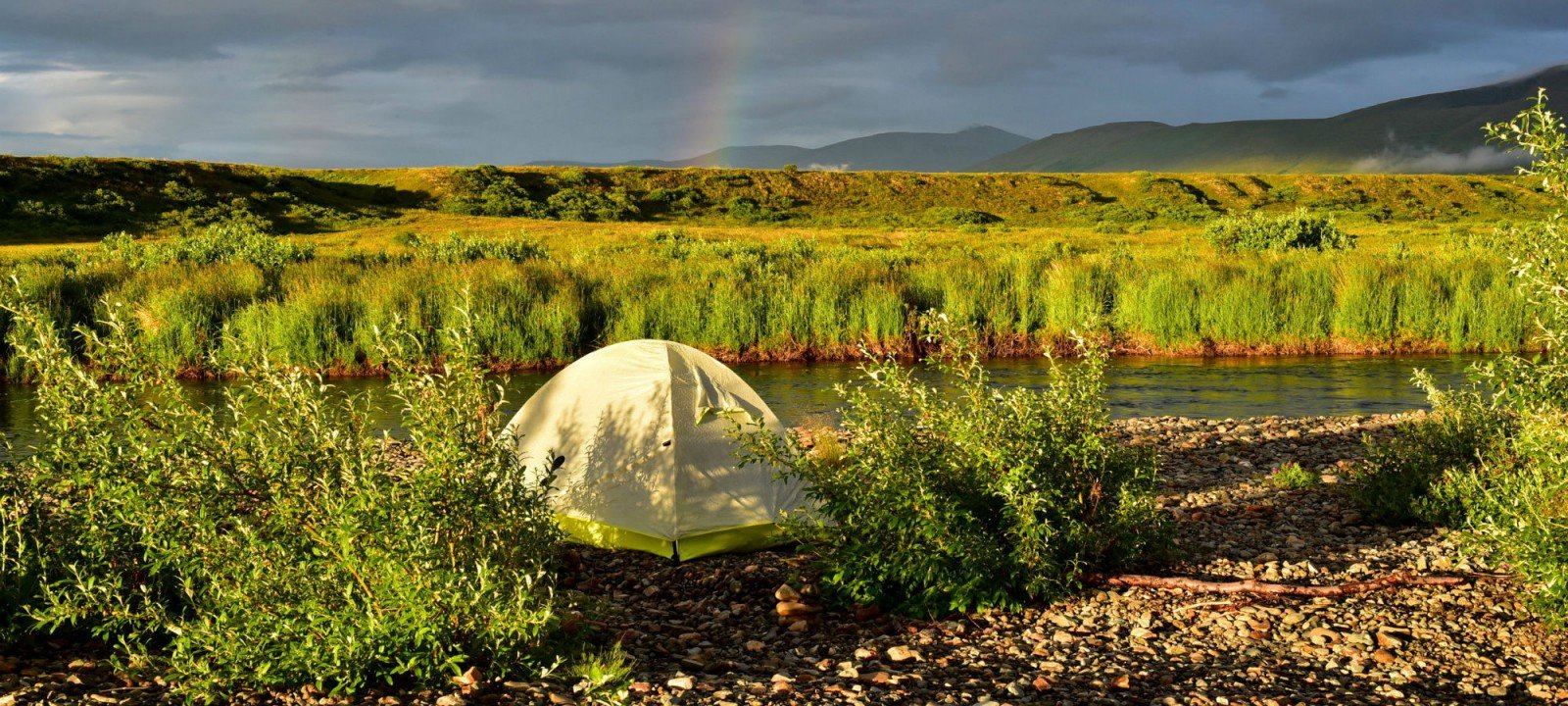 Guided Single Day & Overnight Fly-Fishing Trips on some of Alaskas' Best Rivers | Choose From Single Day Float, Wade or Heli-Fishing & Multi Day Remote Guided Float Fishing Trips
6 - 7 Days:
$4,000 to $5,000 Per Person
4 - 5 Days:
$3,000 to $4,000 Per Person
Half Day:
$150 to $199 Per Person
Full Day:
$150 to $199 Per Person; $200 to $299 Per Person
FishHound Expeditions is a professionally guide-owned guide-operated service that offers its guests the best of Alaska Fly Fishing Trips along many of Alaska's best rivers. They bring over 30 years of combined guiding experience, and in their downtime, they fish these rivers too. They are truly fishing masters.
Featured Packages
---
6 - 10 Day Float Fishing Trip Fishing Adventure in Western Alaska
From $4,500 Per Person
Looking for a trip that you will never forget? Consider a multi-day fly-in guided float fishing expeditions into wild Alaska.
---
The location of our 6-10 day trips is Western Alaska. Western Alaska is truly remote, very little evidence of humanity or other fisherman. The rivers we operate on don't have lodges clogged with jet boat traffic We fly into either Bethel or Dillingham via Alaska Air which departs multiple times a day from Anchorage. From there guests and guides board bush planes either on wheels or floats to head to one of many rivers in the vast area.

We target all 5 species of Pacific Salmon, mouse eating Leopard Rainbows, beautifully finned Arctic Grayling, brilliantly colored Dolly Varden, and Arctic Char. On all FishHound trips guests enjoy a 2 to one ratio (one guide two clients). Guests also enjoy our move-able "lodge", a large cook tent and dining area that can seat 8 and provide stream side views while being out of the elements. Clients have their own sleeping tents complete with cots and insulated down pads. Other than fishing clients are only responsible for packing up their personal gear, FishHound staff takes care of everything else.

Contact us to learn more about this incredible experience!
Heli-Fishing Trips
Single & Multi-Day Options Available
Come heli-fish with us! There is no greater access to Alaska's wild rivers than via a helicopter!
---
We run heli-fishing on multiple rivers throughout south-central Alaska, which is easily accessible from the Anchorage area.

We offer single day heli-fishing trips as well as 2 thru 6 multi-day float fishing trips . This type of trip provides an amazing remote Alaskan river experience with much more ease than some of the further location we operate on. This is a perfect trip for folks who want a wilderness trip/experience but don't want to spend their whole time in Alaska in one remote location.

Most trips depart from the beautiful town of Talkeetna in the shadow of Denali. Denali provides an amazing view as you are flown out to some of the most phenomenal fishing in Alaska. Depending on the time of year we target all 5 species of Pacific Salmon. Huge bruiser Rainbow Trout are always present as well as Arctic Grayling and Dolly Varden.
Experience a Remote, Unforgettable, Outdoor Alaskan Adventure | Expect experienced local fishing guides and loads of add on adventures to choose from like heli-hiking, flightseeing, whitewater rafting & more!
6 - 7 Days:
$6,000 to $7,000 Per Person
4 - 5 Days:
$5,000 to $6,000 Per Person
Experience a remote Alaska fishing adventure & more less than an hour flight from Anchorage. Located on the remote Talachilitna River (Tal River) in Southcentral Alaska expect remote fishing away from the crowds for all five species of Pacific Salmon with experienced local guides there to help maximize your adventure. And while Tal-Adventures Lodge does give you access to remote Alaska fishing it offers so much more than that. If you are looking for a remote Alaska outdoor adventure this might just be the place for you...in additonal to incredible fishing you can also choose from heli-hikes, glacier hikes, heli-skiing, whitewater rafting, breathtaking flightseeing and so much more.
Featured Packages
---
All-inclusive Fishing Package - 6 Days/5 Nights
From $6,738 Per Person
If you are looking for a remote Alaska fishing & outdoor adventure this might just be the place for you
---
If you have ever wanted to experience remote Alaska away from common tourist spots, accompanied by knowledgeable guides on-hand, all within less than a one-hour flight from Anchorage, then come to Tal-Adventures Lodge. Experience what it's like to fish in a river teeming with multiple species of Pacific fish, unaccustomed to being fished. There is simply no other destination like the Talachulitna River. Experienced guides, flight crew, and B&B hosts ensure every aspect of your trip and your stay is attended to with personalized service. Enjoy authentic outdoor adventures and rustic, cozy comforts served with Alaskan hospitality for an unforgettable experience.
What's included: - Round trip Helicopter ride from Anchorage Lake Hood to the Lodge - 6 days cabin stay with 3 meals a day (Buffet-style Breakfast, Grab-and-go Sandwich Lunch, Dinner with Dessert) - 5 days personal fishing guide; fishing gear - Fishing boat (3 to 4 people per boat) - Fish processing/vacuum seal/freeze; insulated packing box is an additional charge - Unlimited cabin sauna access
Helicopter Fly-In Day Trip With an Overnight Stay
$1,450 Per Person (Add more days for $250 per person per day)The Fly-In Day trip is perfect for someone looking for a quick trip to experience remote Alaska fishing & adventure!
---
For those looking for a quick getaway or a brief stay in remote Alaska, choose a day-trip or multi-day package Tal-Adventures Lodge Offers. As one of our most popular packages, the Fly-In Day trip is perfect for someone on the go and who is looking for a quick adventure trip or just wants to have a weekend getaway.
We recommend rafting down the Talachulitna River, just a 30-minute helicopter ride from Willow Creek Airpark. Experience the gentle long stretches of Class 1 segments interspersed with thrilling Class 2-4 segments. Raft and lifejackets are included for your convenience and safety. Rafting in a scenic and remote location such as the Talachulitna River increases your chances of seeing wildlife such as bears, moose, salmon, and bald eagles. Relax at the end of your rafting trip in our cozy and comfortable cabin with an in-room wood stove and separately-detached sauna. Your one-day trip includes a packed lunch, gourmet dinner with dessert, and next morning buffet breakfast. Enjoy the comfort of home in a simple, cozy historic Alaskan log cabin.
What's included: - Round trip Helicopter ride from Willow Creek Airpark to the Lodge ( You can choose to charter from Anchorage Lake Hood as well) - 1-day 1-night cabin stay with Buffet-style Breakfast, Grab-and-Go Sandwich Lunch, Dinner with Dessert, Add more days for $250 per person per day - Fishing / Rafting gear - Fish processing/vacuum seal/freeze; insulated packing box is an additional charge

Half Day:
$150 to $199 Per Person
Full Day:
$300 to $399 Per Person; $400 to $499 Per Person
Denali Fly Fishing Guides offers remote fly fishing trips for Arctic Grayling and Trout throughout the Cantwell area. Cantwell is a 212-mile drive from Anchorage, and the Denali Fly Fishing Guides sit just off of Alaska Route 3 - the George Parks Highway making this an easy place to find. Fishing here is intense as you have easy access to both the Fish Creek and the Jack River both of which eventually feed into the Nenana River. Expect top fly fishing for Arctic Grayling. Guests also have the opportunity to catch some Rainbow Trout as well with a day trip south to the Chulitna River drainage.
6 - 7 Days:
$5,000 to $6,000 Per Person
4 - 5 Days:
$3,000 to $4,000 Per Person
The Tordrillo Mountain Lodge offers a remote and quite beautiful location that is only 40 minutes from Anchorage by air. This is an amazing place that offers guest over 20 years of guiding visitors to their dream wilderness activities. The lodge sits along the banks of the Talachulitna River and Judd Lake and offers views of Mt. McKinley and the Tordrillo Mountains. The accommodations offer guests a blend of lush decor and rugged wilderness all wrapped up in an interesting architectural style. There are three decks on which guests can relax and enjoy the surrounding beauty. There is a hot tub with amazing views of the lake and the night sky. There are a great room and a family room where guests can settle in and enjoy their stay.
6 - 7 Days:
$5,000 to $6,000 Per Person
4 - 5 Days:
$3,000 to $4,000 Per Person
The Deep Creek Fishing Club is located on the world-famous Kenai Peninsula almost halfway between the towns of Kenai and Homer, Alaska. It is easily reached by car from Anchorage by driving along the Sterling Highway. You can also fly into Kenai or Sterling and then rent a car from there.
6 - 7 Days:
$5,000 to $6,000 Per Person
4 - 5 Days:
$3,000 to $4,000 Per Person
Alaska's Gold Creek Lodge sits in King Salmon, Alaska along the Naknek River - a world-famous fishing destination. The lodge sits near the entrance to the Katmai National Park, which is famous for its seasonal bear viewing and huge runs of salmon. The lodge is a short 280 miles from Anchorage and sits within the bountiful Bristol Bay Watershed. This is a fly-in lodge, giving guests that true wild Alaska feeling with all of the creature comforts of home. Expect first-class service and lodging.
The Talkeetna Wilderness River Fishing Guides offer a wide arrange of guided fishing options from Walk-in trips to Heli Fishing and a whole lot in between. This is not a "combat" fishing service. Instead, you get to experience authentic Alaska as you fish for Salmon, Rainbow Trout, Dolly Varden, and Arctic Grayling. Every trip is inclusive.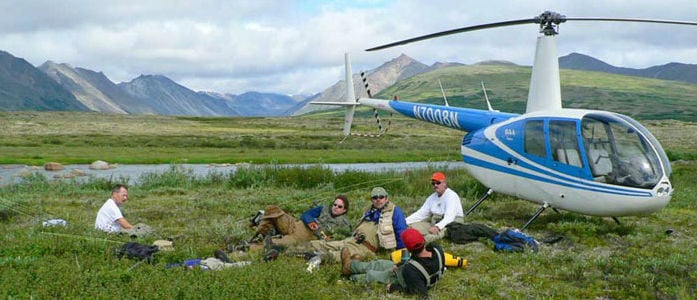 6 - 7 Days:
$6,000 to $7,000 Per Person
4 - 5 Days:
$3,000 to $4,000 Per Person
Twin Peaks Adventure is based out of Nome Alaska and specializes in helicopter fly fishing fly-outs. The focus is on fisheries that are only accessible by helicopter. Twin Peaks Adventures present an opportunity to fish in waters where man seldom is seen. What this means for fly fishermen is undisturbed fisheries that are rich in trophy sized opportunities. Each group is customized by Twin Peaks Adventures to the specific needs of the fishermen. This is a perfect adventure for veteran fishermen or beginners. The guides are experienced and helpful. If you want to learn how to fish like a master, then these are the guys to teach you. Accommodations are based from a home-cabin on the Snake River. The cabin is cozy and rustic. Amenities include hot water, full kitchen, showers and a hot tub. Twin Peaks Adventures offers fly-outs from the cabin, or they will take you on float…
6 - 7 Days:
$5,000 to $6,000 Per Person
EPIC Angling and Adventure operates two remote fly fishing adventure trips on the Alaska Peninsula. Each experience will take you far away from paved roads and the typical structured fly fishing lodge setting. There's no fine paintings, no fancy carpet and few formalities... just a genuine atmosphere, pristine waters, no crowds, sore arms and mind-blowing numbers of fish! Check out compare trips for a good side by side comparison of both our remote operations.
Half Day:
$400 to $499 Per Person
Ketchikan Helicopters offers a variety of services that include helicopter fishing. They are perfect for people who have a limited amount of time in Ketchikan or a busy schedule. They also make it possible for you to fish where others do not. That means no more vying for the perfect fishing spot on a charter. Instead, you've got the entire river to yourself.
Recent Articles