Top 10 Luxury Alaska Fishing Lodges
Top 10 Luxury Alaska Fishing Lodges
Would you like to contact to check availability or learn more?
Fill out the info below and someone from will get back to you.
Email Sent
World Renowned Alaska Fishing Lodge, Unforgettable Experience - It's one of the last truly pristine wilderness areas left in the world. Endless miles of crystal clear rivers teeming with wild rainbow trout and huge chinook salmon.
6 - 7 Days:
$15,000 + Per Person
The No See Um Lodge sits along the fish-rich waters of the Kvichak River in the South Central part of Alaska. The location of the lodge was chosen because it sits nearly equal distances between several fisheries that offer guests some of the best opportunity for landing trophy fish. No See Um Lodge is all about the entire experience. They offer top guides, pilots and a staff that knows how to make you feel comfortable and who attend all of your needs. Features include a hot tub with river view, sauna, daily housekeeping, on demand hot water, 24/7electricity, and WiFi throughout the property. The main lodge has satellite TV, but the best treat might just be their well stocked Pro-Shop. The fishing here is intense, which is why the staff focuses on your entire experience. The cabins and rooms are well furnished with quality. The decor is upscale wilderness chic,…
Featured Package
---
Flexible and Customized Fishing Program
Imagine over 20 million acres of wilderness with no roads, very few people and the largest populations of wild rainbow trout, pacific salmon and bears on the planet.
---
Fishing is what we do. For over 40 years we have been flying and guiding anglers throughout Bristol Bay. There are a few other lodges that can boast that many years but none that have fine-tuned the operation like No See Um. At a maximum of twelve guests per week, our fleet of three DeHavilland Beavers goes out with a maximum of four anglers and is committed to those anglers all day. We don't drop and go back for more as is the case with most lodges. This ratio of guests to aircraft also allows for the greatest flexibility in the industry. We have the ability to fish more than one location in a day and always have the option to "head in for cocktails" if the weather or an emergency pushes the issue. On days that weather doesn't allow for safe flight, we have the option to use boats to access our home water, the Kvichak River.

Imagine over 20 million acres of wilderness with no roads, very few people and the largest populations of wild rainbow trout, pacific salmon and bears on the planet. This is our playground. Since 1975, No See Um has been consistently striving to be not the biggest, but the best fishing lodge in Alaska. Our 7 day trips include flexible and customized fishing program, fly-outs, lodging, all meals and drinks, round-trip airfare from Anchorage to the lodge, daily housekeeping, and all lodge amenities. While it's all about the fishing, our goal is to give you a complete experience. When you are at the lodge you can enjoy our hot tub or sauna, both are always hot! There is beer on tap, horse shoe pits, a screened in gazebo with fire pit, and fishing in front of the lodge. We want your trip to be the adventure of a lifetime.

Current rates are $15,500 per week/person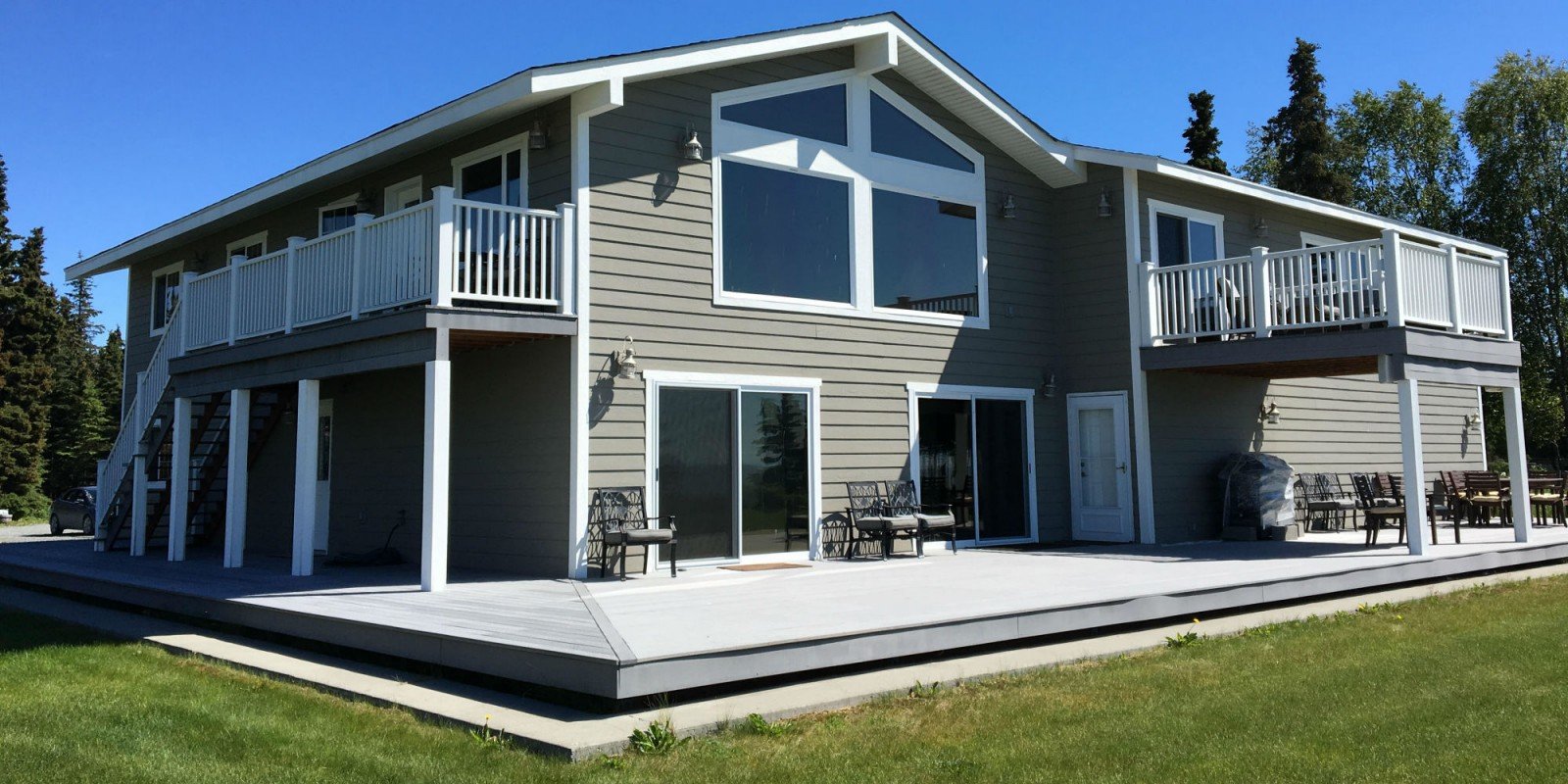 All-Inclusive Fishing Trips Combined with Five-Star Luxury Accommodations | Freshwater Fishing, Saltwater Fishing & Fly-Out Fishing Options along with Fine Dining, Wine & Drinks When You Get Back!
6 - 7 Days:
$5,500 to $6,000 Per Person
4 - 5 Days:
$5,000 to $5,500 Per Person
The Alaska Seascape Lodge sits along the bluffs along the shores of Cook Inlet. Not only do you get a front row seat for the Alaskan sunsets, but you can look across the inlet to the rows of snow capped volcanoes and the endless fishing opportunities that Cook Inlet offers. The Alaska Seascape Lodge is part of the Jimmie Jack's lodging and fishing services. As such, expect a beautiful stay in a beautiful lodge with amazing fishing and professional services that make your adventure that much better.
Remote, World-Class Sport-Fishing Lodge on Kodiak Island, Alaska | Experience Kodiak Island's outstanding fishing, magnificent scenery, abundant wildlife and our fishing lodge's four-star service!
6 - 7 Days:
$5,500 to $6,000 Per Person
4 - 5 Days:
$4,500 to $5,000 Per Person
Kodiak Island Resort sits along the shoreline of Larsen Bay on Kodiak Island. The lodge offers complete luxury for guests to enjoy while not fishing. Sat amid some of Alaska's most pristine wilderness guest's of the lodge really do have the best of everything - excellent fishing, beautiful views, and incredible saltwater and freshwater fishing.
4 - 5 Days:
$5,500 to $6,000 Per Person
Talon Lodge sits on a private island just off the Sitka shoreline and along the beautiful and pristine Inside Passage. Expect wonderful and beautiful scenery from the lodge. In the distance, the extinct cone of Mt. Edgecumbe presides over the region as the forests of the Tongass National Forest spread out creating a wild and scenic wilderness. The lodge is first-class. Rooms are designed for double occupancy and accommodate groups of 2, 4, or 6. The lodge features a main lodge with a luxurious dining room with theater-style views of Alaska's inside passage and also Alaska's most acclaimed beach bar. The lodge's mission is to provide Alaska's finest service and create amazing Alaska vacation memories. The food here is also unmatched. Four chefs, along with visiting celebrity chefs treat 24 guests to unbelievable gourmet cuisine which includes wonderful fares such as grilled salmon, Dungeness crab, and other delicacies. Guests can…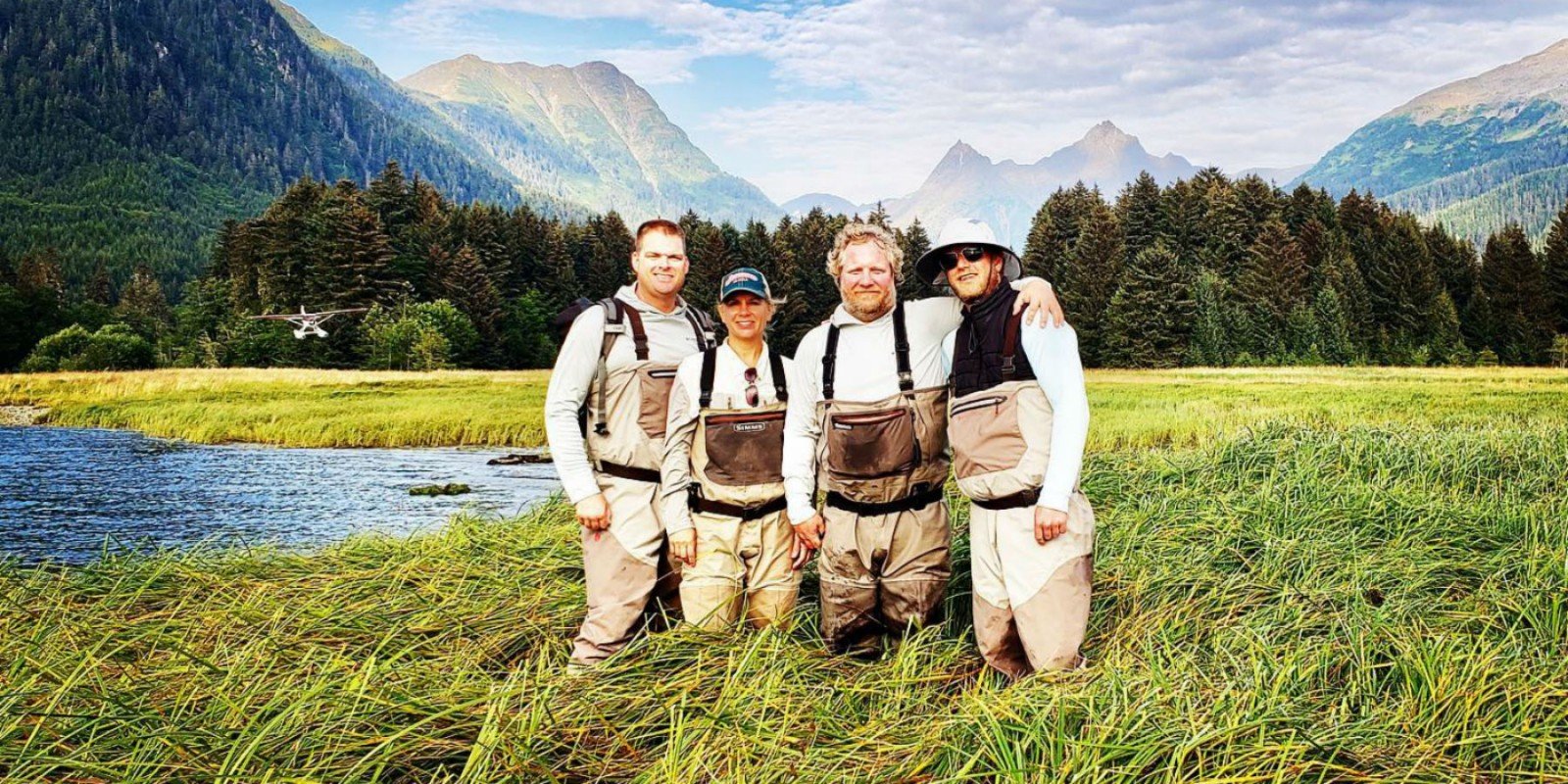 6 - 7 Days:
$7,000 to $8,000 Per Person
4 - 5 Days:
$5,000 to $5,500 Per Person
Dove Island Lodge offers luxury lodging amid one of the world's most renowned fisheries. A rarity here in Sitka, is the fact that Dove Island Lodge offers remote fly fishing excursions into the wild parts of Alaska. They are both a Saltwater and Freshwater lodge and guests can opt to fish both saltwater or freshwater or just focus on one. 

6 - 7 Days:
$12,000 - $15,000 Per Person
Bristol Bay Lodge overlooks Lake Aleknagik and the of mountains of Wood-TikChik Park, about 40 air miles northwest of the small town of Dillingham. The average fly-out time from this well-situated lodge is only 30 minutes. Guests can relax beside a see-through fireplace, and even enjoy an artist-in-residence entertainment program during the summer months. Enhance your adventure by staying at one of two more rustic outpost camps for the most spectacular fishing.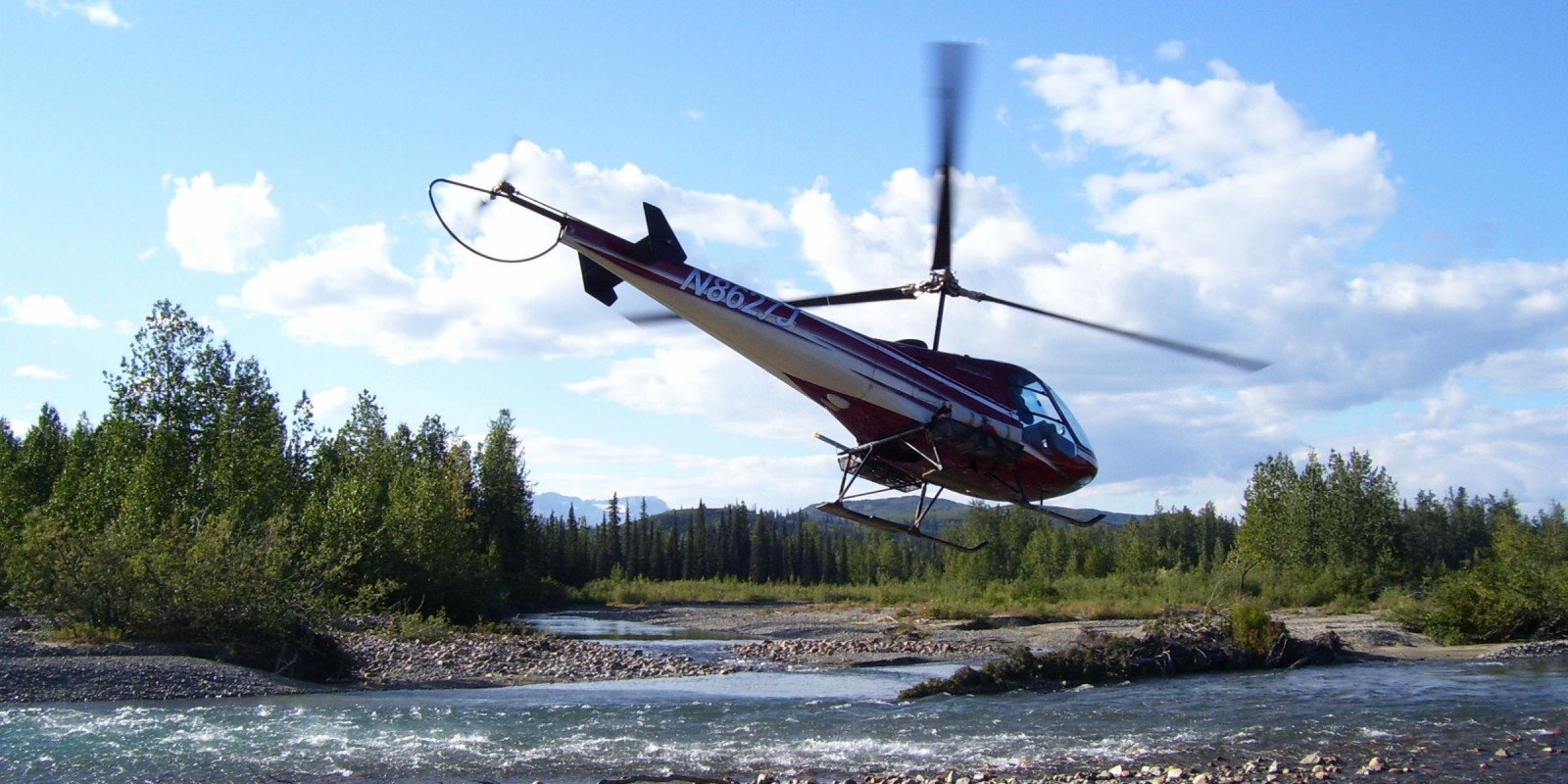 6 - 7 Days:
$9,000 - $12,000 Per Person
Nestled in the foothills of the Alaska Range, Talaheim Lodge lies 80 miles west of Anchorage and 50 miles from the nearest road. Located on the Talachulitna River, one of the first hook-and-release Alaska trout fisheries in the state, it's a prime location for a remote Alaska fly-in fishing lodge. Massachusetts native and forester Mark Miller pitched a tent at this site in 1974, naming it Talaheim Lodge. Mark now has 34 years of experience flying and fishing Alaska's wilderness, and the tent is now a luxurious facility with modern appliances, solar powered electricity, a private airstrip, two helicopters, and a professional staff. With the owners' children on the staff, the family atmosphere is palpable. Half of the bookings at this cozy getaway are repeat clientele.

6 - 7 Days:
$9,000 - $12,000 Per Person
Tikchik Lodge is a luxury Alaska fishing lodge with plush cabins. The lodge has a rich history of ownership that has led to a progression of growth for this outstandingly rich freshwater fishing lodge. They do not fish salt water. The lodge sits on a natural rock peninsula that serves as a natural divider between the Tikchik and Nuyukuk lakes in the heart of Bristol Bay. This is the heart of the Wood Tikchik State Park. The special location is the largest state park in the United Sates. The lodge offers world-class amenities such as a natural stone fireplace. The dining room is circular to offer guests a panoramic view of the lakes. Meals here are the envy of many of the world's finest restaurants. There are plenty of areas around the complex to enjoy wildlife viewing, quiet times, or to fish. The river is 50-100 feet away. The Tikchik…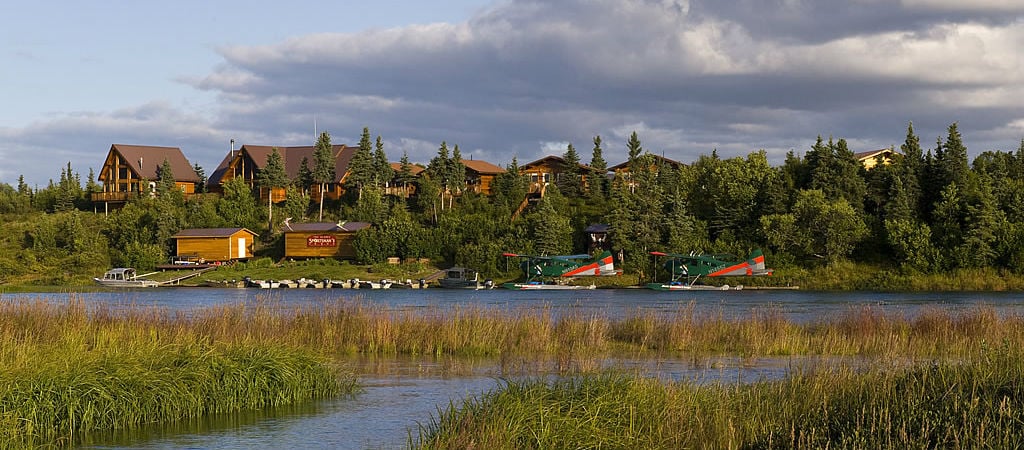 6 - 7 Days:
$15,000 + Per Person
4 - 5 Days:
$9,000 - $12,000 Per Person
Alaska Sportsman's Lodge is the sister lodge of Alaska Sportsman's Bear Trail Lodge. This is a five-star lodge in the heart of trophy rainbow trout territory. Alaska Sportsman's Lodge sits along the banks of the Kvichak River near the beautiful and fish-rich Lake Illiamna. The main highly of the area and there are many, is that this is the only designated trophy rainbow trout region in all of Alaska. This is a fly fisherman's paradise.

6 - 7 Days:
$12,000 - $15,000 Per Person
The Royal Wolf Lodge sits on a spur of land in the middle of the Katmai National Park. The lodge owns 120 acres and includes private fishing grounds which are set amid the gentle rolling mountains and next to lakes, rivers and streams that offer outstanding fishing opportunities. Royal Wolf Lodge is a fly-out lodge and focuses its fishing trips on the rivers and fishing spots that hold the best fish for the season. Every river in Alaska is different and understanding the rivers provides you with the best opportunity to land trophy fish. That understanding is what the Royal Wolf Lodge provides to its guests. The Royal Wolf Lodge is a top tier fly fishing lodge that is richly appointed and luxurious. The private cabins surround the main lodge and offer world-class accommodations. Each cabin is themed based and decorated according to its name. There are cabin choices between…
Recent Articles