Top 10 Trophy Alaska Fishing Trips
Top 10 Trophy Alaska Fishing Trips
Would you like to contact to check availability or learn more?
Fill out the info below and someone from will get back to you.
Email Sent
Alaska's Premier Fishing and Bear Viewing Lodge Since 1988 | Remote Fly-In Fishing Lodge on the Alagnak River
6 - 7 Days:
$4,500 to $5,000 Per Person
The Alaska Trophy Adventures Lodge is an Alagnak River lodge that focuses on trophy fishing in a beautiful wilderness setting. The lodge sits along the shores of the Upper Braids of the Alagnak River offering fly fishermen a trip of a lifetime and fishing inside the Katmai National Park.
Featured Packages
---
World Class Fly-Fishing on the Alagnak River | Remote Fly-In Fishing Camp
6 - 7 Days:
$4,500 to $5,000 Per Person
4 - 5 Days:
$3,500 to $4,000 Per Person
Angler's Alibi is a rustic, yet comfortable, fishing camp on the Alagnak River in the famous Bristol Bay watershed, 23 miles North of King Salmon. This cozy camp is just outside the Katmai National Park boundary, over 250 miles from the nearest highway. Its location on the tidewater section of the Alagnak River means that you don't even need to leave camp to find amazing fishing. No fly-outs means you can spend more time on the river than at other lodges. Or, fly-out to Moraine Creek, Funnel Creek, and other fantastic fishing holes to say you were there. The near 90% guest return rate at Angler's Alibi offers evidence of its excellence.

6 - 7 Days:
$2,500 to $3,000 Per Person
4 - 5 Days:
$2,500 to $3,000 Per Person
The Tower Rock Lodge sits on the banks of the Kenai River in the heart of Alaska's best fisheries. Throughout the summer season, the salmon are thick in the local waters. The Trophy Rainbows are here all year long. The Tower Lodge is sponsored by Orvis Fishing and is the only lodge in the Kenai area to receive that distinguished and coveted award. The lodge is home to 25 guests at a time and offers world class fishing, guiding and food. The Tower Rock Lodge is a set of four cabins that sleep up to four people and the main lodge which offers outstanding relaxation facilities. This is a lodge that is designed to host small groups of friends and coworkers to explore the best fly fishing in the world. Cabins feature private bathrooms and blackout blinds so that you can sleep during the longer days of summer. You will…
6 - 7 Days:
$3,500 to $4,000 Per Person
Midnight Sun offers trophy pike adventures in Western Alaska on the back sloughs of one of Alaska's greatest rivers; the Yukon. The lodge is unique as it is a refurbished rustic houseboat with a luxury feel and an at-home atmosphere. You will find the Midnight Sun 310 miles due West of Anchorage on the Yukon. Expect to troll the 210 mile slow moving river where the environment has come together to create a haven for Northern Pike. These monster predators are smart, fast, and they fight like nothing else. Pike size along the Yukon range from 10 to 40 pounds. Don't expect to kick-it on the houseboat for your whole adventure. The lodge sits amid a number of choice fishing habitats and fight-fishing trips easily land you on the Kuskokwim or the Lower Yukon drainage where you may encounter something fiercer than a pike... a Sheefish.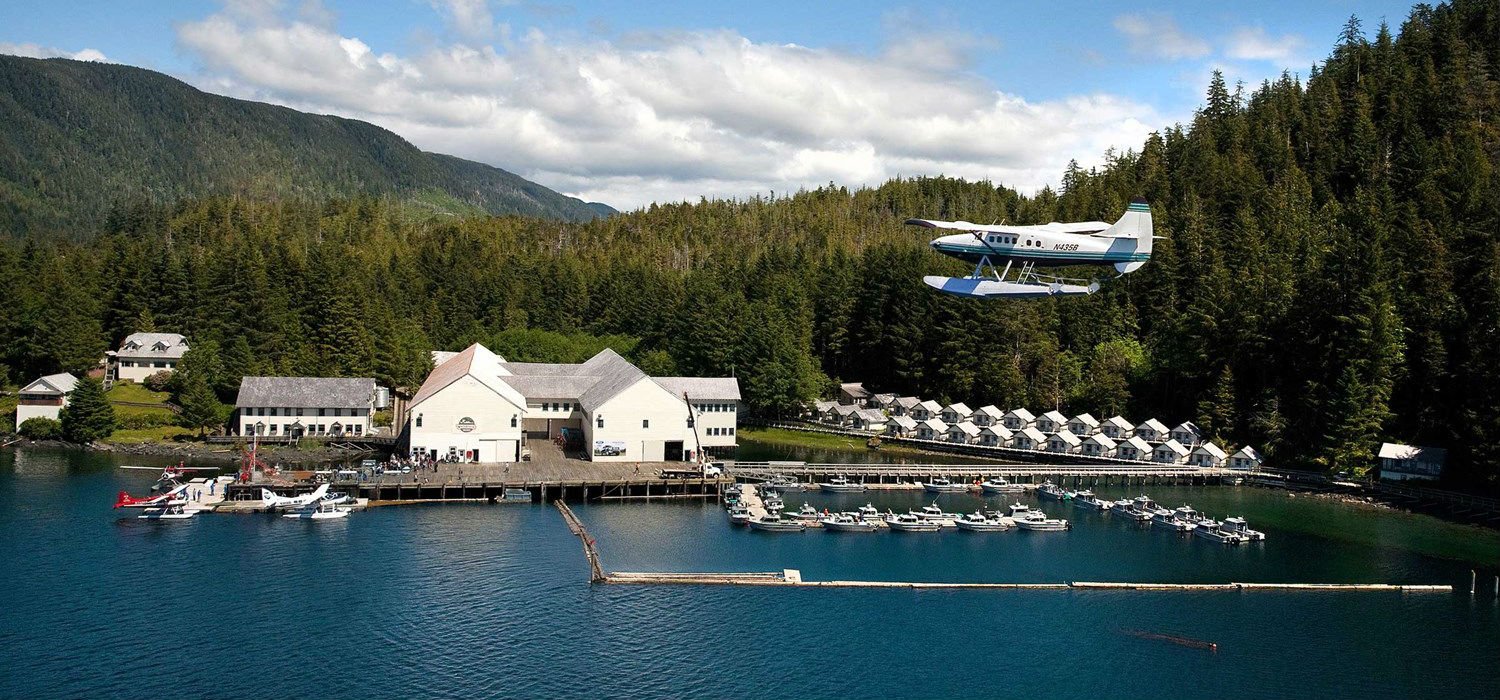 6 - 7 Days:
$6,000 to $7,000 Per Person
4 - 5 Days:
$4,500 to $5,000 Per Person
Visit a historic cannery, reinvented as a popular and sophisticated sport fishing resort. This former cannery, legendary for the prolific amounts of seafood caught and canned, is currently celebrating its centennial. Waterfall Resort sits by a beautiful seaside waterfall on the west coast of Prince of Wales Island, near Ketchikan, Alaska.

6 - 7 Days:
$12,000 - $15,000 Per Person
The Royal Wolf Lodge sits on a spur of land in the middle of the Katmai National Park. The lodge owns 120 acres and includes private fishing grounds which are set amid the gentle rolling mountains and next to lakes, rivers and streams that offer outstanding fishing opportunities. Royal Wolf Lodge is a fly-out lodge and focuses its fishing trips on the rivers and fishing spots that hold the best fish for the season. Every river in Alaska is different and understanding the rivers provides you with the best opportunity to land trophy fish. That understanding is what the Royal Wolf Lodge provides to its guests. The Royal Wolf Lodge is a top tier fly fishing lodge that is richly appointed and luxurious. The private cabins surround the main lodge and offer world-class accommodations. Each cabin is themed based and decorated according to its name. There are cabin choices between…
6 - 7 Days:
$9,000 - $12,000 Per Person
Royal Coachman Lodge is perched on the Nuyakuk River in the Bristol Bay region of Alaska. It specializes in guiding guests to unbelievable fly fishing on uncrowded waters. The lodge fishes the Nushagak, Agulapak, and Kvichak Rivers, as well as several other rivers and streams. The Nuyakuk is a great home river that will not disappoint on the occasional no-fly-out day. Wonderful Rainbow fishing is available right in front of the lodge in the spring and fall. Schools of salmon are often seen from the lodge, and grayling are consistently plentiful in the lodge pool. Catch five salmon species, trophy Rainbow Trout, char, Dolly Varden, huge pike, grayling, and even the elusive Sheefish. Over 95% of clients in 2013 were either repeat guests or word of mouth referrals.
6 - 7 Days:
$1,500 to $2,000 Per Person
4 - 5 Days:
$1,500 to $2,000 Per Person
Imagine taking a floatplane to a remote cabin where you have the wilderness to yourself. Well, you don't have to imagine that any longer because Alaska Fly-In Fishing offers remote cabin fly-in fishing trips for reasonable pricing. You have your choice of lakes, and each cabin offers easy access to fishing for a variety of fish species.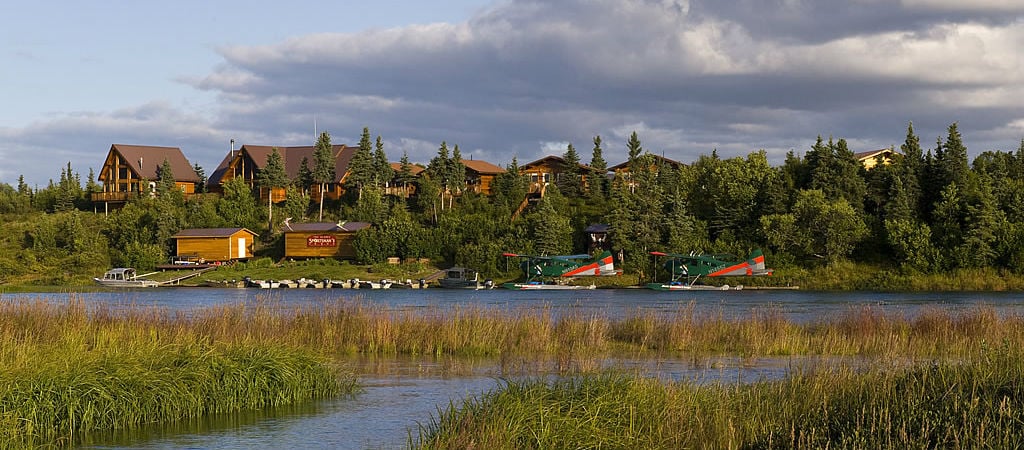 6 - 7 Days:
$15,000 + Per Person
4 - 5 Days:
$9,000 - $12,000 Per Person
Alaska Sportsman's Lodge is the sister lodge of Alaska Sportsman's Bear Trail Lodge. This is a five-star lodge in the heart of trophy rainbow trout territory. Alaska Sportsman's Lodge sits along the banks of the Kvichak River near the beautiful and fish-rich Lake Illiamna. The main highly of the area and there are many, is that this is the only designated trophy rainbow trout region in all of Alaska. This is a fly fisherman's paradise.
6 - 7 Days:
$3,500 to $4,000 Per Person
Alaska Rainbow Adventures takes you down some of Alaska's best rivers. Float down the Kanektok, Togiak, Alagnak, into Moraine Creek, American Creek, Lake Creek, and down the Talachulitna River, Kwethluk River, or the Koktuli and Stuyahok rivers. What all that means to a fly fisherman is ample opportunity to tempt a trophy Rainbow Trout or King Salmon into striking your fly.
Recent Articles