Soldotna B&B Trophy Lodge
Would you like to contact to check availability or learn more?
Fill out the info below and someone from will get back to you.
Email Sent
Soldotna B&B Trophy Lodge
Top Rated Alaska Fishing & Adventure Lodge | Whether you are looking to fish, canoe, hike or just enjoy Alaska, we have packages for you.
250 Reviews
-
TripAdvisor® Traveler Rating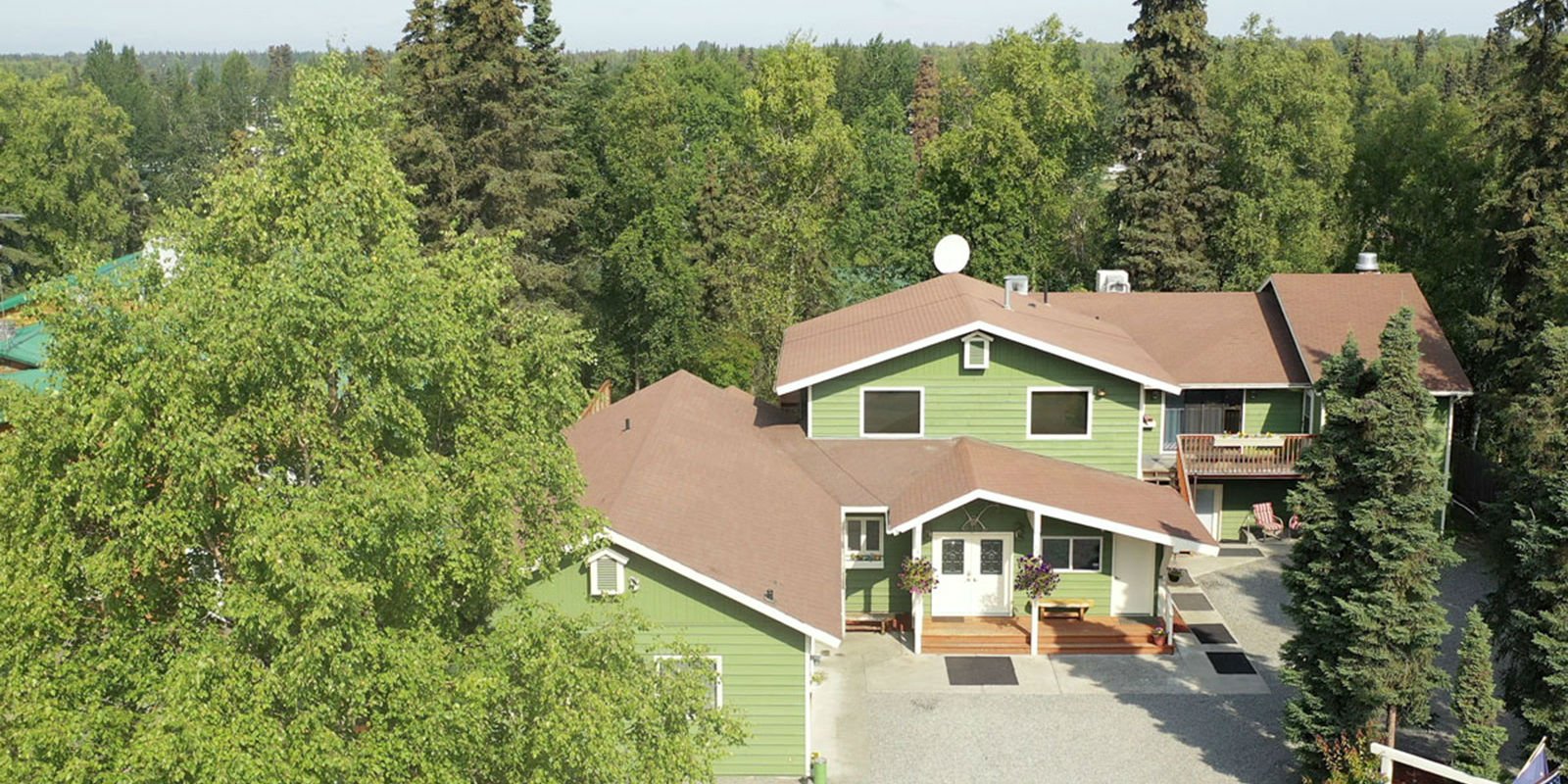 Approximate Cost:

6 - 7 Days:

$3,500 to $4,000 Per Person

4 - 5 Days:

$2,500 to $3,000 Per Person

2 - 3 Days:

$1,500 to $2,000 Per Person

Half Day:

$200 to $299 Per Person

Full Day:

$300 to $399 Per Person; $400 to $499 Per Person

Type:

Charters & Guides

Lodges

Fishing:

Freshwater Fishing

Guided Fishing

Saltwater Fishing
The Soldotna Bed & Breakfast sits along the Kenai River and offers guests a remarkable facility from which to launch an Alaskan Adventure. The large inn features a variety of guest rooms, some with twin beds, others with queen beds. There is a dining room for breakfast and a sun room, along with a comfortable living area. The Charter side of the adventure includes a variety of trips, including Halibut and freshwater fishing adventures. Under new ownership as of 2019, your hosts Mark and Julie are warm and inviting as is their lodge. Expect top notch experience & fishing with this Kenai River fishing lodge.
Fishing Adventures with Alaska Fishing Charters
Fishing trips range from the basic adventure of just walking to the river from the lodge to fish, to guided freshwater and saltwater fishing, to fly out adventures to special streams and rivers. Fishing here is anything you want it to be. The choices are many, and the types of fish available are amazing. The Kenai River is where the record king salmon was caught. Try your hand at besting the 97 pound record. The lodge will help by arranging your guide or charter when you set your reservation or when you arrive. Alaska is a busy place, and it is best to set your adventures up well in advance and then confirm them before you leave for your vacation. If you book when you arrive, you will find that your selection of options is quite small.
Fishing for Trophies on the Kenai
King Salmon are the big freshwater fish here. It is not uncommon to battle a 25-50 pound king. Sometimes you get lucky, and the massive monsters strike. Those 50-100 pound fish are amazing battles. A couple of 25 pounders will also wear you down. Other salmon include the Sockeye or red salmon, Silver Salmon, and Pink Salmon. The pinks show up only every other year, so expect them on even numbered years. The silvers show up in August and offer an amazing adventure. These are fish that fight like crazy. There are Trophy Rainbows in the area too. A Trophy Rainbow Trout weighs in at 15-18 pounds. Anglers also enjoy fishing for steelhead. Steelhead is the saltwater fairing variety of rainbow trout. You can fish on your own, or hook up with the licensed and professional guides. The guides know all the river secrets and where the fish lurk.
Halibut Fishing in Alaska
The Kenai area is perfect for Halibut. Expect a good turnout for halibut during the summer. The massive barn doors or the chickens are fun to catch and make amazing meals. The barn doors top 100 pound and the chickens are halibut under 100 pounds. The record for sports fishing Halibut is 495 pounds, but barn doors can reach 1000 pounds. Try your luck with a 1000 pound halibut, but be sure to hold on tight.
Featured Video of Soldotna B&B Trophy Lodge
---
Popular Alaska Fishing Destinations
TripAdvisor® Traveler Rating
Location

Sleep Quality

Rooms

Service

Value

Cleanliness
TripAdvisor® Traveler Reviews
Home Away from Home
Reviewed By
williamscattlefarm
on July 16, 2022
If you want to be spoiled, this is the place to go! They handled all of our excursions, providing the best guides, they provided a wonderful breakfast and then sent you off with a good lunch...
Wonderful lodge staff - Poor Tia Rose owner!
Reviewed By
happycos
on August 31, 2021
This lodge is in a wonderful location for area activities. The trophy lodge has a friendly staff lead by Alex and provided a friendly professional atmosphere. ?Most? activities arranged through the...
a mixed bag
Reviewed By
Chilljoy1
on June 29, 2021
Great location for area activities. The trophy lodge has a great staff lead by Alex and provided a friendly professional atmosphere. All activities arranged through the lodge exceeded my expectations...
You may also be interested in