Would you like to contact to check availability or learn more?
Fill out the info below and someone from will get back to you.
Email Sent
Alaska FishOn! Charters
Affordable Kenai Peninsula Fishing & Lodging Packages | Kenai River, Kasilof River, Cook Inlet & Fly-In Fishing Options
71 Reviews
-
TripAdvisor® Traveler Rating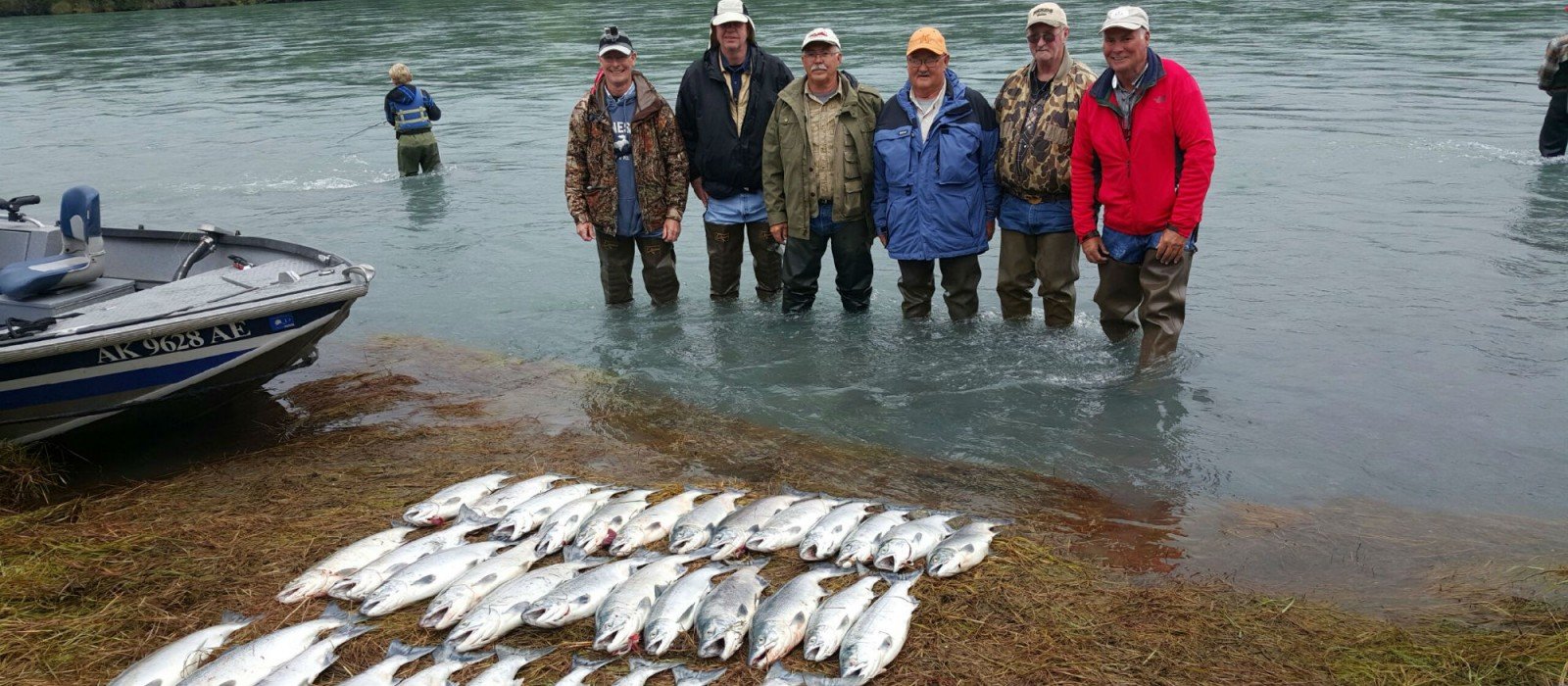 Featured Specials
---
Current Special: 4-Day Salmon & Halibut 'Captain's Special' Package (August & Sept)
4 Nights Starting at $1,125 Per Person
---
4 Nights of Deluxe Lodging with 2 Days of Guided Salmon Fishing and 1 Day of Guided Halibut Fishing. Includes 50 lbs of Fish Processing, All Fishing Gear and Lodging Necessities.
We guarantee experienced guides and high-quality lodging with full kitchens, bathrooms and all amenities needed to make you feel right at home and it is all yours no shared lodging with other clients.
Contact us Today for best dates we fill up fast so don't wait. Toll Free 1-888-283-4002
• $1,125 per person for 4 guests
• $1,165 per person for 3 guests
• $1,250 per person for 2 guests
• $1,595 for 1 guest
• We guarantee experienced guides and high-quality lodging.
Approximate Cost:

6 - 7 Days:

$1,500 to $2,000 Per Person

4 - 5 Days:

$500 to $1,000 Per Person

Half Day:

$150 to $199 Per Person

Full Day:

$200 to $299 Per Person

Type:

Charters & Guides

Lodges

Fishing:

Fly Fishing

Freshwater Fishing

Guided Fishing

Saltwater Fishing
How do we offer such great value? We want you to be able to bring the whole family to enjoy Alaska if you want to. That great value does't mean you lose any quality in the trip though as we are rated as one of the best on the Kenai River.

Alaska FishOn Charters offers over 70 years of combined guided fishing experience fishing for big Trophy Salmon and Halibut on the Kenai Peninsula. We also offer guiding services & lodging packages for everyone happily hosting those that are new to fishing, including children.

Daily guided fishing for salmon, halibut, and trout as well as overnight packages that include both lodging and guided fishing. As a professional guide service, we put it all together for you so you only need to show up with your fishing license.
Fishing with Alaska FishOn Charters
What's on your fishing bucket list? The choices here range from Halibut fishing for big Barn Door Halibut to trophy Salmon Fishing. They offer combo packages so that you can experience everything in one trip without having to arrange all the details yourself.
For the most part, Freshwater fishing focuses on the Kenai River or the
Kasilof River
. The Kenai river is world-renown for producing world-record fish. It currently holds the world-record for King Salmon, and once you fish it, you will know why. First, the water here is an odd sky blue thanks to mineralization. It's perfectly safe, and the fish seem to love it. Second, where you have such large runs of Salmon, you have big, fat, Trophy Rainbow Trout and
Dolly Varden
Char. The Kasilof is just as prolific and certainly a capable body of water to product world record Salmon.
The Kenai Peninsula is an amazing group of fisheries and
Cook Inlet
is just as astounding as the rivers that drain into it. At the tip is Homer, the Halibut Capital of the world. Try an all day Halibut fishing trip which allows you to focus on big 100-400 pound Halibut. You can also opt to Salmon fish in Cook Inlet and why not. Every Salmon in the Kenai and Kasilof Rivers had to swim up Cook Inlet to the mouth of their spawning river.
You should expect excellent fishing, quality guides, top gear, and the expertise that allows you to enjoy your fishing adventure without worry or fuss. Fish On!
Featured Video of Alaska FishOn! Charters
---
Popular Alaska Fishing Destinations
TripAdvisor® Traveler Rating
TripAdvisor® Traveler Reviews
Bucket List checked off!
Reviewed By
617leanderk
on October 4, 2022
My grandsons and I used Alaska Fish On Charters and had an absolutely wonderful experience. The cabin on the river was wonderful and had all the comforts of home. The fishing guides were second to...
Great Alaska Fishing Trip
Reviewed By
Thaz71
on August 9, 2022
We just got home from a great fishing trip to Alaska the first week of August. What a beautiful place. We booked with AlaskaFishOn. We had two trips for salmon and one for halibut. We had a great...
Great experience
Reviewed By
McDaniel2022
on July 29, 2022
Taking Grandson to catch fish. He caught his halibut limit along with small shark and gray cod. The captain and crew were excellent.
You may also be interested in