Would you like to contact to check availability or learn more?
Fill out the info below and someone from will get back to you.
Email Sent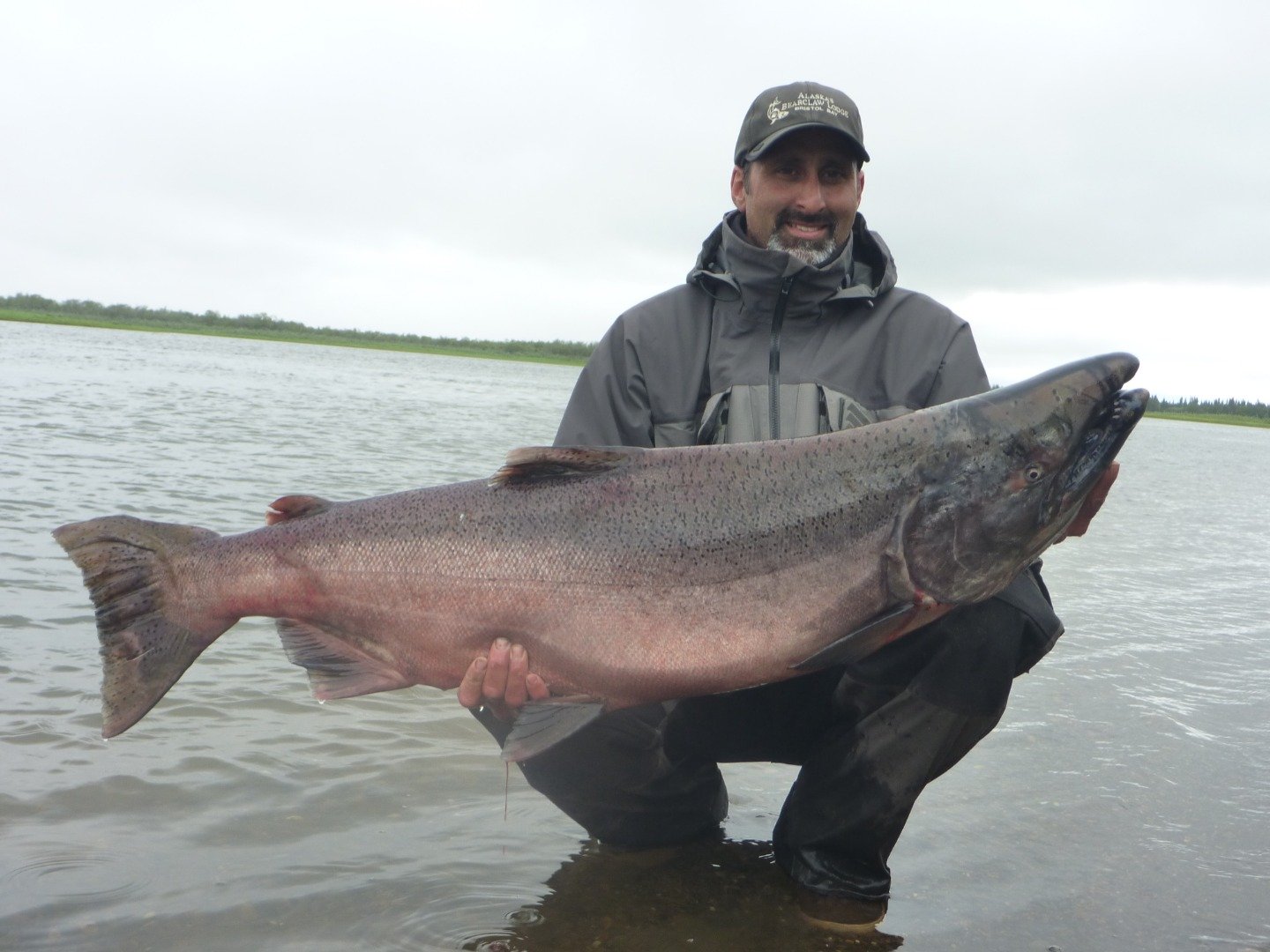 Approximate Cost:

6 - 7 Days:

$1,500 to $2,000 Per Person

4 - 5 Days:

$2,500 to $3,000 Per Person

Type:

Lodges

Fishing:

Fly Fishing

Freshwater Fishing

Guided Fishing
Alaska Kingfishers is an Alaska fishing camp that sits along the shores of the Nushagak River. The Nush, as the locals call it, is a haven for King Salmon and offers one of the largest runs of Kings in all of Alaska. The Camp only opens for a short period that is designed to take full advantage of the peak runs of salmon that grace the Nushagak.

Guests are housed in comfortable tent cabins that are on wood floors. The tent cabins sleep two guests each. It sounds more rugged than it is. The beds/cots are comfortable and include linens. Thanks to the quite generators we have power, running water, hot showers, flushing toilets and much of the comforts that you would find at home. The focus here is the fishing, and this remote location offers sports fishermen an amazing opportunity to fish and experience all that Alaska has to offer.
Fishing with the Alaska Kingfishers Camp
Fishermen have the option of fishing the famous Nushagak River or adding fly out fishing trips to their itinerary. The fly out destination is the Agulawok River, which is home to outstanding Rainbow Trout, Arctic Char,
Arctic Grayling
,
Dolly Varden
, Northern Pike, and Sockeye Salmon. The river works well for fly fishermen or those who use spinner reels. If you are a fisherman who has a fascination with Rainbow Trout, then the Agulawok River is your dream come true. It has been determined by Alaska Fish and Game that this river has the highest population of Rainbow Trout. They also claim that due to it's uniqueness and bug productivity, it has the best Dry Fly opportunity for Rainbow Trout of any river in Alaska. The Arctic Grayling come in a close second to Rainbows because they are challenging. These fish are smart, and they put up a fight too. Even for master fishermen, these fish will teach you a few things. The best eating Salmon is the Sockeye, and the Agulawok has an annual run of 1.4 million Sockeye Salmon. The Agulawok river is a short 40-minute flight from the camp and offers a wonderful array of opportunities for fishermen.
When to Come for Fishing
If you are interested in the big fish, the Chinook or
King Salmon, Alaska
Kingfishers will be fishing from June 20 - July 14. It is possible to fish earlier and later but not recommended due to the variability of the run. A week before or after there are stragglers available. The Chum Salmon also called the Dog or Tiger Salmon, peak from the middle of June through the middle of July. The Sockeye Salmon peak the last week of June and the first three weeks of July. Rainbow Trout, Arctic Grayling, and Arctic Char are available all year long in sufficient numbers to say that each species is always in peak mode. If you have a favorite fish plan your trip around its peak schedule as you will have more opportunity to target trophy sized fish during the peak season.
What to Expect
The first thing to expect is the fishing adventure of your lifetime. While we talk about the word camp, it is really more than a camp and approaches the comfort level of a lodge. We are all inclusive and provide all gear, tackle, guides, meals, fish processing, etc. Any fish that you keep, we process, vacuum pack and provide the box to send them home as part of your luggage. There is a large dining tent where the camp shares meals and places where you can relax as you work on fly tying or just sharing fishing stories. You will get 10 hours of fishing a day and current regulations allow us to catch and release all day, even after to keep your days limit. This is wild Alaska and as such you may be fishing alongside moose, competing with eagles for salmon, or listening to the wolves sing to the night as you drift off to sleep. This is Alaska wild and free.
Featured Video of Alaska Kingfishers
---
Popular Alaska Fishing Destinations
You may also be interested in