Jimmie Jack's Alaska SeaScape Lodge
Would you like to contact to check availability or learn more?
Fill out the info below and someone from will get back to you.
Email Sent
Jimmie Jack's Alaska SeaScape Lodge
All-Inclusive Fishing Trips Combined with Five-Star Luxury Accommodations | Freshwater Fishing, Saltwater Fishing & Fly-Out Fishing Options along with Fine Dining, Wine & Drinks When You Get Back!
64 Reviews
-
TripAdvisor® Traveler Rating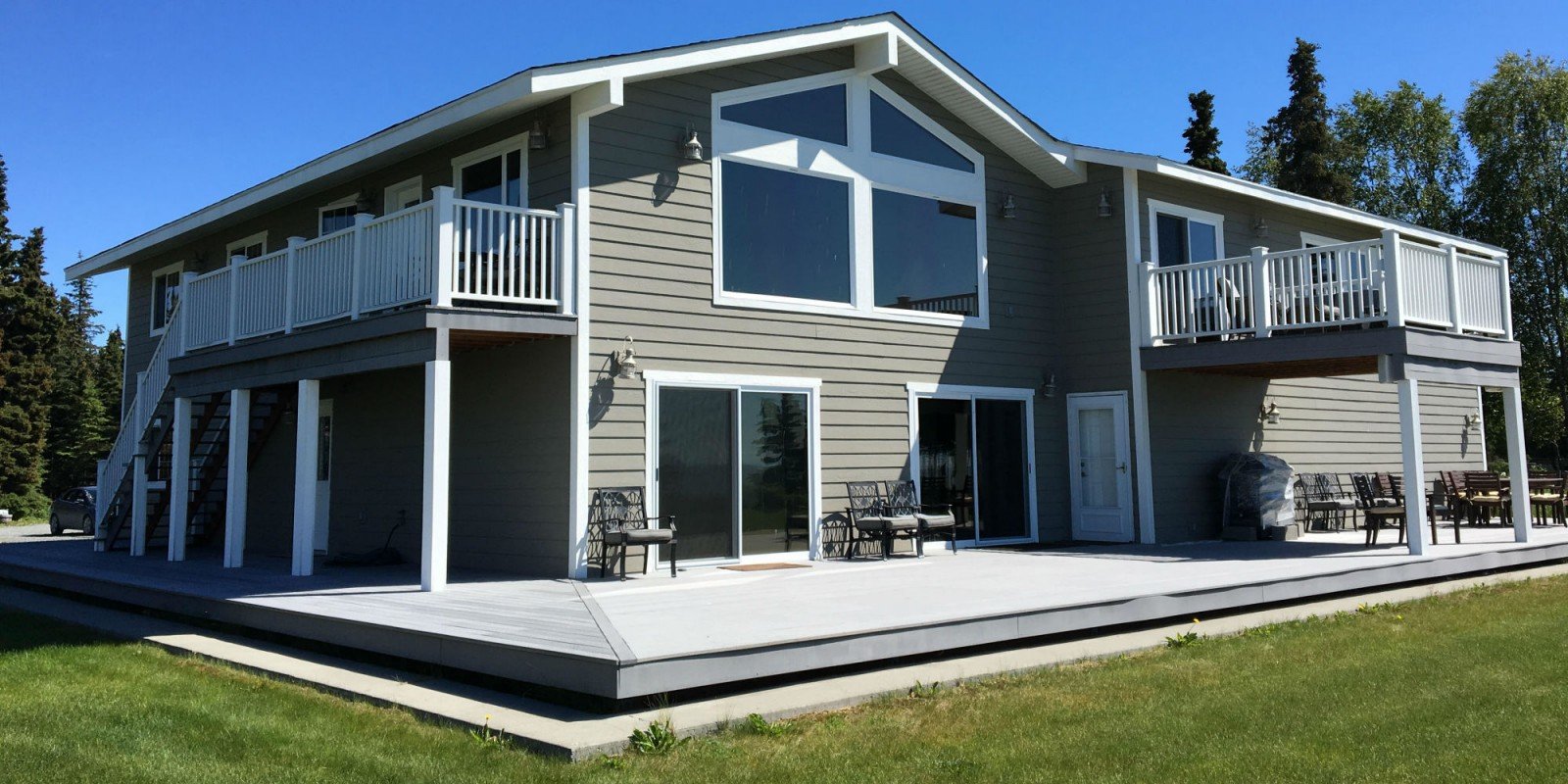 Featured Package
---
SeaScape All Inclusive Package
Choose from 4, 5, 6 or 7 Night Starting at $3,590 Per Person
The Alaska SeaScape Fishing Lodge combines the top-quality fishing trips that Jimmie Jack has been known for the past 20 years with the amenities of a five-star property an
---
The lodge is centrally located on the Kenai Peninsula among the great fisheries of the area, and our Seward combo trips, as well as our halibut trips, are held in Cook Inlet. Cook Inlet, as you may already know, is known for great halibut fishing and for having one of the largest tides in the world. In fact, we caught the famous 345-pound halibut right here in Cook Inlet with Captain Charlie not long ago. This is the largest fish caught in the last 12 years around the Ninilchik area.

The Alaska SeaScape Lodge is unique because it's one of the few all-inclusive lodges here on the Bluff of Cook Inlet in Kenai, Alaska. We offer all-inclusive luxury vacation packages that include all of your meals in addition to evening appetizers and complimentary wine and drinks after your fishing trip. Our menu includes salmon, halibut, king crab, prime rib, and more.

Let us take you fishing and treat you right at the Alaska SeaScape Lodge! If you have any questions about the Alaska SeaScape Lodge, please feel free to reach out to us by phone or email today!
Approximate Cost:

6 - 7 Days:

$3,000 to $4,000 Per Person

4 - 5 Days:

$3,000 to $4,000 Per Person

2 - 3 Days:

$2,000 to $3,000 Per Person

Type:

Lodges

Fishing:

Freshwater Fishing

Guided Fishing

Saltwater Fishing
The Alaska Seascape Lodge sits along the bluffs along the shores of Cook Inlet. Not only do you get a front row seat for the Alaskan sunsets, but you can look across the inlet to the rows of snow capped volcanoes and the endless fishing opportunities that Cook Inlet offers.

The Alaska Seascape Lodge is part of the Jimmie Jack's lodging and fishing services. As such, expect a beautiful stay in a beautiful lodge with amazing fishing and professional services that make your adventure that much better.
Fishing with the Alaska Seascape Lodge
Fishing with the Alaska Seascape Lodge is fully guided. Guests fish from modern boats and have access to both freshwater fishing and saltwater fishing.
Charter include fishing the world famous
Kenai River
and the
Kasilof River
. Both offer outstanding access to Salmon, Trout, and
Dolly Varden
Char. There are many reasons to fish Freshwater for Salmon. One reason is that the Kenai River produces trophy King Salmon and has a huge spawning run of Sockeye Salmon. If you want to fish for Silver Salmon, the Kenai is the river for that too. Also, there is big, fat Rainbow Trout and Dolly Varden here. They swim with the Kings, Sockeye, and Silvers. 20-30-inch Rainbows are not uncommon on the Kenai.
The Kasilof River is also an outstanding destination. It offers many of the same benefits of the Kenai River, but at slightly different times. If you are a trout fishermen, then either river makes a great choice.
Saltwater fishing is rich here. The Cook Inlet is an amazing place where Salmon stage before heading up stream. These waters are fish rich, and where there are so many Salmon, the Halibut thrive. If you want to target big fish, then shoot for Halibut.
Overall, expect plenty of fishing opportunities and many for Trophy Fish. The local area sits between
Seward
and Homer making this an outstanding destination for Halibut. Also, you cannot beat the local rivers for Freshwater Salmon and Trout fishing.
Lodging with the Alaska Seascape Lodge
Expect fine dining and chef prepared breakfasts, boxed lunches, and dinners that focus on Alaskan food choices such as Halibut, Salmon, Crab, and Game. There are only seven guests rooms here, and they offer plush accommodations including private baths, quality linens, marble, and premium beds.

It is a plush environment for people who want to enjoy a comfortable lodge and the best fishing opportunities around. At the Alaska Seascape Lodge, you get both.
Featured Video of Jimmie Jack's Alaska SeaScape Lodge
---
Popular Alaska Fishing Destinations
TripAdvisor® Traveler Rating
Rooms

Service

Value

Cleanliness

Location

Sleep Quality
TripAdvisor® Traveler Reviews
Epic fishing and world class service!
Reviewed By
j316mom
on September 3, 2021
This staff went above and beyond! They washed our stinky fishing clothes, freshened our suite daily, packed our lunches for the fishing trips, and cooked us incredible meals! They doted on us! The...
Jimmie Jack?s Adventure
Reviewed By
L6240BKbrookec
on August 28, 2021
We had an incredible experience with Jimmie Jack?s at the SeaScape Lodge. I mean epic! We fished six days - Homer, Seward, Cook Inlet, two days on the Kenai, and a fly-in to Wolverine Creek. The...
Top of the line
Reviewed By
bhoistad
on August 26, 2021
The seascape lodge and staff are second to none. The facility was immaculate and the staff treated us like family. They sure know how to spoil a guy. From the 5 star meals to the monster sandwich...
You may also be interested in