Would you like to contact to check availability or learn more?
Fill out the info below and someone from will get back to you.
Email Sent
Alaska Sportsman's Lodge
9 Reviews
-
TripAdvisor® Traveler Rating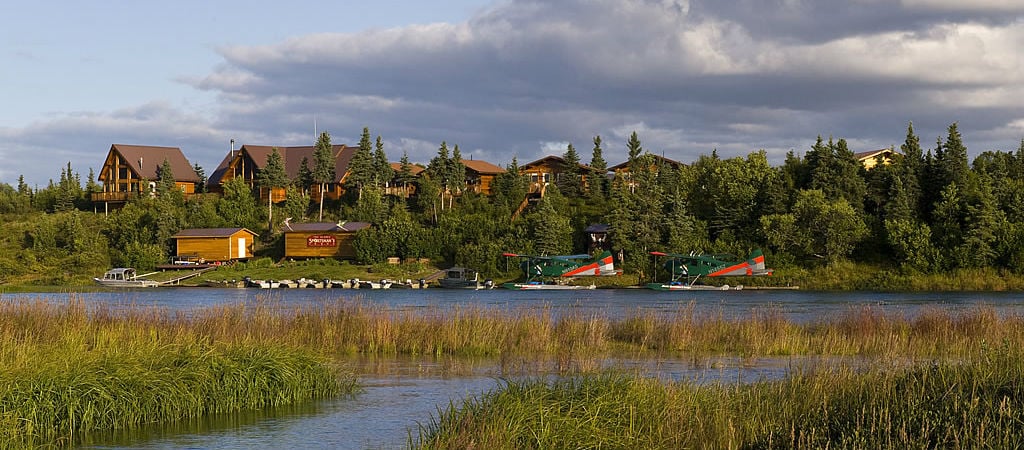 Approximate Cost:

6 - 7 Days:

$9,000+ Per Person

4 - 5 Days:

$7,000 to $8,000 Per Person

2 - 3 Days:

$3,500 to $4,000 Per Person

Type:

Lodges

Fishing:

Fly Fishing

Freshwater Fishing

Guided Fishing
Alaska Sportsman's Lodge is the sister lodge of Alaska Sportsman's Bear Trail Lodge. This is a five-star lodge in the heart of trophy rainbow trout territory. Alaska Sportsman's Lodge sits along the banks of the Kvichak River near the beautiful and fish-rich Lake Illiamna. The main highly of the area and there are many, is that this is the only designated trophy rainbow trout region in all of Alaska. This is a fly fisherman's paradise.
Fishing with the Alaska Sportsman's Lodge
There are plenty of fishing options for guests of Alaska Sportman's Lodge. Styles include drifting, fly fishing or using a spinning reel. Guests can wade the rivers or take a leisurely drift trip downstream. These are all options that the guests get to decide upon each day. Guests are assigned a guide who helps them manage their fishing options and then makes it all happen on the guests time schedule.

An example would be when a guest decides that they want to target Trophy Rainbow and the guide arranges for a fly out trip to the best river where trophy rainbows are known to be. Another example would be if a guest wanted to drift fish specifically for King Salmon. The guide would arrange a day of drift fishing where the King Salmon are thick.
Fishing the Kvichak River
Bristol Bay is a the World's Salmon Headquarters. There are plenty of streams and rivers where one species of fish excels at living. The little Copper River is an example of where to go to find 18 pound Trophy Rainbows. Some of the rivers are fly fishing only, and some are catch and release areas. The focus of Alaska fishing is always to preserve the fishery so that you can come back year after year and experience the same or better fishing.
What Fish To Target
The local waters are truly fish-rich. The Salmon have their own schedules, and each species of Salmon offers something different for sports fishermen. The Kings are big, and they are often targeted simply because of their size. The Alaska record for a King is 126 pounds. The Rainbows swim with the Kings, and you can target either or simply by changing flies. The Red Salmon, which is perhaps the best eating salmon, return each year by the millions. July is the month for red salmon. The Silvers are in most of the rivers from late July through mid-September, but they peak during the month of August. The char, such as
Dolly Varden
, along with the Rainbows swim with the silvers. Dolly Varden are awesome cousins of both the salmon and the trout. A good sized Dolly Varden is 15 pounds, and they are awesome to eat.
Northern Pike
You might also get lucky and encounter a Northern Pike. If you want to fish for a top tier predator, this is the fish. Your guide and arrange that for you. Pike like the quiet waters where the river grass grows. These are lurking and patient predators. If you are fly fishing in a grassy area, lay a mouse pattern fly down and gently jig it across the grass. The goal is a little jig motion that is 6-8 inches long. As you release, the fly will float back about four inches or so. Just keep that action up, and if there is a pike in the grass, it will strike. Be prepared though. They strike hard, and then they fight you for every inch of line you take back.
Featured Video of Alaska Sportsman's Lodge
---
Popular Alaska Fishing Destinations
TripAdvisor® Traveler Rating
Location

Service

Value

Cleanliness

Sleep Quality

Rooms
TripAdvisor® Traveler Reviews
Employee
Reviewed By
747reeseb
on February 16, 2023
Worst job ever! Nothing but constant lies and manipulation. If you work here plan on being trapped and working 7 days a week without any appreciation. Promise will be made never upheld...
Top of the line
Reviewed By
fabdog
on June 26, 2021
Wow. What a place. Everything is well set up from the time you step on the plane in Anchorage to the time you get back. Charter flight arranged out to a village near the lodge, then a quick boat...

1 Helpful Vote
Great experience in the pristine Bristol Bay area
Reviewed By
Jeff M
on August 15, 2020
Just returned from a wonderful stay at ASL. This was an all around great stay, from the fishing, service, food, locale, etc. Also, plenty of bears to see along the way at most of the fishing...
You may also be interested in