Would you like to contact to check availability or learn more?
Fill out the info below and someone from will get back to you.
Email Sent
Alaska's Bearclaw Lodge
7 Reviews
-
TripAdvisor® Traveler Rating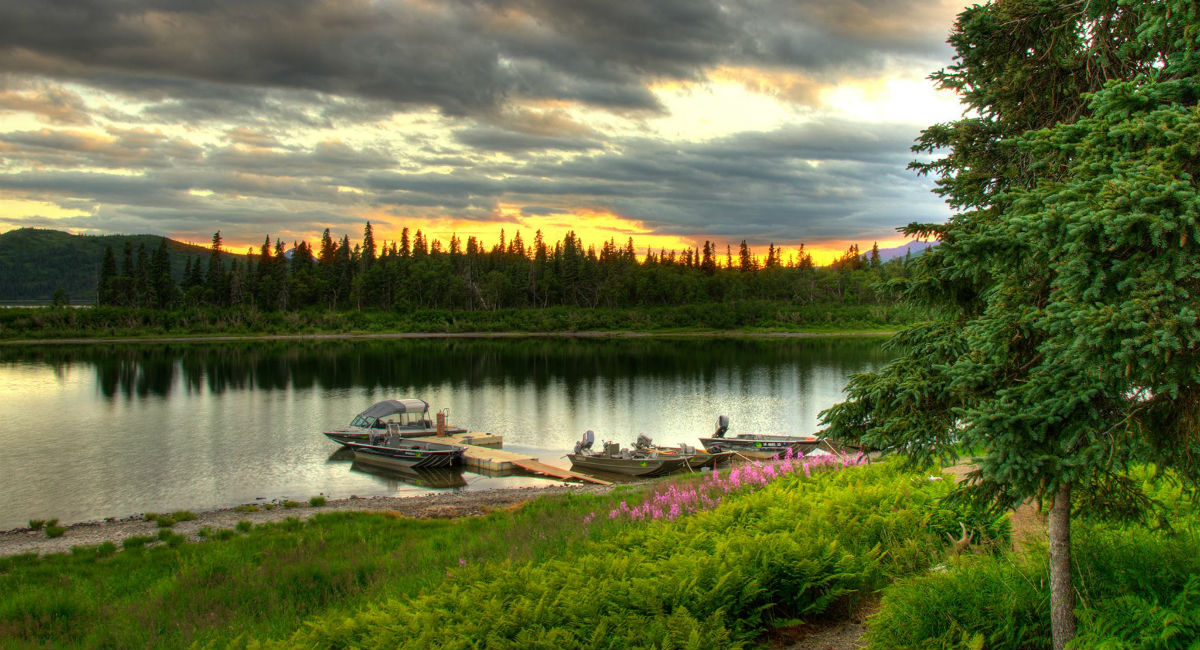 Approximate Cost:

6 - 7 Days:

$5,500 to $6,000 Per Person

4 - 5 Days:

$5,500 to $6,000 Per Person

Type:

Lodges

Fishing:

Fly Fishing

Freshwater Fishing

Guided Fishing
Alaska's Bearclaw Lodge sits near the south end of the Wood-Tikchik State Park in the Bristol Bay drainage basin. This is a fly fishing lodge with access to the best species of sports fish Alaska has to offer. The lodge is family owned and features a rustic country charm. The five guest rooms are double occupancy and a shared full bathroom between guest rooms. The area is beautiful, and the service here is first class.

Guests are treated to world-class meals, including shore lunches that are created to keep you in the fishing zone all day long. Dinner is a gourmet affair with enough food to keep you stuffed. The morning breakfasts are hearty and filling, but light enough that you will enjoy a full morning of fishing.
Fishing with the Alaska's Bearclaw Lodge
Relax, you are in the midst of the Bristol Bay fishery. This is where the world's largest Sockeye Salmon run and during certain parts of the year the waters run red with these beautiful fish. Where there is such abundance of salmon there is also Rainbow Trout. It is no secret that the Rainbows follow the salmon in hopes of gobbling up carelessly buried roe. Such a feast means Trophy sized Rainbows too. The Sockeye range from 6-10 pounds. The true monsters are the Kings, which weigh in between 20-30 pounds for an average fish and over 50 pounds each for the monsters. The record in Alaska is
126 pounds for King Salmon
. By August, the true champs are entering their peak run. The Silvers, while smaller than the Kings offer even more fight. These are no gentle giants, the Silvers strike hard and the fight harder. A day of reeling in salmon will wear you to down.
The Wood River System
The Wood River System is comprised of five lakes that are interconnected. The scenery is pure wilderness with the towering Wood River Mountains that stand guard over the beautiful shoreline. Fishing primarily takes place along the Agulowak and Agulukpak rivers. This is wildlife-rich country. In addition to magnificent fishing, guests likely will see bear, moose, eagles, beavers, and even Caribou. If you need a break from fishing, the lodge has kayaks that allow guests to take safely in the sights.

The lodge itself is comfortable and designed to help you recover from fighting fish all day. This is an excellent place for families with plenty of activities to keep everyone happy.
The Nushagak King Camp
Alaska's Bearclaw Lodge also hosts Alaska Kingfishers, a camp on the
Nushagak River
, which focuses on King Salmon and Chum Salmon. The Nushagak King Salmon run sees over 100,000 King Salmon each year.
The Alaska's Bearclaw Lodge is all that and a bag of chips. It is a place to come and experience the fever of fishing. It is a place that you want to return to time and again.
---
Popular Alaska Fishing Destinations
TripAdvisor® Traveler Rating
Location

Sleep Quality

Rooms

Service

Value

Cleanliness
TripAdvisor® Traveler Reviews
Another Incredible Visit! Booked next year too!!
Reviewed By
Oldergirloutdoors
on January 3, 2020
Rob and Lisa Fuentes have perfected the southwestern Alaska lodge adventure! We are headed back for our fifth visit this year and we cannot wait to return. This exceptional, comfortable lodge is...
Alaska Fishing Trip of a Lifetime!
Reviewed By
BEHowell1966
on December 5, 2019
I stayed at the Bearclaw Lodge on August 2019 and experienced world class salmon and rainbow trout fishing! The Lodge is very nice and comfortable with all the amenities of home and the views from...
Have had numerous visits to Bearclaw lodge and all have been the same, fantastic!
Reviewed By
R2661UBcraigd
on December 1, 2019
The lodge is very nice with a very cozy atmosphere to it. It allows the guests ti mingle and really get to know each other. The guides work hard and do a great job. If you're like me and need to know...
You may also be interested in