Big Sky Charter & Fishcamp
Would you like to contact to check availability or learn more?
Fill out the info below and someone from will get back to you.
Email Sent
Big Sky Charter & Fishcamp
18 Reviews
-
TripAdvisor® Traveler Rating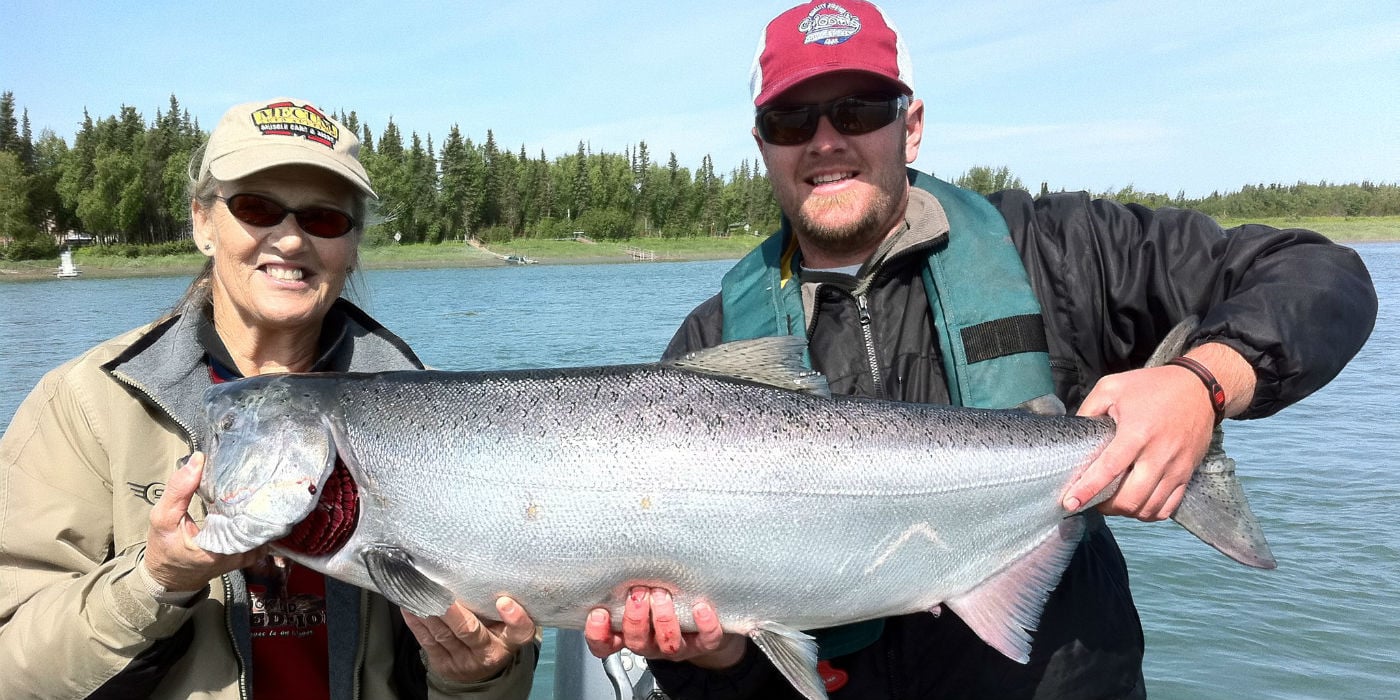 Approximate Cost:

6 - 7 Days:

$2,500 to $3,000 Per Person

4 - 5 Days:

$1,500 to $2,000 Per Person

2 - 3 Days:

$500 to $1,000 Per Person

Half Day:

$200 to $299 Per Person

Full Day:

$300 to $399 Per Person; $400 to $499 Per Person

Type:

Charters & Guides

Lodges

Fishing:

Fly Fishing

Freshwater Fishing

Guided Fishing
The Big Sky Charter & Fish Camp sits on the shores of the Kenai River in the town of Sterling, Alaska. Guests are housed in a series of cabins that range from the "Chalet" to the "Rustic Cabin." Some cabins have private bathrooms and others share a bathing house. All cabins have full kitchens, so guests handle their own meal preparation.
Fishing with Big Sky Charter & Fishing Camp
Guests of the lodge have the option of fishing for three of the five species of Pacific Salmon. Those are the Chinook or King Salmon, the Sockeye or Red Salmon, and the Coho or Silver Salmon. Also available are both Rainbow Trout and
Dolly Varden
. For those who enjoy saltwater fishing, there is an opportunity to fish for Pacific Halibut too.
Fishermen can opt to drift fish or fish from the shore. The lodge provides most of the fishing equipment needed to have an excellent fishing adventure. There is also the option that the lodge will clean, fillet, package, and free your fish for you for $1.50 per pound.
The Fish and When to Come
The fishing season starts off with the Chinook Salmon. There is a reason they are called King Salmon. The Record for a King Salmon caught by a sports fishermen in Alaska is 126 pounds. The Kings run from the first week of July through the second or third week of July. The run is short, the fishing is intense.
The Sockeye Salmon run from June through July. There are two runs, and they show up by the millions. Sockeye are popular for a variety of reasons. One, they are considered to be the best eating salmon of the Pacific group. Two, they put up a decent fight. They are different from the Kings because these are smaller fish. 10-15 pounds is common. The Kings bend the rod because they weigh from 15-70 pound or more.
The Silver Salmon show up from August through September. Silvers ring in at 10-12 pounds, but they fight as though they weigh 30 pounds. These are dynamic fish with plenty of spunk. Expect them to breach, roll, and heat up the drag on your reel.
The Halibut weigh in between 40-100 pounds in
Cook Inlet
. They can weigh upwards of 1000 pounds, but those are more for commercial fishermen with a harpoon. The 40-100-pound halibut will wear you down.
The Kenai offers a vast amount of fishing opportunities. Rainbow Trout and Dolly Varden are also excellent targets.
---
Popular Alaska Fishing Destinations
TripAdvisor® Traveler Rating
TripAdvisor® Traveler Reviews
Trip of a lifetime
Reviewed By
kimdE4018RR
on July 3, 2023
We just returned from a one week stay at Big Sky. I wasn't sure what to expect but I can say I was pleasantly surprised. Our cabin had a full kitchen with everything we needed to cook meals there...
Excellent experience
Reviewed By
Jamie P
on November 24, 2021
Our one night stay at Big Sky was excellent. We stayed in one of the smaller cabins with a family of 4, and it was a great fit for our budget. Absolutely loved the homemade chocolate chip cookies...
Fish processing
Reviewed By
bjohnk2018
on August 10, 2021
We used this facility to process fish we caught and we are happy with this business. They packed our fish based on our request.
You may also be interested in