Would you like to contact to check availability or learn more?
Fill out the info below and someone from will get back to you.
Email Sent
Elfin Cove Resort
21 Reviews
-
TripAdvisor® Traveler Rating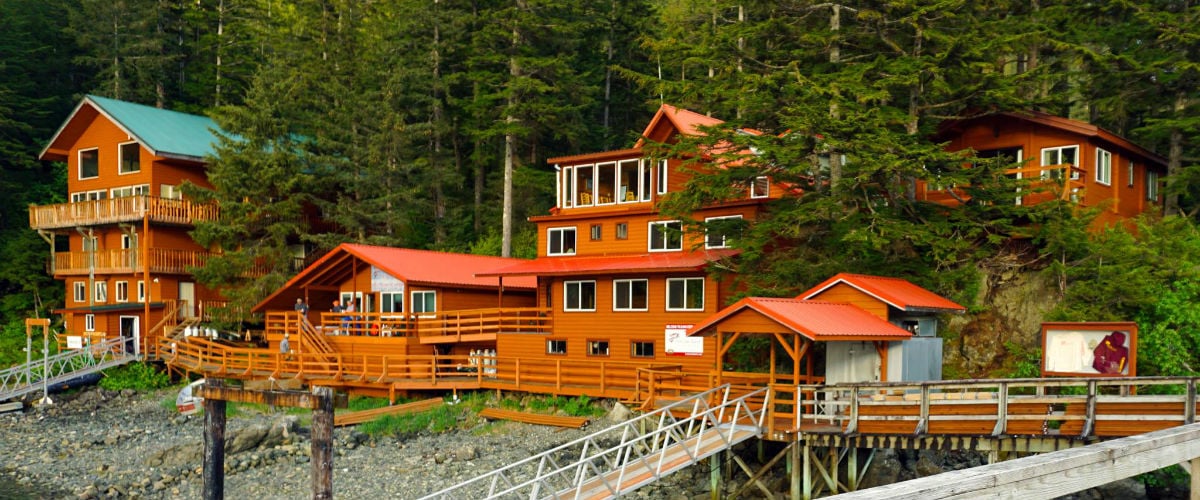 Approximate Cost:

6 - 7 Days:

$4,000 to $5,000 Per Person

4 - 5 Days:

$3,000 to $4,000 Per Person

2 - 3 Days:

$1,000 to $2,000 Per Person

Type:

Lodges

Fishing:

Freshwater Fishing

Guided Fishing

Saltwater Fishing
The Elfin Cove Resort is just that a fishing resort with a lot to offer guests. Elfin cove sits on the Northwest side of Chichagof Island. The area is a haven for Halibut and Salmon fishing, but the resort also offers easy access to incredible beach combing, kayaking, zipline adventures, and hiking. Expect to see an abundance of wildlife including octopus, eagles, sea lions, whales, and hummingbirds.

The lodge is newly renovated and is a conglomerate of four buildings. The main lodge holds five guest rooms, the kitchen, and the common areas with billiards, TV, and movies. The Chalet offers two guests rooms plus a nicely equipped living area. The beach house is larger with three guest rooms, living room, and a hot tub. The big building is the Fishmaster's Inn which is four stories and holds six guest rooms, kitchen and dining area. Overall, expect to find clean and comfortable quarters with enough room for solo travelers or small groups of guests. The lodge is ideal for fishing groups, families, couples, and corporate groups.
Fishing with Elfin Cove Resort
This is Southeast Alaska and the fish here tend to be large. Guests come for the outstanding Halibut fishing and are hooked on the availability of Salmon, big Bottom Fish, and even trout fishing in the local streams.

The Halibut here range from 20-300 pounds and are available all season long. The King Salmon are common from 20-60 pounds and are best fished from early May through the last part of June. The Coho or Silver Salmon are pure sportsfishing at its best. The Silver's peak in late June and run through September. Expect Silvers in the 8-12 pound range. Chum Salmon, also known as Dog Salmon are feisty like the Silvers and they range from 8-20 pounds. Pink Salmon and Sockeye Salmon range from 4-6 for the Pinks and 5-8 for the Sockeye. The Rock Fish here are big. Guests enjoy fishing for 20 pound Ling Cod, Big Red Snapper, Yellow eye, and Black Sea Bass, which are perfect to target with a fly rod.

If you want a variety of activities and a lot of different fish to target, then Elfin Cove Resort has exactly what you need.
Featured Video of Elfin Cove Resort
---
Popular Alaska Fishing Destinations
TripAdvisor® Traveler Rating
Location

Sleep Quality

Rooms

Service

Value

Cleanliness
TripAdvisor® Traveler Reviews
Best Fishing Trip Ever
Reviewed By
Dana B
on July 16, 2019
Do you have a bucket list wish to go fishing in Alaska like I did? A trip my dad and I would have taken together if he was still alive. An opportunity fell in my lap to go and I didn?t look back and...

1 Helpful Vote
FIRST TIMERS, BEST TRIP EVER
Reviewed By
gindermill
on February 1, 2019
We spent 6 days at the resort. We had a wonderful time fishing and socializing with other guests. The food was delicious every day. Special dietary requests are not a problem. I only wish we had...
A little piece of paradise
Reviewed By
disappointed96
on September 10, 2018
We spent 4 nights at this fishing lodge and 4 days of fishing. The fishing was fantastic. The accommodations were very nice and the meals were excellent. If you are an avid fisherman/woman this is...
You may also be interested in