Would you like to contact to check availability or learn more?
Fill out the info below and someone from will get back to you.
Email Sent
Kenai Cache Outfitters
59 Reviews
-
TripAdvisor® Traveler Rating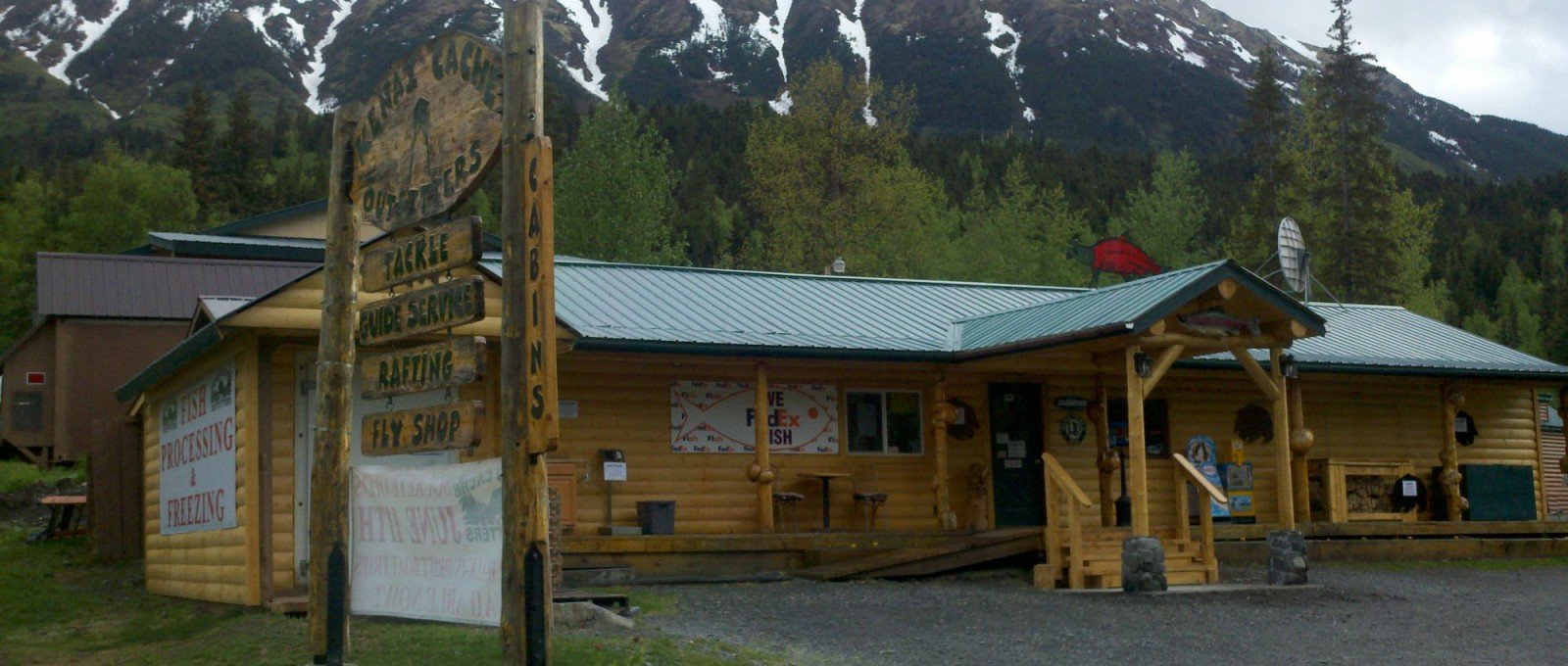 Approximate Cost:

6 - 7 Days:

$1,500 to $2,000 Per Person

4 - 5 Days:

$1,500 to $2,000 Per Person

2 - 3 Days:

$500 to $1,000 Per Person

Half Day:

$150 to $199 Per Person

Full Day:

$200 to $299 Per Person

Type:

Charters & Guides

Lodges

Fishing:

Fly Fishing

Freshwater Fishing

Guided Fishing
The Kenai Cache Outfitters fish out of Cooper Landing which is easy to reach via the Sterling Highway. It takes about 2.5 hours to get there from Anchorage and once there you have access to the world famous Kenai River and the Russian River too. This is the home or world record King Salmon, Big Fat Rainbow Trout, and plenty of Silver Salmon, Sockeye Salmon, and Chum Salmon.
Fishing with Kenai Cache Outfitters
The Kenai Cache Outfitters offers more than 34 years of guiding experience on the Kenai River. The guides here are professional and hands-on. They don't mind teaching you how to fish or helping you rig your pole, in fact, they view that as their job. Their focus is 100 percent on making your fishing adventure into the trip of your life.

That is one of the big difference here from many other guide services on the Kenai River. These guys care about the quality of your trip, and they have the experience on both the Kenai River and the Russian River to make your trip worthwhile and amazing.

Expect to fish with top of the line fishing gear such as Sage Rods and quality reels. Everything thing here is designed to exceed the need of these world-class rivers and the fish that swim in them.

Overall, expect to meet people who care about your trip, offer the best equipment, and share with you the knowledge to target big Trophy fish. All the while, they focus on keeping you safe, making sure you are enjoying your adventure and ensuring that your fishing trip here is 100 percent successful.
Featured Video of Kenai Cache Outfitters
---
Popular Alaska Fishing Destinations
TripAdvisor® Traveler Rating
TripAdvisor® Traveler Reviews
Surpassed my wildest expectations!
Reviewed By
radurrett
on September 2, 2022
Best experience in my six years of fly fishing! Caught some Dolly Varden, Humpy and Sockeye all on the fly rod! Marty knew where the fish were and what they might eat. AWESOME! Lots of wildlife too...
Excellent trip
Reviewed By
Y3715IJlawrenceb
on August 1, 2022
We had the best time on our guided trip. Marty was perfect. He had us on fish right away! Conversation was easy and funny. We liked it so much we are going again this coming weekend. I?ve always had...
Best time fishing EVER.
Reviewed By
davidhT9273NJ
on July 23, 2022
Had a fabulous time on the Kenai River, limited out in a hour and a half. Our guide Blake was great and plan on going with him again. Everybody at Kenai Cache was very kind and professional and treat...
You may also be interested in