Fill out the info below and someone from will get back to you.
Email Sent
Kenai River Float-n-Fish
154 Reviews
-
TripAdvisor® Traveler Rating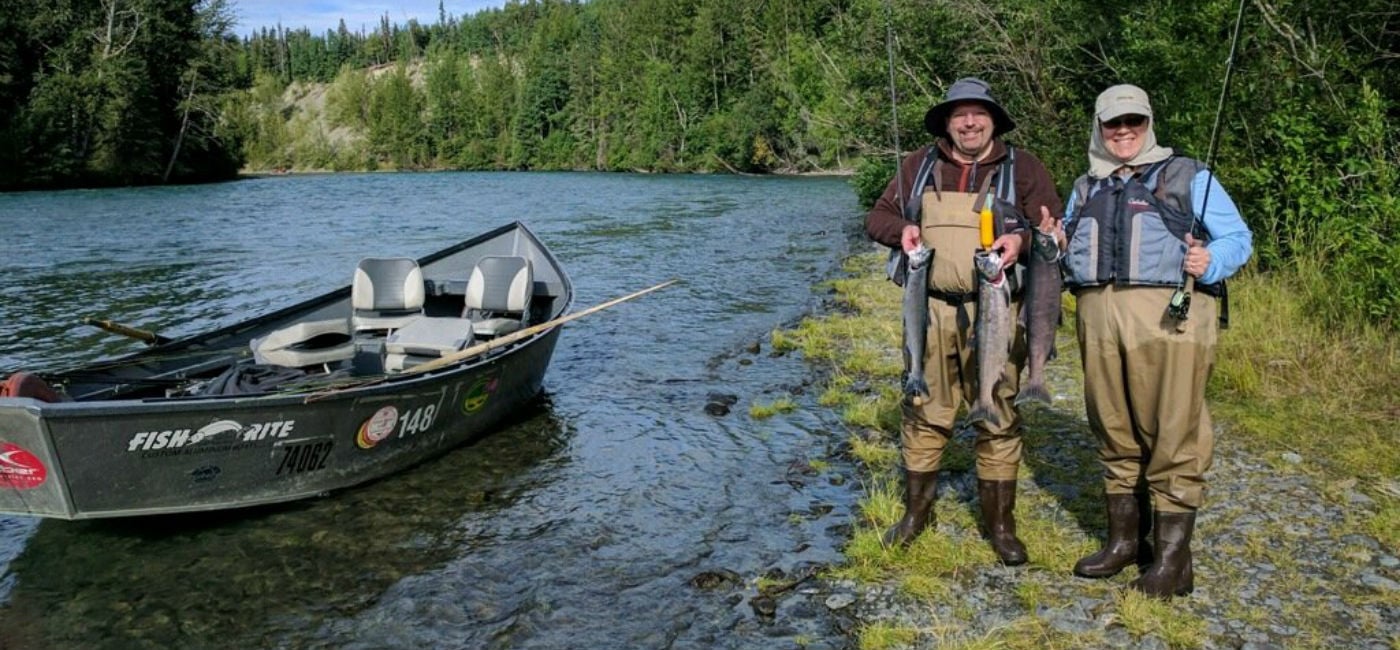 Approximate Cost:

Half Day:

$100 to $199 Per Person

Full Day:

$200 to $299 Per Person

Type:

Charters & Guides

Fishing:

Fly Fishing

Freshwater Fishing

Guided Fishing
Kenai River Float-n-Fish fishes out of Copper Landing, Alaska, and focuses on providing outstanding and personalized fishing expeditions on the Kenai River. This is a small, family-owned guide service with an emphasis on quality fishing.

As a year-round fishing outfit, Kenai River Float-n-Fish offers both summer and winter fishing opportunities along the upper and middle Kenai River.
Guided Fishing Along the Kenai
The Kenai River is some 80 miles long and it flows from Kenai Lake in Copper Landing to its headwaters in
Cook Inlet
. It is a river that has a rich history as a fishing destination for anglers from around the world. The Salmon runs are often in the Millions of fish, and there are many trophy fish that are caught here each year. The Kenai River is the body of water that holds the current world-record for King Salmon.
The Kenai River Float-n-Fish offer quality guided fishing trips on the upper and middle Kenai River. Expect expertly guide fishing trips between Kenai Lake and the entry point for the Russian River.
The upper and middles sections of the river are home to four species of Pacific Salmon - Kings, Reds, Silvers, and Chum. The Pink Salmon only enter the lower Kenai River. In addition to big Salmon, there are big, trophy-sized Rainbow Trout and Dolly Varden Char.
This guiding service welcomes both fly fishermen and those that use spin caster rods.
TripAdvisor® Traveler Rating
TripAdvisor® Traveler Reviews
Fishing Trip
Reviewed By
Regina S
on August 13, 2019
Had a reservation for a whole day of fishing on 8/8/19. Arrived at Kenai Princess Lodge the night before. Checked in with float & fish to make sure we had everything needed. Unfortunately my travel...
The perfect way to see Alaska
Reviewed By
John784512125478
on August 13, 2019
What a beautiful home on the river and amazing people to spend the day fishing with. True full time Alaskan residents who know and love their state. And the fishing was amazing
Best family fishing guide I could've asked for on the Kenai
Reviewed By
Kate S
on July 24, 2019
My two kids, ages 10 and 12, have NEVER caught a fish before. We are city slickers who don't know the first thing about fishing so one of our goals for our Alaska trip, was to take the kids on a...