Fill out the info below and someone from will get back to you.
Email Sent
Kenai Wild Fishing
13 Reviews
-
TripAdvisor® Traveler Rating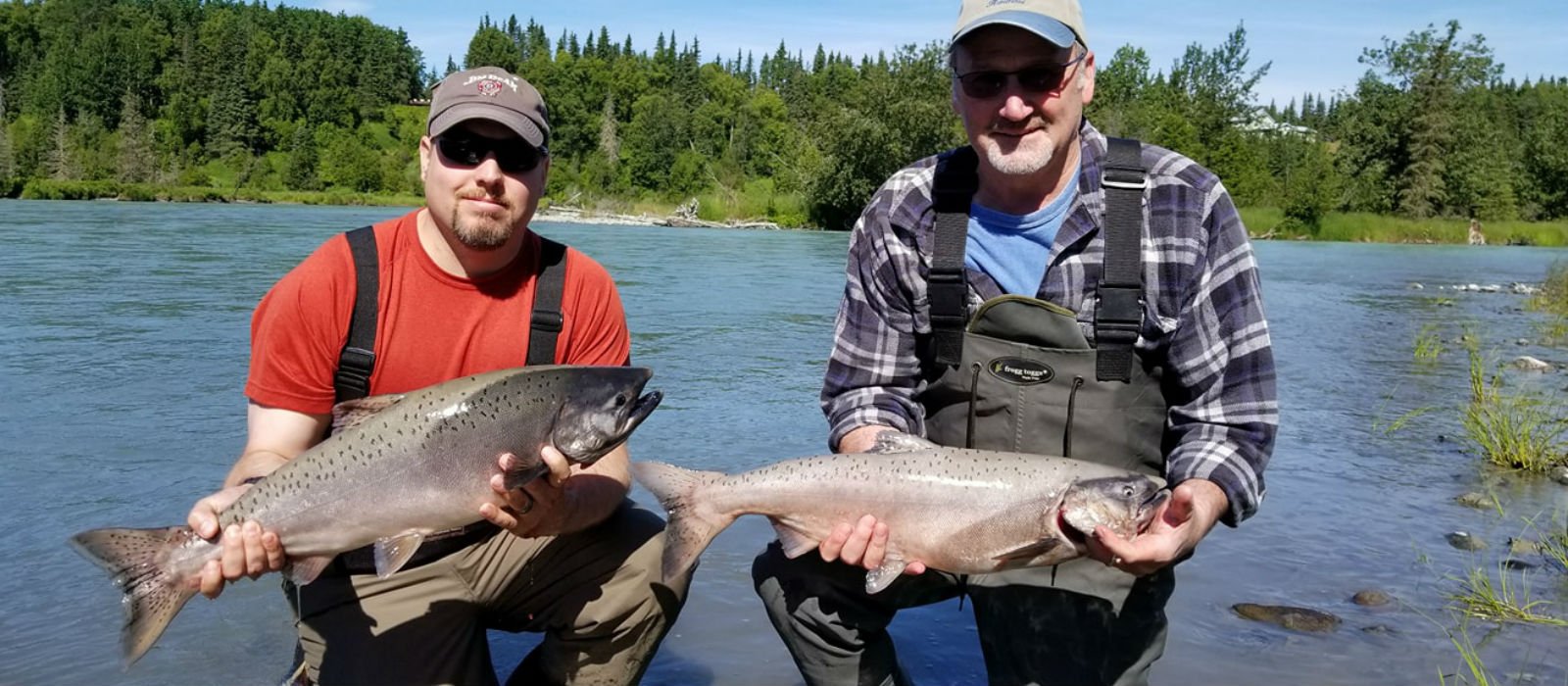 Approximate Cost:

Half Day:

$100 to $199 Per Person

Full Day:

$200 to $299 Per Person

Type:

Charters & Guides

Fishing:

Freshwater Fishing

Guided Fishing

Saltwater Fishing
Kenai Wild Fishing offers Salmon Charters, Saltwater Charters, and Trout Charters on the Kenai River, Kasilof River, and into the Salty waters of Cook Inlet or fly-out to remote locations, such as Prince William Sound.

Guests of the charter meet their guides in specific locations and they do a good job of guiding you to those destinations. These are the locations where the boat will launch and it makes it easier to get you fishing immediately. These include Soldotna, Bings Landing, Ciechanski Day Use Area, and the Kasilof River Recreation area.
Fishing with Kenai Wild Fishing
Your guide is Captain Jo a veteran fisherman with many years of experience fishing in all types of water. The other half of the business is Jennifer, a native of Alaska and Captain Jo's wife. She is the person who helps your fishing dreams come true and Captain Jo is the person who oversees that adventure as it unfolds. Together they are a professional team who are used to providing high levels of customer service and who understand the Alaska fishing scene. This is a small guiding service with big experience and for guests of the charter, that means they can make your requests happen.

The fishing here is amazing - this is, after all, the Kenai Peninsula and home to some of the best Salmon and Halibut fishing in the world. The Kenai River holds the world record for the biggest King Salmon landed by a sports fisherman and the Kasilof offers just as many great opportunities to top that record as does the Kenai. Cook Inlet is also world-renown for Halibut, Salmon, and Rockfish fishing.

Overall, you have access to all of the best fishing in Alaska when you choose the Kenai Wild Fishing team.
TripAdvisor® Traveler Rating
TripAdvisor® Traveler Reviews
KENAI WILD FISHING-BEST GUIDE EVER!
Reviewed By
Amber I
on November 25, 2018
We had a blast, and learned so much. Captain Johannes has a wealth of knowledge and was so kind and patient, answering ANY sand ALL questions we had. Safety is priority, and he knows the Kenai like...
Amazing fishing trip!
Reviewed By
Tracie L
on August 29, 2018
This was the best fishing trip we have been on. Johannes is a great captain, he knows the river and knows how to catch fish! It was fun and family friendly. We will definitely be back to fish with...
Best fishing trip ever!
Reviewed By
mahoneykd
on August 9, 2018
My wife and I were able to book a trip on little notice. We had the time of our lives! Our guide Joe put us on fish right away. We constantly hooking up with salmon. He had great tips and advice that...

1 Helpful Vote