Would you like to contact to check availability or learn more?
Fill out the info below and someone from will get back to you.
Email Sent
Kodiak Legends Lodge
64 Reviews
-
TripAdvisor® Traveler Rating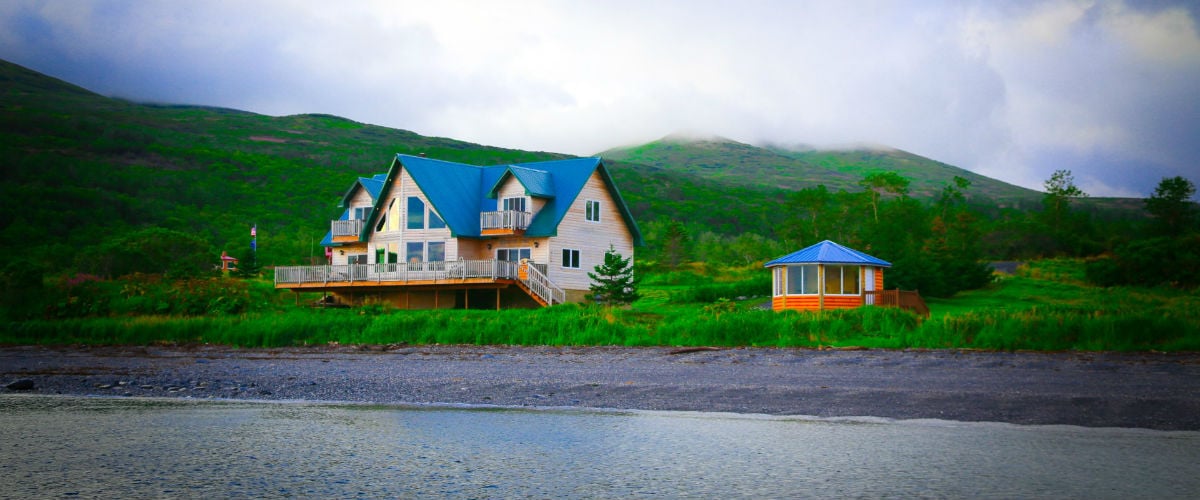 Approximate Cost:

6 - 7 Days:

$5,500 to $6,000 Per Person

4 - 5 Days:

$4,500 to $5,000 Per Person

2 - 3 Days:

$3,500 to $4,000 Per Person

Type:

Lodges

Fishing:

Fly Fishing

Freshwater Fishing

Guided Fishing

Saltwater Fishing
What we fish for:

King Salmon, Silver Salmon, Sockeye Salmon, Pink Salmon, Rainbow Trout, Halibut, Ling Cod, Rockfish, Chum Salmon, Dolly Varden, Steelhead
You can find the Kodiak Legends Lodge on the shores of Uyak Bay, which is about 60-miles to the southwest of Kodiak, Alaska. This is a fly in or boat in lodge as Kodiak is an Island without roads to the mainland.

Fun Fact: Kodiak is home to the largest land predator in the world - The Kodiak Brown Bear. Not that you should lose your head around them, they are fairly mild mannered but don't tempt fate.

The lodge is beautiful, and the surrounding area is sheltered and offers amazing and vibrant green forests, meadows, and snow capped mountains. Guests are housed either in the main lodge, which offers five suites or in one of two VIP cabins. The dining room hold up to 20 guests, and the food here is gourmet. There are plenty of things to do here during your non-fishing time, including playing pool. There is Wi-Fi and television. Expect a luxurious stay with comfortable, well-appointed rooms.
Saltwater Fishing off Kodiak Island
The fish selection here is seasonal, especially for salmon, but all five spiciest of Pacific Salmon are available in Uyak Bay. The Halibut are present all year long as are the Ling Cod, Rockfish, and Bottom Fish. If you want to catch the big fish, then your focus is almost entirely on the Halibut, which get huge. However, those are just the biggest fish, not the only big fish here. The Ling Cod get pretty big, and some may be 2-3 feet in length. They are long and lean and full of energy, so they fight like crazy. Another big fish is the King Salmon. Here you can find Kings in the 20-30 pound range with a few fish over 50 pounds available. Perhaps the one fish the outshines them all are the Silver Salmon, which are one of the best sports fish you can battle. These fish are usually in the 10-12 pound range are tenacious for their size.
Freshwater Fishing with Kodiak Legends Lodge
Kodiak Legends Lodge is a perfect place for fly fishermen or spin caster fishermen. The local rivers and streams are a haven for all five types of salmon. One of the best features of this lodge is that they supply all of the gear, so you don't have to travel with a fishing pole. Expect to fish the Karluk River, which is a world-class Salmon River. Other rivers on Kodiak include the Spiridon, Zachar, and the Lower Dog River. These are rivers that few people fish, and that means prolific salmon runs. If you want to fish Silvers, and you do, they hit the 15-pound mark easily here. In addition to the five species of Salmon, these are also excellent rivers for Steelhead,
Dolly Varden
, and Rainbow Trout.
When to Come
- For Silver Salmon, Late August through September is the prime time for these fighting devils.
- For Steelhead, October through November is the prime season. Expect to find Steelhead in the 8-15 pound range.
- For Rainbow Trout, July through September with sizes of 3-6 pounds.
- For Sockeye June, July, and into Late August. The Sockeye are 5-8 pounds.
- For Kings, May through July-Saltwater fishing.

Overall, this is a fantastic lodge. The lodge itself is comfortable, clean, and luxurious. The fishing here is just amazing. You cannot go wrong anytime of the year, but call them about special seasons or specific fish targets. The Alaska calendar revolves around fish, and the fish are never exact when they show up in the local waters.

Featured Video of Kodiak Legends Lodge
---
Popular Alaska Fishing Destinations
TripAdvisor® Traveler Rating
Location

Sleep Quality

Rooms

Service

Value

Cleanliness
TripAdvisor® Traveler Reviews
Trip of a Liefetime
Reviewed By
Ruth F
on August 30, 2023
Truly an experience of a lifetime. The entire staff was so wonderful and friendly. By the end of our trip we felt we were lifelong friends with our captain, Tony, and deckhand, Lane. Each night the...
Kodiak Fishing at it's Best
Reviewed By
vmsAR
on August 11, 2023
Kodiak Legends Lodge is a wonderful place to spend several days fishing, enjoying the peaceful surroundings and the extraordinary dishes provided by Chef Leann. Jessica is excellent as hostess at...
Trip of a lifetime!!
Reviewed By
Jenny N
on July 22, 2023
Wow!! What a trip of a lifetime for our family! Everything about Kodiak Legends Lodge far exceeded our expectations... and we went into our experience with high expectations! It was an intimate...
You may also be interested in