Would you like to contact to check availability or learn more?
Fill out the info below and someone from will get back to you.
Email Sent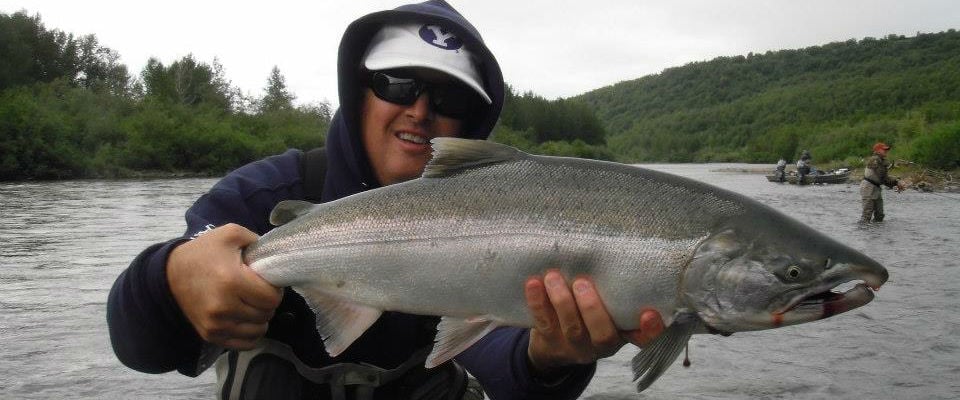 Approximate Cost:

6 - 7 Days:

$7,000 to $8,000 Per Person

Type:

Lodges

Fishing:

Fly Fishing

Freshwater Fishing

Guided Fishing
Rainbow River Lodge is situated on private land in the heart of the Bristol Bay region, 210 miles southwest of Anchorage. The lodge is adjacent to the Katmai Wilderness, in the Lake Illiamna "Trophy Alaska Rainbow Trout" watershed. Its home river is the famed Copper River, one of Alaska's original "fly fishing only" designated streams.
The kind of Alaska Fly Fishing Lodge most only get to dream about
Rainbow River Lodge has been rated as one of the "ten best fly fishing lodges in Alaska", and its home river, the celebrated Copper River, has been rated by Trout Unlimited as one of the "top 100 best Trout streams in the world". This remote and secluded fly fishing lodge offers magnificent views of the Alaska wilderness. Enjoy incredible fishing while staying in a spacious, newly built rental cabin made of natural cedar, inside and out. Relax among all the creature comforts, including a private bathroom with glass shower, down comforter, and DVD player. Experience fine dining and a unique bar made of welded, life-sized fish replicas.
Wild, trophy-sized Rainbow Trout….in great numbers!
The Iliamna region is home to the best Rainbow Trout fishing in the world. Rainbow River Lodge was built after a statewide fish and game survey discovered the abundant wild Rainbow Trout in the Copper River. Government officials nicknamed the Copper 'Rainbow River'. The lodge owners seized upon a great opportunity, and Rainbow River Lodge was born. Wild Rainbows naturally grow to 18 pounds or larger, and are caught during June through September. However, due to the millions-strong Sockeye run in July, Rainbow fishing is at its best during June, August and September.
You can expect the finest of your fly fishing dreams to become reality and return home with the fondest of all fly fishing memories
Fly fish for a wide variety of species including Rainbow Trout, Arctic Char, Northern Pike, Lake Trout and all five species of Pacific Salmon. Arctic Char is a beautiful fish akin to
Dolly Varden
. They're available all season long and fight hard for their size, which is usually three to five pounds.
Arctic Grayling
are great for light tackle. These guys average 10 to 14 inches, with trophies measuring 21 inches. These fish will attack a fly all season long; you'll be sure to watch a graceful Grayling take your dry fly.
Northern Pike are referred to as the 'alligator of the north', and will strike fast and hard at nearly anything that moves. Catch pike right near the cabin door throughout the season.
While the large Lake Trout isn't usually a target species, they're a welcome surprise when landed. Most are caught in the inlets and outlets of the lakes surrounding the lodge. The best Lake Trout fishing just after ice-out.
Featured Video of Rainbow River Lodge
---
Popular Alaska Fishing Destinations
You may also be interested in