Would you like to contact to check availability or learn more?
Fill out the info below and someone from will get back to you.
Email Sent
Ravencroft Lodge
13 Reviews
-
TripAdvisor® Traveler Rating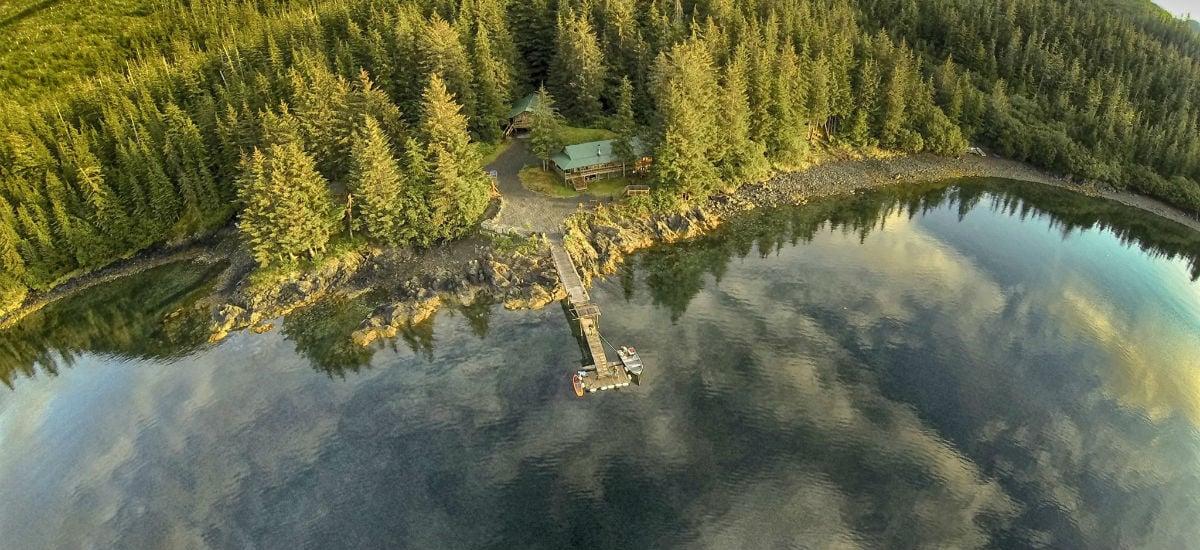 Approximate Cost:

6 - 7 Days:

$3,500 to $4,000 Per Person

4 - 5 Days:

$2,500 to $3,000 Per Person

Type:

Lodges

Fishing:

Guided Fishing

Saltwater Fishing

Self Guided Fishing
Along the Southern shore of Port Fidalgo Inlet on the Eastern section of Prince William Sound, you will find Ravencroft Lodge. It is a short 20-minute float plane trip from Valdez or Cordova.

Ravencroft Lodge is a series of buildings that is comprised of the main lodge and bunkhouse. The main lodge is where guests relax and dine. The bunkhouse is where guests are housed. There are eight rooms that hold two guests. Rooms are equipped with two twin beds and separate heating system. The eight rooms share two bathrooms and two bathing facilities. There are also private cabin rentals including a tent cabin rental for those who want to enjoy a longer stay.
Self-Guided Fishing
The self guided fishing at Ravencroft Lodge offers guests a less expensive opportunity to fish in Alaska. If you have fished and are used to operating small boats, then this could be an ideal opportunity for you. It allows the experienced fishermen the luxuries of setting his or her own schedule. The lodge supplies boat, boat training, fishing gear, safety equipment including radios. As you learn about the boat, you will also learn about where the hot fishing spots are and how to deal with the Alaska weather. The waters around Prince William Sound are sheltered and offer a calm fishing experience. This is a good option for the DIY fisherman. If you want to sit back and just fish, then opt for a guided fishing trip.
Guided Fishing
Ravencroft offers USCG certified guides for those who want just to enjoy fishing. The charter boats hold 4-6 fishermen and are fully equipped with all of the gear needed to land the big one. Spend your day fishing for Pacific Halibut and Salmon. There are some monster halibut out there. The older fish can weigh 100+ pounds. For sports fishermen, a good sized Halibut is 200 pounds. Anything over 50 pound is a keeper. Most people release the big Halibut as those are usually the females and offer the best regeneration for the fishery. That is up to you though -- no judgments. You can also target salmon, such as the larger Kings or the sporty Silvers. An interesting switch is to hit the sea run
Dolly Varden
Char. Try them with a dry fly or if you want to bend the rules of excitement, try a wet fly and see if you can lure a Lingcod to strike. Just a word of warning, however, when you hook a Silver Salmon or a Lingcod on a wet fly -- Game on.
Add-On Adventures
If you are traveling with your family or if you want a day off from reeling in monster Halibut and Salmon, you can add on some amazing adventures. Take a
Helicopter tour of the glaciers
. Watch the ice calve into the bay. You can also head out to
view the salmon sharks
. These massive sharks follow the salmon and are amazing to watch. If you like to troll among the sea otters and puffins, try a kayak trip along the calmer bays. There are plenty of
hiking trails
and the guides know where to find the best places to view wildlife. The local beaches are amazing places to find treasures.
Ravencroft lodge offers guests an amazing adventure. There is something here for everyone. Expect a hospitable stay in a comfort lodge with plenty of fishing and other action.
---
Popular Alaska Fishing Destinations
TripAdvisor® Traveler Rating
Location

Sleep Quality

Rooms

Service

Value

Cleanliness
TripAdvisor® Traveler Reviews
Lovely, Rustic Facility
Reviewed By
rbrogan
on November 7, 2018
Ravencroft is a family-owned lodge near Valdez. We went with a group of six this fall. The Lodge is surrounded by amazing nature, and the fishing was excellent. The accommodations are clean and...

1 Helpful Vote
A Great Wildlife Experience in a Beautiful Setting
Reviewed By
Nature_Traveller99
on July 28, 2018
Ravencroft Lodge is a great place to stay for a northern wilderness getaway. The setting is extraordinarily peaceful and beautiful. The accommodations are comfortable and well maintained. The staff...
Great Salmon Shark diving at Ravencroft Lodge.
Reviewed By
Andy M
on July 7, 2018
So far, Big Fish Expeditions has run 4 trips to dive with Salmon Sharks in Port Fidalgo. We always use Ravencroft Lodge for our Alaskan diving adventures because they go the extra mile to make our...
You may also be interested in