Salmon Catcher Fishing Lodge
Would you like to contact to check availability or learn more?
Fill out the info below and someone from will get back to you.
Email Sent
Salmon Catcher Fishing Lodge
121 Reviews
-
TripAdvisor® Traveler Rating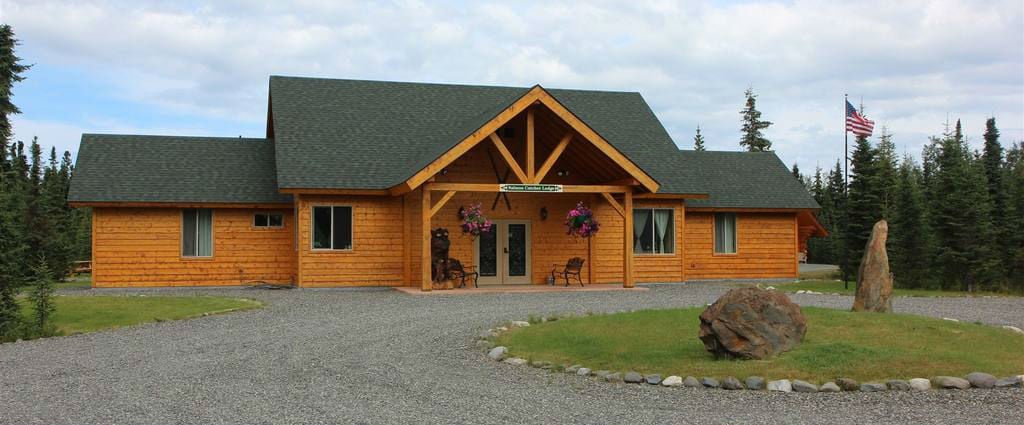 Approximate Cost:

6 - 7 Days:

$2,000 to $3,000 Per Person

4 - 5 Days:

$1,000 to $2,000 Per Person

2 - 3 Days:

$500 to $1,000 Per Person

Type:

Lodges

Fishing:

Fly Fishing

Freshwater Fishing

Guided Fishing

Saltwater Fishing
Salmon Catcher Lodge is located on the Kenai Peninsula in the town of Kenai. The lodge offers luxury accommodations in what is best described as a boutique lodge. The lodge is comprised of a main building and several cabins, with fully equipped kitchens. Some cabins have private Jacuzzi tubs.
Fishing with Salmon Catchers Lodge
Guests have the option when booking their stay to choose a fishing package. The packages are freshwater or saltwater with a designated location. The choices include the
Kasilof River
,
Kenai River
, and Homer or Seward or Ninilchik for Halibut fishing. Other options include a guided walk-in trip to the Anchor River or Deep Creek. The lodge offers fly-out trips too.
The Fish and the Adventure
The Options list can be a bit confusing so make sure that you fully understand what options are available, and what is included. This area of Alaska is world famous for its fishing.
Homer is the Halibut Capital of the World, and if you are interested in fishing for Pacific Halibut, this is the place to head. The nice thing about this lodge is that it does offer options for a variety of fishing adventures.
The King Salmon start in mid-May on the Kasilof River. You can also opt to fish for both King Salmon and Halibut at Ninilchik. This option is saltwater fishing at its best. The Kings queue up in the shallows and gorge before they head upstream. Their presence brings in the big Halibut, so this option can be a grand adventure.
In June, the river options open for Kings and you can choose between the Kasilof River or the Kenai River for Kings and the first run of Sockeye. Halibut fishing remains in its prime.
In July, the second run of Kings have entered the Kasilof, and Kenai Rivers and the Sockeye are massing by the millions. This is prime salmon fishing.
By August, the Kings are spent, and the rivers are peak with Sockeye, Rainbow Trout,
Dolly Varden
, and Silver Salmon. This is the perfect time to target Rainbows, Dolly Varden or to take on the Wiley Silver Salmon. Homer and Seward are still viable options for Halibut and Ling Cod.
By September, the Sockeye are spent, but the Silvers are still in prime shape. The Rainbow and Dolly Varden fishing remains active. Halibut fishing is also still in full swing.
Expect a beautiful property with well-appointed cabins in the heart of what is the Salmon fishing area of Alaska.
Featured Video of Salmon Catcher Fishing Lodge
---
Popular Alaska Fishing Destinations
TripAdvisor® Traveler Rating
Sleep Quality

Location

Rooms

Service

Value

Cleanliness
TripAdvisor® Traveler Reviews
Unbelievably Beautiful Alaskan Lodge
Reviewed By
B4609PNanthonyh
on September 3, 2020
This is the Place!!! I just returned from a once in a lifetime Alaska trip, with Chuck Reed of Kentucky Wounded Heroes. Everything was unbelievably beautiful and indescribable. Our group fished and...
Great place to stay
Reviewed By
daverB4678ZJ
on August 2, 2020
Awesome place to stay! Cabins were clean, spacious and beautiful. Terry and his wife were great to deal with and helpful with getting checked in and organizing a salmon charter. The cabins came very...
Stayed for 11 days. July 15 - 26, 2020. Great Service!
Reviewed By
tsbender12
on July 27, 2020
The owner and his family were immersed in the day-to-day services as the virus had caused about 1/3 of this year's clients to re-schedule to 2021. Did 6 fishing charters thru the lodge -- 3 on the...
You may also be interested in