Would you like to contact to check availability or learn more?
Fill out the info below and someone from will get back to you.
Email Sent
Sportsman's Cove Lodge
19 Reviews
-
TripAdvisor® Traveler Rating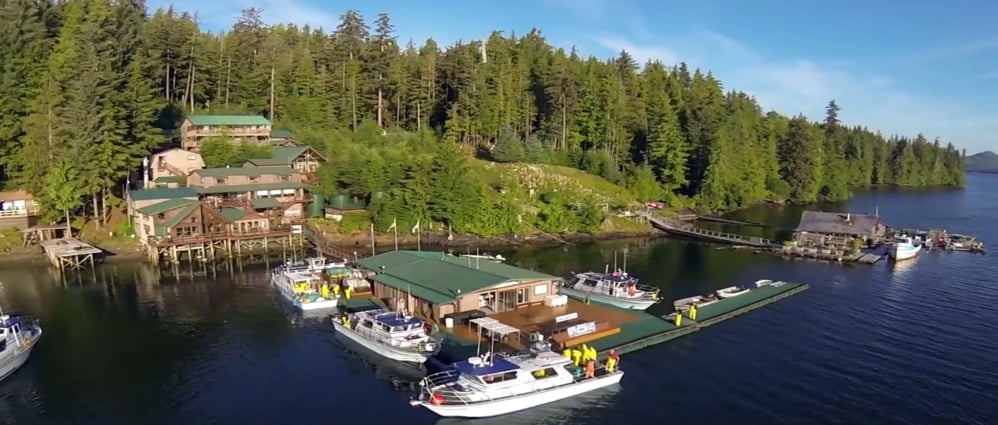 Approximate Cost:

4 - 5 Days:

$3,500 to $4,000 Per Person

2 - 3 Days:

$2,500 to $3,000 Per Person

Type:

Lodges

Fishing:

Guided Fishing

Saltwater Fishing
Sportsman's Cover Lodge offers an eagle's view of the water around Ketchikan and on the Prince of Wales Island. This is the territory of the Tongass National Forest, and the surrounding mountains are covered in the rich green of the Pacific Temperate Rainforest.

The lodge is a beautiful complex with a private pier, main lodge, Eagles' Nest cabin and the Saltery Cottage. The rooms have private bath with amazing views. The Eagle's Nest holds eight rooms spread over two levels. The Saltery cottage features three double occupancy rooms and three bathrooms with a kitchenette and added living room. Overall, expect a comfortable and hospitable stay in a clean lodge with warm and friendly staff.
Fishing for Halibut and Salmon
Halibut are amazing fish to fight. The barn doors weigh over 100 pounds, and the chickens weigh under 100 pounds. That is a good amount of fish to battle. Usually, Halibut fishing is best achieved using a chum pattern nothing seems to attract these flat giants like a good salmon head. Try it. If you haul in a Salmon while trolling, use the head for bait when you set up for Halibut.

The local waters here offer the big King Salmon too. Everyone loves the Kings because they are often 20-50 pounds. They real gems are the Silvers. These fish offer plenty of fights and are awesome to battle. They leap from the water and display aggressive twists and turns before they plunge back into the depths. A fisherman can wear himself or herself out fighting Silver Salmon.
Other Outstanding Fish to Fight
The Lingcod is an amazing predator too. They are long, lean and tenacious. The bigger ones can be nearly as long as a man. They have huge heads that full of half inch long dagger-like teeth. They prey on the cod, bass, and other fish in the local waters. There are 17 species of Rockfish here that are fun to catch and excellent to eat. The gold eyes, Yellow eyes, and snappers are perfect targets when you need to recover from fishing for Halibut.

Expect to have an amazing fishing experience and clean, comfortable accommodations. The staff is warm and friendly, and there is plenty of excellent fishing to be had at the Sportman's Cove Lodge.
Fishing the Briny Sea with Sportsman's Cove Lodge
Like many fishing lodges, Halibut is a prime focus. Here at the Sportsman's Cove Lodge, you get to apply that focus with a crew of skilled and seasoned fishermen. Among other fish that you can target are the King Salmon, Silver Salmon, Pink Salmon, and the Chum Salmon. Some other species that are fun are Lingcod, Cod, and 17 species of Rockfish that are dang good eating.
---
Popular Alaska Fishing Destinations
TripAdvisor® Traveler Rating
Location

Sleep Quality

Rooms

Service

Value

Cleanliness
TripAdvisor® Traveler Reviews
Disappointed in fish distribution
Reviewed By
Wander231475
on August 8, 2023
I have fished in Alaska several times at different lodges. Food here was great and staff were great, however distribution of fish rates an F-. I caught a good size King Salmon (only 3 caught on my...
I have fished about 2 dozen times in Alaska and this was the worst of them all. The facilities, boats and food was good
Reviewed By
rod s
on July 28, 2023
They did not reveal that you DO NOT get the fish you catch. They put all fish from your boat in a pool and divide it out some how. I got very little of what I actually caught. I got mostly garbage...
Organized, attention to detail trip
Reviewed By
Gadawg14
on June 30, 2022
Land in front of lodge by floatplane. Greeted immediately by staff and bags taken to room. Appetizers and cold drinks in lodge and meeting our group of 6 along with our guide George. We ate all meals...
You may also be interested in