Would you like to contact to check availability or learn more?
Fill out the info below and someone from will get back to you.
Email Sent
The Farm Lodge
59 Reviews
-
TripAdvisor® Traveler Rating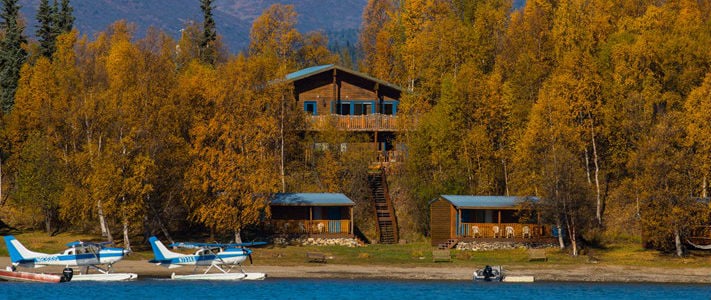 Approximate Cost:

6 - 7 Days:

$6,000 to $7,000 Per Person

4 - 5 Days:

$4,000 to $5,000 Per Person

2 - 3 Days:

$3,000 to $4,000 Per Person

Type:

Lodges

Fishing:

Fly Fishing

Freshwater Fishing

Guided Fishing
The Farm Lodge is located in southwest Alaska, near Lake Clark National Park in the town of Port Alsworth. Built on land homesteaded in the early 40s by Leon "Babe" Alsworth and his wife Mary, Port Alsworth is now home to both the lodge and Lake Clark National Park headquarters. The lodge's fishing program is led by Glen Alsworth, Jr., a third-generation, native Alaskan. The Farm Lodge hosts small group excursions, family vacation packages, and customized backcountry trips. Enjoy modern waterfront accommodations overlooking beautiful Hardenberg Bay.
Lake Clark Air and The Farm Lodge have specialized in catch-and-release fishing in southwest Alaska for over 30 years.
Lake Clark, the home water, is over 35 miles long and offers numerous fishing holes and beautiful scenery. The lodge also has floatplanes, special bush-equipped wheelplanes, and boats to whisk you to a variety of lakes and streams. The floatplane will stay with you, giving you the flexibility to move from spot to spot throughout the day and get to the most productive areas. Arctic Char,
Arctic Grayling
, Lake Trout,
Dolly Varden
, Northern Pike, Rainbow Trout, and all five species of Pacific Salmon are plentiful. Knowledgeable guides are experienced with both fly fishing and spinning.
To preserve fish populations, the Farm Lodge is catch-and-release only for all fish species. Its goal is to help encourage and teach techniques for the careful handling and release of fish, to ensure a meaningful, exhilarating, and sustainable wilderness experience.
Whether you enjoy fishing or just wish to take in the spectacular scenery, The Farm Lodge offers access to some of Alaska's most breathtaking sights.
The lodge is within walking distance of Lake Clark National Park Service Visitor's Center, the Tanalian Falls, and Kontrashibuna Lake. You can also participate in an outing to
Katmai National Park
to see bears and other wildlife. Large runs of salmon and herds of
Barren Ground Caribou
are native to the area. You can also eye eagles, salmon and other locals during these wildlife-viewing excursions. Perfect your technique with a photography workshop. Take in a magnificent landscape of tundra, glaciers, waterfalls, mountains and more on your way.
Our packages are designed for small groups and provide you with a personalized experience.
The Farm Lodge caters to couples, small groups, and family groups, allowing for a high level of personalized experience. There are a variety of packages to choose from, including family packages, budget packages, and custom packages. With no minimum required stay, your trip is flexible right from the start. This flexibility ensures that you can make the most of your time. One couple called their stay "the highlight of our month long trip to Alaska". The fishing, scenery, and personal attention will make your stay memorable as well.
Featured Video of The Farm Lodge
---
Popular Alaska Fishing Destinations
TripAdvisor® Traveler Rating
Location

Sleep Quality

Rooms

Service

Value

Cleanliness
TripAdvisor® Traveler Reviews
Great meal
Reviewed By
WTH9
on July 14, 2021
Stayed at another B&B but wandered the grounds here and had a fantastic meal at their restaurant. Food was unbelievable especially realizing how remote this place is. Staff was very friendly and I am...
You won't have to lower your expectations - The Farm Lodge is the best!
Reviewed By
Patrick98020
on July 14, 2021
You may think that a rustic lodge in the remote wilderness might be the kind of place to suppress your expectations in terms of quality, cleanliness, and service, but you would be completely wrong...
Brown bears digging clams at Cook Inlet - Outstanding!!!
Reviewed By
Beachy2SC
on July 14, 2021
Words cannot do the Farm Lodge justice. Everything was outstanding. Yes this is an expensive location to travel to. However, I do not think that the cost is unreasonable given the remote location...
You may also be interested in