Would you like to contact to check availability or learn more?
Fill out the info below and someone from will get back to you.
Email Sent
The River Crew
41 Reviews
-
TripAdvisor® Traveler Rating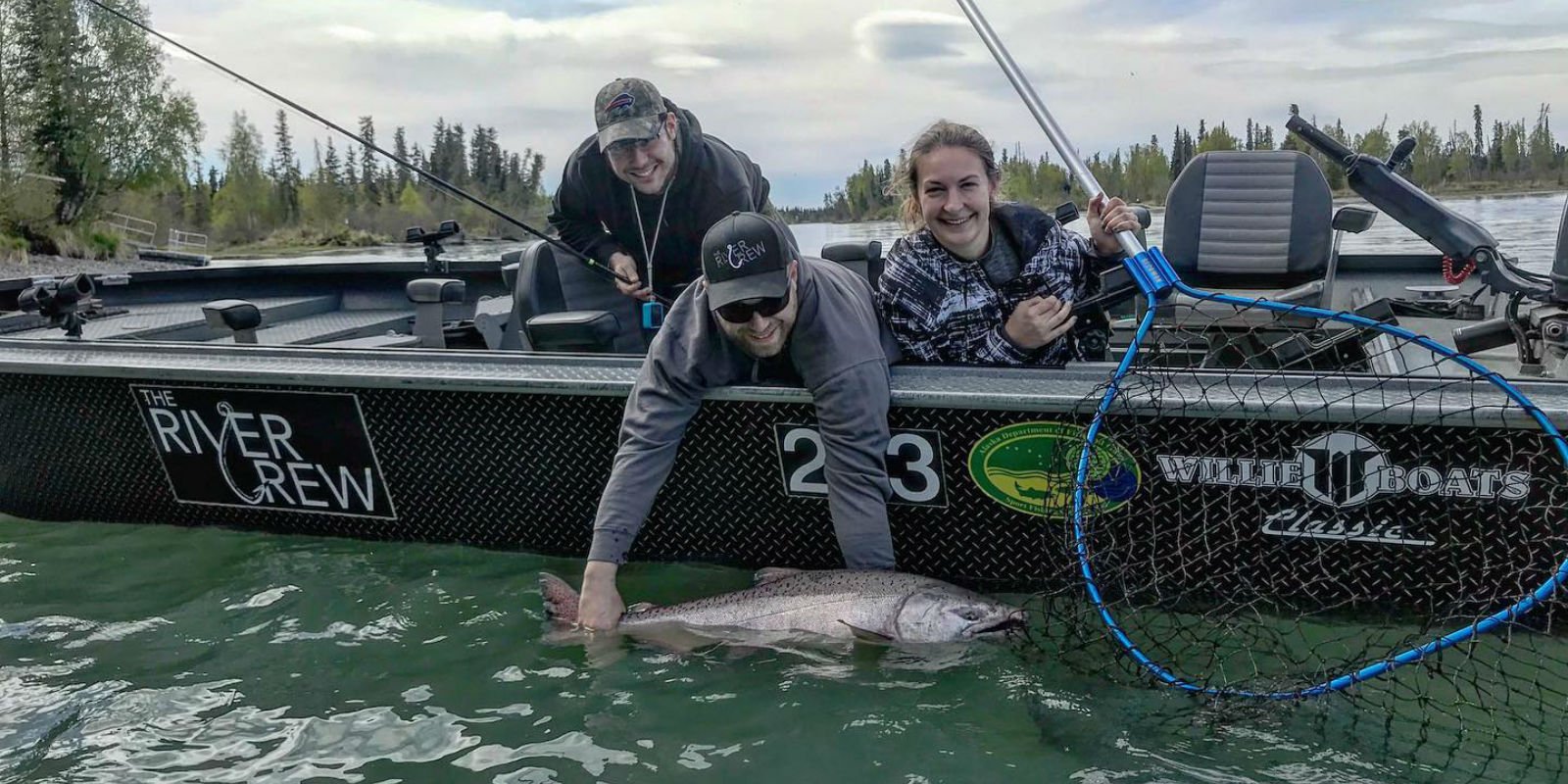 Approximate Cost:

6 - 7 Days:

$2,500 to $3,000 Per Person

4 - 5 Days:

$1,500 to $2,000 Per Person

2 - 3 Days:

$1,500 to $2,000 Per Person

Half Day:

$150 to $199 Per Person

Full Day:

$200 to $299 Per Person

Type:

Charters & Guides

Lodges

Fishing:

Fly Fishing

Freshwater Fishing

Guided Fishing
The River Crew offers guided Kenai River fishing and lodging provided through A Cabin by the Pond, which offers small, well-equipped cabins with easy access to the Kenai River. Welcome to the Kenai Peninsula and home to the world-famous Kenai River. Here you have access to King Salmon, Silver Salmon, Sockeye Salmon (by the millions), and Chum Salmon. Here you also can target Trophy Rainbow Trout and Dolly Varden. By Trophy, we mean Rainbow Trout in the 30+ inch range.
Fishing with The River Crew
The River Crew offers 3, 5, and 8 hour fishing trips that are customized to fit the guest. Their 3-hour trip is a private boat charter with guide and puts you on the big fish quickly so that you can enjoy 2-3 hours of fishing.
Your guided fishing trip begins with an experienced guide, which is important for such a dynamic river as the Kenai. You are also outfitted with quality fishing gear and are paired with a beautifully crafted Willie Boat. All you need to bring is a fishing license and yourself. The guide will do the rest including putting on you the big Fish.
While there are many
Kenai River fishing guides
to choose from...when you book with The River Crew expect an experienced and professional fishing guide as well as high quality boats & equipment.
When to Book
Now is always the best time to book and that is because space goes quickly. For King Salmon Late May through end of July is the fishing seaon and if that's your ticket, book the season before your trip. For Silver Salmon, the season is August 1-through Mid-October and this is one of the biggest draws to the Kenai. Silver Salmon are world-class fighters and this river system grows them big. For big Trophy Rainbow Trout, August 1- late September is the prime time., though Rainbows are available all season long. You tend to have better luck targeting the big Rainbows a month or so after the King Salmon have finished their spawning. Sockeye appear around June 1 and they do so by the Millions. You fish for Sockeye using a "flossing" method which drops your hoo to the river bottom at which point you "floss" it along the bottom hoping to hook a Sockeye. These are plankton eaters, and they don't strike a fly, but they do swim with their mouths open - hance the flossing.
---
Popular Alaska Fishing Destinations
TripAdvisor® Traveler Rating
TripAdvisor® Traveler Reviews
Ultra Amazing Silver Salmon Fishing Tour Operator on the Kenai River
Reviewed By
Roger D
on December 24, 2022
Honestly, my wife and I would give this fishing adventure and company A Super Duper Excellent Adventure rating if we could higher on the scale. First and foremost we came in with fish, and we caught...
Last minute add on
Reviewed By
Taterdog1
on September 15, 2022
They squeezed me in at the last minute. I was put with three gentlemen who had fished with Quentin before. Had a wonderful time. Great conversation and we caught fish. First trip to Alaska. I will...
Highly Recommend The River Crew!
Reviewed By
flo445
on August 24, 2022
A great afternoon fishing Silver Salmon with Quentin on the Kenai. Good conversation, beautiful views, and comfortable river ride. Ended all with exciting limit catch with a characteristic silver...
You may also be interested in