Would you like to contact to check availability or learn more?
Fill out the info below and someone from will get back to you.
Email Sent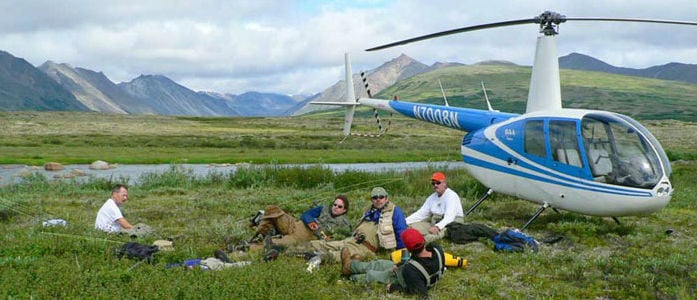 Approximate Cost:

6 - 7 Days:

$6,000 to $7,000 Per Person

4 - 5 Days:

$3,500 to $4,000 Per Person

Type:

Lodges

Fishing:

Fly Fishing

Freshwater Fishing

Guided Fishing
Twin Peaks Adventure is based out of Nome Alaska and specializes in helicopter fly fishing fly-outs. The focus is on fisheries that are only accessible by helicopter. Twin Peaks Adventures present an opportunity to fish in waters where man seldom is seen. What this means for fly fishermen is undisturbed fisheries that are rich in trophy sized opportunities. Each group is customized by Twin Peaks Adventures to the specific needs of the fishermen. This is a perfect adventure for veteran fishermen or beginners. The guides are experienced and helpful. If you want to learn how to fish like a master, then these are the guys to teach you.

Accommodations are based from a home-cabin on the Snake River. The cabin is cozy and rustic. Amenities include hot water, full kitchen, showers and a hot tub. Twin Peaks Adventures offers fly-outs from the cabin, or they will take you on float trips. float trips are on-river adventures with tent camping and outstanding fishing.
Helicopter Fly-Out For Unparalleled Fishing Adventures
Backcountry fishing is exceptional. It is just you and your party and the guides. You are not vying for prime stream position with other anglers. You will have access to some of Western Alaska's most
remote fishing
areas, some of which are only fished by the guests flown into those locations by Twin Peaks Adventures. Remote, beautiful, and primed for fishing are all key words that describe the helicopter fly-outs with Twin Peaks Adventures.
The guides are experienced professionals who have decade upon decade of fishing remote Alaskan waters. While the focus is catch and release, the fly fishing experience at is both educational and exceptional. The benefit of Twin Peaks Adventures is the fact that you can go ultra remote to spots where it is just you and the fish.
Quiet Waters, Massive fish, Thrilling Fighters
There be Giants in them there waters. King Salmon up to 126 pounds, Sheefish up to 47 inches long, Silver salmon with incredible striking and fight,
Dolly Varden
with outstanding fight are just a few of the massive trophy fish available in the remote rivers of Western Alaska. There are five species of salmon, Kings, Sockeye, Silver, Chum, and Pinks that appear throughout the summer. There are freshwater fish that require skill and patience such as Arctic Char, Northern Pike and the
Arctic Grayling
. This area of Alaska is a fly fishermen's haven. This is the place to come to master your skills. Twin Peaks Adventures is a fly fishing lodge with a Federation of Fly Fishermen certified instructor available to teach you new skills, tricks, and fly tying techniques.
All levels of Fishermen are Welcome
One of the best features of this lodge is the fact that the guides are happy to teach new fishermen how to fish. Even if you are a master fishermen with a spinner rod, these guys will take the time to show you how to fly fish. The remarkable areas where you do the fishing makes it easy to learn new skills without short-changing the on-line fishing experience. This is because these waters are rich with all kinds of fish. It is very possible to catch any or all of these fish species on the same day. If you are unfamiliar with Sheefish, these giants are heavy fighters that can rip the rod out of your hand. Northern Pike are also skillful fighters with a cunning streak that will surprise you. Dolly Varden are Char, but they resemble rainbow trout both in looks and fighting prowess. Any of these fish will put up a great battle that is sure to keep you coming back for more of back country Alaska Fishing.
Featured Video of Twin Peaks Adventures
---
Popular Alaska Fishing Destinations
You may also be interested in