Would you like to contact to check availability or learn more?
Fill out the info below and someone from will get back to you.
Email Sent
Waterfall Resort
94 Reviews
-
TripAdvisor® Traveler Rating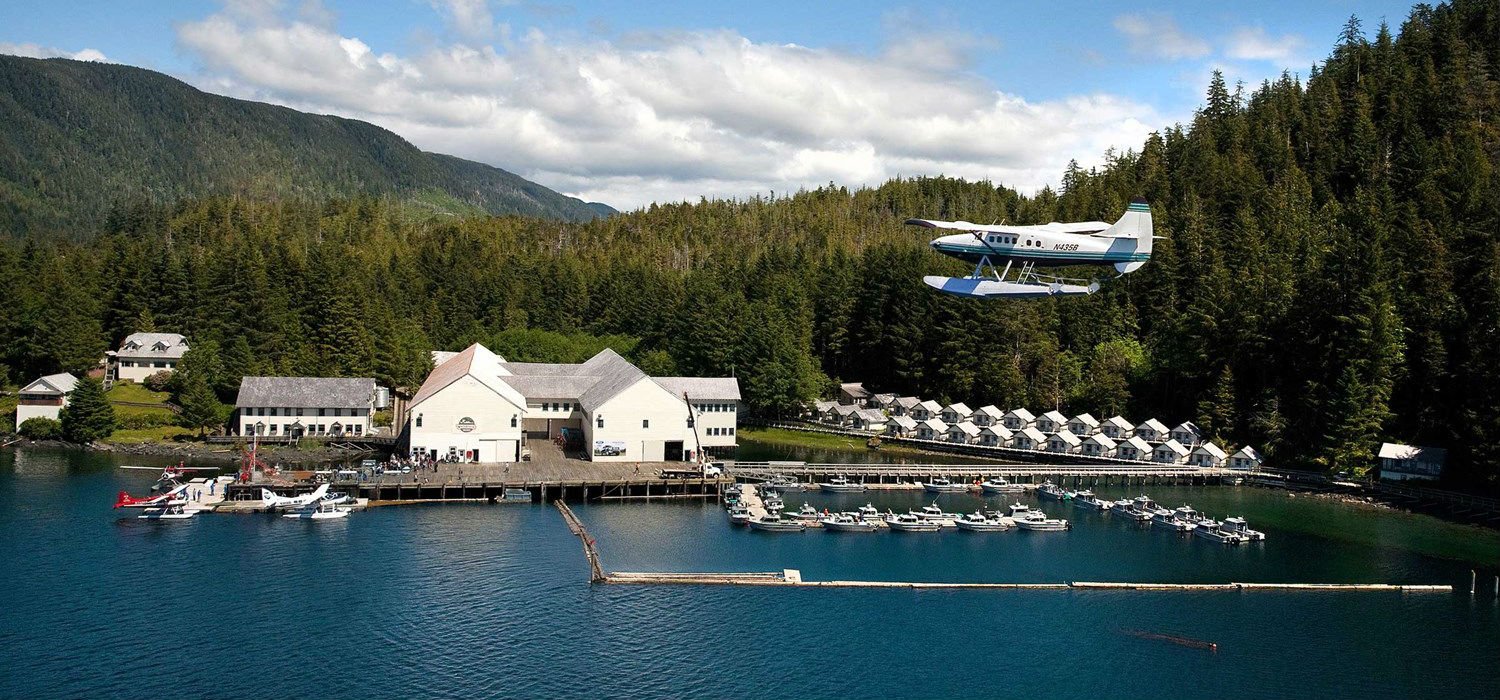 Approximate Cost:

6 - 7 Days:

$6,000 to $7,000 Per Person

4 - 5 Days:

$4,000 to $5,000 Per Person

2 - 3 Days:

$2,000 to $3,000 Per Person

Type:

Lodges

Fishing:

Guided Fishing

Saltwater Fishing
Visit a historic cannery, reinvented as a popular and sophisticated sport fishing resort. This former cannery, legendary for the prolific amounts of seafood caught and canned, is currently celebrating its centennial. Waterfall Resort sits by a beautiful seaside waterfall on the west coast of Prince of Wales Island, near Ketchikan, Alaska.
The Most Popular Fishing Lodge in Alaska
The lodge has hosted over 50,000 guests in its over 30 year history. It's been a popular destination for a range of guests including celebrities, professional athletes, individuals, and businesses, including employees of Ford Motor Company and American Express. Choose from a historic boardwalk cabin, oceanfront lodge room, executive egg house suite, or family-sized townhouse condo. Whatever you choose, you'll spot sea lions, whales, eagles and other wildlife during your stay.
Three words define what makes Waterfall Resort the top fishing spot for wild Alaska King Salmon, Silver Salmon, Halibut and more: location, location, location!
Waterfall Resort is adjacently located to
Alaska's
Inside Passage
, home to near-exponential numbers of baitfish that attract annual runs of trophy-sized Halibut and salmon. This piscine proliferation gives the resort its reputation as an amazing sport fishing destination. Enjoy guided sport fishing with rich populations of classic Alaska species like King Salmon, Halibut, and Silver Salmon. You can also fish a variety of other local species like Ling Cod, snapper, rockfish and more. Angle from a boat designed for comfort and safety by renowned builder North River, accompanied by one of 25 experienced guides. The wide diversity of species means that if you limit out on one type, you can always try your hand at another.
Guests usually enjoy mooching with a 4 oz. banana sinker dragging a medium-size, cut plug herring. Guides recommend sinking to the bottom and coming back up to work the entire water column. The lodge attracts anglers of all levels, and provides all fishing equipment. It's a great location and experience for novice fishermen. Whether you're an expert or a tenderfoot, you'll be sure to hook a good haul.
Waterfall Resort is proud of our outstanding reputation for guest services. With 95 service employees, we have an unparalleled 1-to-1 Staff-to-Guest Ratio
The lodge has spent the past 30 years building a strong, professional team. From housekeeping to guiding to processing your take-home fish, you'll experience the very best in service. Your guide can tell you how your catch can be best prepared '" then the Seafood Processing Department takes over to professionally clean, cut and package your prize. You'll also have access to an Alaska Airlines on-site travel agent who will help with arrangements on your departure day. This unique service will handle check-in, provide you with a boarding pass and seat assignment for your trip back to Seattle, and check your bags for you. Service at this historic lodge regularly ranks 99% guest satisfaction.
Featured Video of Waterfall Resort
---
Popular Alaska Fishing Destinations
TripAdvisor® Traveler Rating
Location

Sleep Quality

Rooms

Service

Value

Cleanliness
TripAdvisor® Traveler Reviews
Wow
Reviewed By
StaceyB1788
on October 19, 2020
What a great experience! We caught so many fish. Our guide, Jeff, was very experienced and helpful. We loved the walk to the waterfall and were suprised by the bear that was checking it out as well...
Guide couldn't find the fish
Reviewed By
KWAProductions
on September 16, 2020
Third time to submit my review cause Waterfall keeps getting Tripadvisor to remove it. Waterfall must not want you to see the truth about their resort. Stayed at Waterfall the week of Aug 10-15. If...

1 Helpful Vote
Great Experience!
Reviewed By
J6101FZjosephs
on August 18, 2020
My 13 year old son and I had a magical time together at the Waterfall Resort beginning August 2020. The resort staff took great care in making us feel safe with the covid issues. Our guide, Grant...
You may also be interested in